Related Features
Contribute
Your support helps us cover dance in New York City and beyond! Donate now.
A Postcard from Huy Pham x What The Festival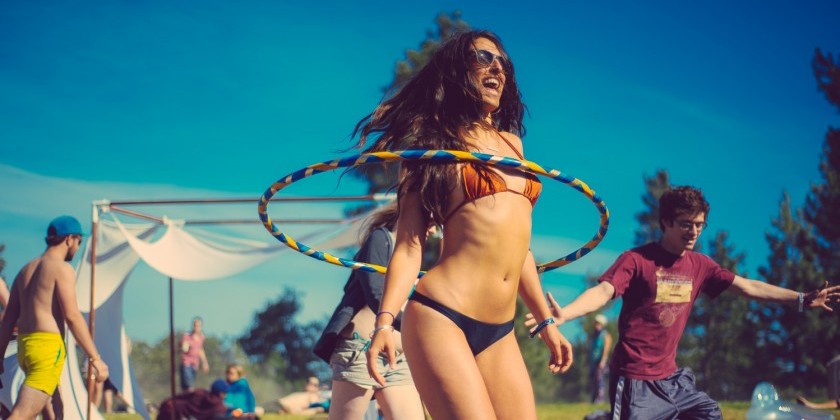 Designing Movement Classes for Oregon's Boutique Music & Camping Festival
Huy Pham is the executive director of 11Dance, a Portland-based modern dance studio. His wife, Bb Pham, is the artistic director and has over twenty years of classical training. The two have made leaps and bounds with club and street styles like Vogue, Popping, Waacking, and Hip-Hop, and have subsequently been plucked from their studio to teach 'Movement' classes at Oregon's boutique music and camping festival What The Festival. Huy curates the dance-oriented workshops at the festival each year, contributing to the multi-faceted sources of inspiration that the festival setting provides for newly curious minds and seasoned learners alike.
Movement Hoop class at What The Festival.

"Three years we've been curating movement classes for What The Festival. Keely, a producer of What The Festival, knew about our work in dance and wanted to bring that authenticity and dynamism to the festival. We curate three categories: fitness, flow arts, and cultural/street styles. What The Festival is a progressive music festival and culture. We are a neo-fusion company that includes vernacular and training methods from multiple disciplines. It just seems like the perfect fit. Attendees love us because we're the real deal. All of our classes feature veterans of their craft with aspects of philosophy and history as well. It creates a more fulfilling festival experience for students because their personal relationship to music and movement grows. Working with What The Festival, we recognize that people have a deep desire for connection and exchange. Having more control and vocabulary in your body allows you to communicate at a deeper level, and What The Festival provides the platform and music to catalyze the experience. Movement is at the heart of the festival lifestyle. You move stage to stage, move your body to the music, move with others and move yourself. Movement is life. What The Festival is just a playground that reminds us we are actually here."
Movement Yoga Circle at What The Festival.
Huy hopes to bring bigger names in dance to the stage and to incorporate a performance segment with dancers that is equally anticipated as the music performances.