A Postcard from LAVA, New York's Proudly Feminist Acrobatic Dance Company
Get To Know The Company As They Celebrate PRIDE Via Acrobatic Works
LAVA performs at Dixon Place on June 23 and 24 at 7pm
Directed by Sarah East Johnson
Created and performed by Molly Chanoff, Lollo Romanski, Sarah Dey Hirshan, Hilary Chapman, MIeke D, Efe Alibo, and Alexis Garnett
Music by DJ Tikka Masala
Lighting by Alison May
Special Guests are Ana Carolina and Alicia Raquel & Dancers
---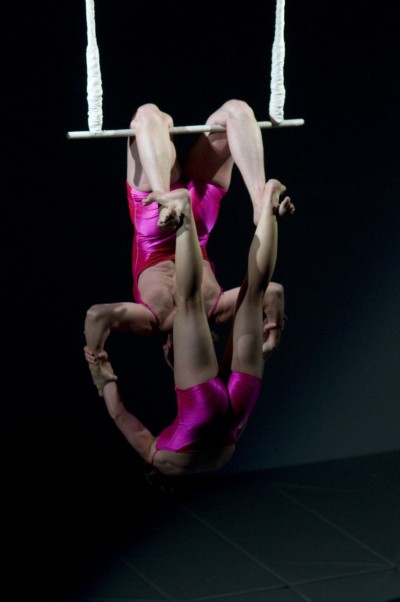 LAVA Trapeze by Angela Jimenez.
What is a feminist acrobatic dance company?
One whose aesthetic is built on a vision of a world in which feminism is embraced by all, successful dancers are not tied to traditional gender stereotypes or oppressive practices, and audiences support greater varieties of dance in order to empower dancers in their full strength, presence, difference, and possibility. The company's unique language of acrobatics and dance invites audiences in to witness the courage, teamwork, humor, and skills of this vibrant and one-of-a-kind ensemble. Our performances reference geology, feminism, landscapes, journeys, science, empowerment, individual growth, group harmony and support, queer inclusion, gender identity, and the urban environment. 
Founded in 2000 by Sarah East Johnson and friends, LAVA supports those who seek out alternatives to what they encounter in most dance classes, auditions, and performances. The LAVA Studio in Prospect Heights Brooklyn is a home for the company and has been hosting performances, classes, and events for the community since 2004.
LAVA Minerals by Angela Jimenez.
In addition to receiving an Obie Award and a Bessie award, we have presented 13 original productions in New York City at P.S. 122, The Kitchen, The Flea Theater, Dixon Place, Dance Theater Workshop, The Joyce Theater, Movement Research at Judson Church, The New Victory Theater, Celebrate Brooklyn, Symphony Space and Dancespace at St Mark's Church. We've also toured to California, Maine, Michigan, Massachusetts, New Mexico, Rhode Island, and internationally to Australia and Argentina. 
All day every day but especially this month, LAVA celebrates PRIDE with a glimpse of the bedrock building blocks of our freshest expression of feminist acrobatic dance. Our epic new work, which will have its World Premiere in June 2017, is a feminist survival tale told through the voices of landscapes, ancestors, and the intrepid performers of LAVA. With visions of feminist physical training in magical forests, mysterious initiations in underground movement caves, and an explosion of rainbow utopia celebration, our protagonist traveler sees her world transformed from the harsh brutality of patriarchy into a present possibility of integration, intersectionality, and geologic connection. Half Way There exposes the work to audiences for the first time as the artists of LAVA are half way through a creative process that is the synthesis, culmination, and explosion of 15 years of earth moving performance.
LAVA in Sidewalk. Photo by Angela Jimenez.

Find out more about the company: www.lavabrooklyn.org