Related Features
Contribute
Your support helps us cover dance in New York City and beyond! Donate now.
A Postcard from Tony Waag, Artistic Director of the American Tap Dance Foundation
ATDF's Rhythm in Motion Pushes the Envelope
Rhythm in Motion, The American Tap Dance Foundation's yearly showcase of original, contemporary tap dance, will be back at the Theater at the 14th Street Y in NYC from April 22 through April 26. For ticket information go to the ATDF website. We're excited! 
With six performances over five days, RIM will again present groundbreaking, innovative tap dance choreography by the city's top tappers. 
Tony Waag
Last year, Rhythm in Motion featured tap dance through the eyes of an international cast creating innovative work that included collaborations with an extended list of guest artists, vocalists and musicians. The run was edgy, provocative and invigorating, and utilized a multimedia canvas that included video, computers, sound manipulating machines and electronically rigged platforms. This year we'll again present cutting edge performances by the most talked about choreographers driving the art form today.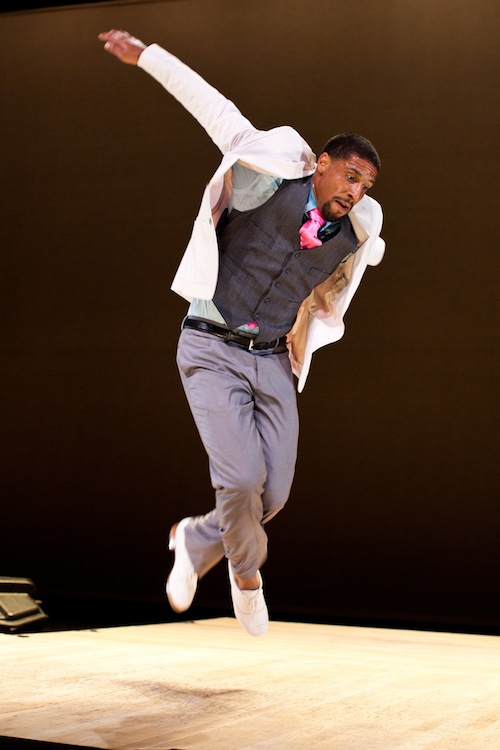 Jason Samuels Smith. Photo: Matthew Smith
Michelle Dorrance, Derick K. Grant, Chloe Arnold, Jason Samuels Smith, Caleb Teicher and Nicholas Young, "pioneers of the new age of tap," are among those presenting new work at this year's show.  Tap Diva Brenda Bufalino will also make a special appearance - she continues to create boundary-breaking material that will test and inspire the notion that tap dancing is a limitless canvas that can blend with spoken word, theater, music, multimedia and other forms of dance. 
Brenda Bufalino (right) with performers. Photo: Amanda Gentile
There are so many different styles of tap dance today, all valid and incredibly interesting, varied and complex. There is so much being created right now that new work needs to be seen and shared with our audiences. We divided Rhythm in Motion into Program A and B, each featuring a different set of choreographers. Both line-ups are equally diverse and trail blazing.
Rhythm in Motion. Photo: Amanda Gentile
ATDF strives to preserve the history of tap dance while at the same time creating tap dance productions relevant to the next generation. Rhythm in Motion hopes to continue to be a platform for innovation and inspiration. We honor the past, but we always look forward.
It's been a pleasure to witness the process that these dedicated Artists in Residence have shared with me at the American Tap Dance Foundation. Having just received the Dance Magazine Award, I'm reminded – and feel obligated to – keep presenting work that is literally fresh off the presses so that tap dance continues to move into the future as it becomes recognized as one of the most exciting and innovative forms of self-expression in the world today.