Related Features
Advertise With Us
Make an impression — place an ad on The Dance Enthusiast and receive thousands of eyes on your work every week. Learn more. 
Contribute
Your support helps us cover dance in New York City and beyond! Donate now.
POSTCARDS: Brendan Fernandes on Creating "A Carol for All Children" with Paige Fraser for the New York Choral Society's "Hear Us Now"
Collaboration is central to how I (Brendan Fernandes) make and create. Sharing and exchanging with others allows for deeper and more complex endeavors, and the resulting sense of togetherness is a crucial part of why I make and what I have to express.
Together, we are faced with an unprecedented time. We are jointly dealing with social uprisings and questioning our safety and health on many levels. We are responding to both our civil liberties under fire and the new pressures introduced to our lives with the Covid-19 pandemic. So much has come to a stop. We can't dance together; we can't gather to watch dance anymore. Theatres have closed and dancers have lost jobs and revenue. It is a difficult time for the arts. When the pandemic arrived in North America, I was at a loss for how I would continue to make dance and continue to pursue a sense of togetherness. There was so much uncertainty, and a general call to distance ourselves from one another. 
Brendan Fernandes' A Carol for All Children featuring Paige Fraser for the New York Choral Society's Hear Us Now; Photo by Domenic Del Carmine
So, when the New York Choral Society invited me to make a work as part of their Hear Us Now project I was overjoyed at the opportunity. I had collaborated with the society before. In 2019 I created a dance for their performance of King David at the Central Synagogue in New York City. When this second invitation to collaborate was extended, I jumped. It was such a clear opportunity to bring people together in a new sense, and it gave me the chance to negotiate a new way to make dance. 
Prior to the invitations from NYCHORAL, I was chatting with a dear friend, filmmaker Domenic Del Carmine in Chicago. We were discussing ways that we could collaborate on dance and films. Concurrently, my friend, dancer Paige Fraser had reached out as she was back in Chicago following the temporary closure of The Lion King's North American Rafiki Tour. The open invitation from NYCHORAL couldn't have come at a better time. It gave us all the support and occasion we needed to come together and create a new work incorporating and addressing our new condition of social distance. It created the first opportunity I had had in months to meet with and work so closely with collaborators.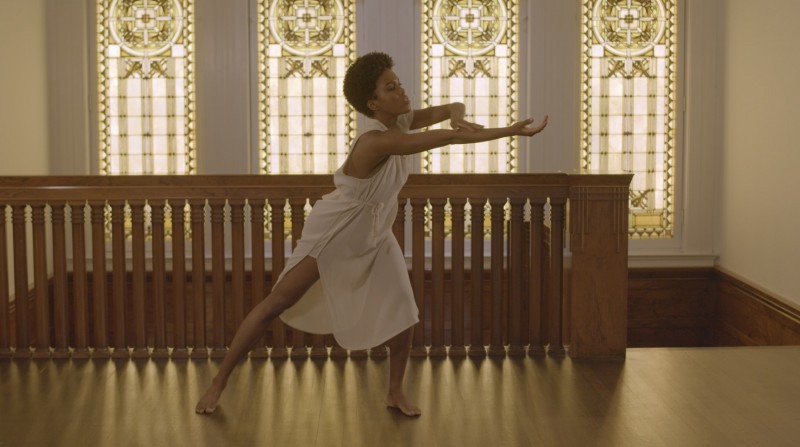 Brendan Fernandes' A Carol for All Children featuring Paige Fraser for the New York Choral Society's Hear Us Now; Photo by Domenic Del Carmine
We began in conversation with Pat Owens and David Hayes from NYCHORAL. I wanted to get a better understanding of A Carol for All Children and of Dr. Adolphus Hailstork's broader work. At the core of it is a simple message that every child—every person—is valuable and deserving. Simple, but this resonated with me and many of the ways that I think through my work and my life. With this sentiment the song reaches for the heart. It appeals to our fundamental need for community and social solidarity. I listened to the song many times over, until I had it ingrained in my body. As a dancer and dancer-maker, I like having the work become a part of my body in this way. From there I can create.
In this work and many of my pieces, the camera is a device that also choreographs. It is a "third eye," a moving device that captures the dancers' movements while itself is also moving. In this way it joins and takes an active role in the dance. In this piece, I wanted there to be a sense that both Paige and the camera were performing together. Domenic's camerawork would capture Paige's gestures, but the residue of his body's movement would also remain in the piece in the handheld motion of the camera. Domenic and I worked closed together on these ideas. We scouted locations, and together formed a sense of what this work would look like. We wanted to make something poetic, something that would resonate with the choral society's performance and compliment their voices with dance and beautiful cinematography. When talking with Paige about this, we created gestures and movements based on motifs of care, nurturing and acts of kindness. We created a vocabulary based on these ideas that Paige improvised on in the final piece.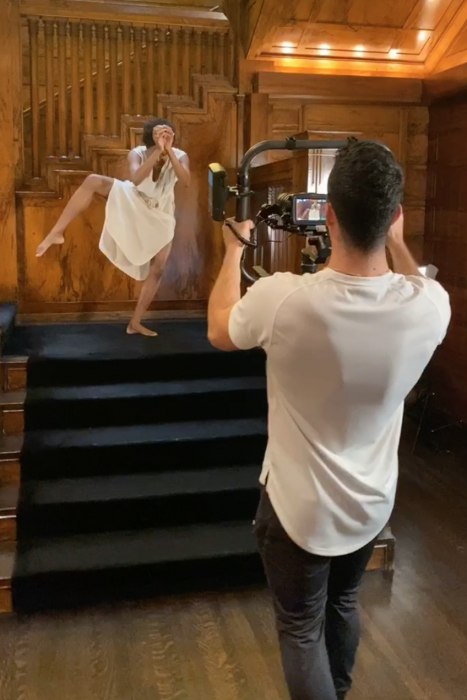 Brendan Fernandes' A Carol for All Children featuring Paige Fraser for the New York Choral Society's Hear Us Now; Photo by Domenic Del Carmine
The idea came to us that the piece should be filmed by the water and at sunrise. We wanted a sense of soft morning light and the newness that comes at dawn. So on a cold October morning, around 6 a.m., we voyaged out to Lake Michigan to film. We got very lucky. The water was still and the colors of the sun reflected on Paige and the lake. It was magical. Even with the cold our excitement and energy warmed us. Between us and the atmosphere, there was a sense of kindness, gratitude, nurture and care that Paige's movements embodied and Domenic's work behind the camera captured perfectly in their duet. 
Brendan Fernandes' A Carol for All Children featuring Paige Fraser for the New York Choral Society's Hear Us Now; Photo by Domenic Del Carmine
We continued the process and filmed at a second site at the Graham Foundation for Advanced Studies in the Fine Arts in Chicago. This space provided another type of atmosphere, dramatic and grand in its own architectural way. In the editing process, Domenic and I took images from both shoots and began to piece a narrative together. I love the editing process. It allows one to create another type of dance, another stage in the choreography and another chance for the work to expand and take on new forms and meanings.
We decided to start the narrative with Paige rolling up from the ground into the shot, and to end with her rolling back out of the frame again. Those gestures create a loop, opening up the possibility for the cycle seen in the work to continue, to never end. In that loop there is a hope that despite the challenges of this year and of years to come, we will continue to find ways to dance and film and sing together, physically and metaphorically.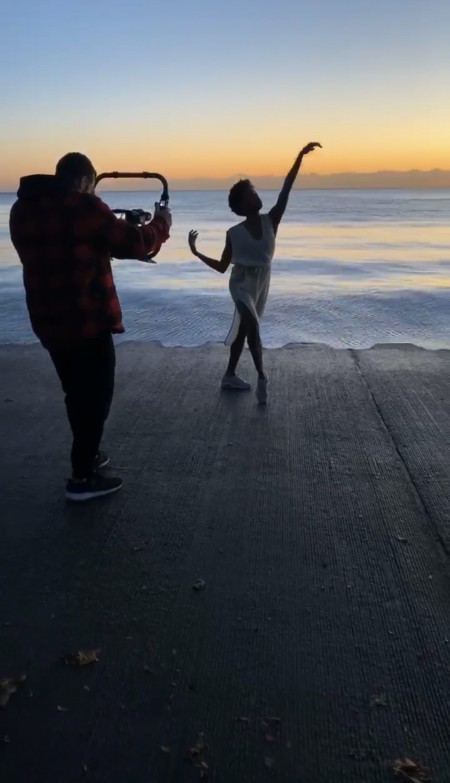 Brendan Fernandes' A Carol for All Children featuring Paige Fraser for the New York Choral Society's Hear Us Now; Photo by Domenic Del Carmine
In this, A Carol for All Children speaks to the ways that we can move forward together. Dr. Hailstork's message is one of finding inner peace and a sense of value within ourselves, at times, overwhelmingly collective. Today, more than ever, we need to find new ways to work towards these freedoms. This collaboration among Dr. Hailstork; the New York Choral Society; its Music Director, David Hayes, and Executive Director, Pat Owens; Paige Fraser; Domenic Del Carmine and myself, gave me a boost of creative force in a moment when I was feeling uncertain about the possibilities for social solidarity and moving forward together. It proved to me that even in times of great uncertainty, coming together in the spirit of collaboration and creativity remains a means of resistance. It has reminded me—joy is coming!
---
The Dance Enthusiast is delighted to hear from you. Share your story with our enthusiastic audiences and be part of the conversation. Send a digital POSTCARD to The Dance Enthusiast at info@dance-enthusiast.com. Include your text (not a press release) and three to five properly credited pictures, or links to short video. If you have any questions, let us know.
---
The Dance Enthusiast - News, Reviews, Interviews and an Open Invitation for YOU to join the Dance Conversation.