Carolyn Dorfman Dance Sends A Postcard from Bosnia-Herzegovina
Postcard written by Company Dancer Jenny Gillan-Powell
The company is performing next at New Jersey Performing Arts Center on April 28, 2017. For more information, go to the CDD website.
---
I was thrilled when I heard Carolyn Dorfman Dance Company would be returning to Sarajevo to perform again at The National Theatre. The company participated in the Sarajevo Winter Festival back in February 2015 and we have never forgotten the warm welcome we received from the people of Bosnia-Herzegovina.
The company and Carolyn Dorfman arrived in Sarajevo on Thursday, November 17, joined by our executive director, Anita Thomas; Svjetlana Bukvich, a Sarajevo native and composer of Traces and Interior Designs, and Scott Nelson, our production manager and lighting designer. Early Friday morning we set out to a high school in Stolac, Herzegovina (about three hours away) for a workshop and mini-performance. Passing through small villages along the aqua-green Neretva river, we saw remnants of the devastating 1992-1995 Bosnian War. Bullet holes in apartment walls and abandoned skeleton-like buildings are reminders of the brutality of human conflict and life's fragility. I noticed — within the stone shell of dilapidated buildings — trees,vines, grasses, and wildflowers growing up and through the structures, bringing light to the darkness. I will never forget these images; they sit deep in my heart.
Photo: Grant Powell
Once at the high school in Stolac, we found the students anxiously peering into the hallway to sneak a peek at our group. We learned that the students attend this school in seperate groups: Catholics in the morning and Muslims in the afternoon. The U.S. Embassy in Sarajevo, our tour sponsor, arranged for the male and female students from both groups to attend our workshop together.
Carolyn began class with her signature "speed dating" exercise. Our 50 participants met each other and shared with one another their favorite color, animal, and food. Soon everyone discovered commonalities and shared experiences that they were unaware of before. When Carolyn led the students through a warm up introducing them to the modern dance concepts of "center driven" movement and working "from the inside out," a few giggles rose up. This was the first time many of these students had ever seen or taken a modern dance class.
Later, Carolyn asked the class to recreate — in movement — elements that they hold sacred and those which they fear. We learned that our students (like us) cherish family, pets, and food and fear guns, illness, and poisonous snakes (which apparently are abundant in the mountains of Herzegovina — yikes).
After the workshop, our composer, Svjetlana, and our company performed. This was the first time the kids in our audience had ever met a composer, let alone someone like Svjetlana — an artist from their own country who works successfully in the U.S. I could see they were inspired to learn about her and her journey. The students mentioned that they could hear the sounds of their villages and melodies of their ancestors in her music.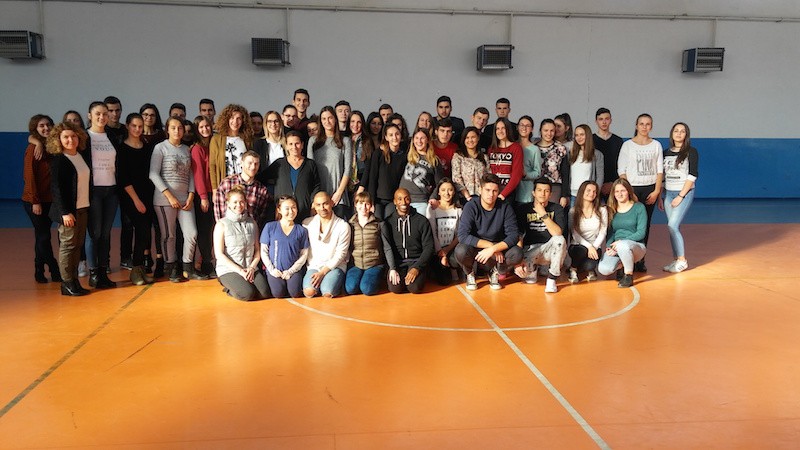 CDD with Stolac students. Photo: Anita Thomas
---
From Stolac, we headed 40 minutes north to Mostar, known for its charm and old-town cobblestone streets. The famous Old Bridge (Stari Most), built by the Ottmoman's in the 16th Century and destroyed in 1993 during the war, was rebuilt in 2004. It offers breathtaking views of the river, the many mosques of the city, and the mountains. We were headed to teach  and perform for Arleta Cehic's Balet Mostar Arabesque at the Croatian Cultural Center.
Photo: Jenny Gillan Powell
Carolyn taught two separate master classes for the younger and older ballet students of Arleta Cehic's Balet Mostar Arabesque at the Croatian Cultural center (Kosaca). After both classes, we performed for our students. Svjetlana played one of her electronic compositions inspired by Sarajevo's Arabian horses and invited the students and their families to improvise to her music. After the show, many of the particpants told us how thankful they were to have professional dancers come to their town to teach and perform. The room was filled with people of all faiths, backgrounds, and cultures. I was reminded that dance, the universal language, can always bring people together. 
Sarajevo Ballet with Carolyn Dorfman Dance Company; Photo: Grant Powell
---
Our last days abroad were dedicated to rehearsals at the National Theatre, where we performed Under My Skin, WAVES, and Traces. Five   dancers from the Sarajevo National Ballet performed with us in WAVES. It was wonderful to have them join us. It was very special to have them join us in class and rehearsal. Throughout the week, our company shared notes and advice with the guest ballet dancers to help them feel comfortable in their new "modern" roles. 
Carolyn Dorfman's Traces being performed at the National Ballet of Sarajevo; Photo: Grant Powell
Anyone familiar with Carolyn Dorfman's work, knows she loves props! Traces, which we premiered this year, requires a heavy load of spiking, video mapping, projector work, and technical work as the piece is choreographed with 11 large-piped, rectangular boxes. Let's just say Carolyn Dorfman Dance Company never travels light — we travel more like a circus!
While the stage at the National Theatre is ornate, with a beautiful gold-engraved, painted proscenium, it is much smaller than the stages we are used to dancing on in the U.S. Luckily, we had performed at the theater before, and Carolyn made sure we arrived prepared and aware. At times, it was difficult to get our 11 boxes offstage without a pile up of boxes (or of dancers for that matter) but we rose to the challenge.
CDD dancers; Jenny Gillan Powell
Finally, show day arrived coupled with many hours of technical and dress rehearsal, and final notes from Carolyn. To be honest, production days are tough and require a whole lotta love and patience to get through. It's always helpful to remind ourselves how lucky we are to dance and share our work with so many audiences. Snacks, hugs, fresh air, sunlight, and a moment of quiet always help get me centered before an evening performance. Then before you know it, the call for showtime comes…
The performance at the National Theater was an unforgettable experience. Dancing Traces with our composer Svjetlana in her hometown particularly touched me. I felt the people and stories of Sarajevo alive both in her music and Carolyn's choreography.
It's hard to put into words the rush, the tears, or the adrenaline that arises in a dancer when bowing with her company on stage while receiving a standing ovation. The only thing I can say is, it makes it all worth it.
Hvala Bosnia-Herzegovina! Till next time!
---
The Dance Enthusiast Encourages Artists, their Friends and Representatives to Share Stories and Create Conversation by Sending Postcards. Find more Postcards here.
How to Send The Dance Enthusiast a POSTCARD.
We are delighted to get mail. Consider sending a digital POSTCARD to The Dance Enthusiast. Tell us what you are up to. Include your text ( not a press release) and three to five properly credited pictures, then send to info@dance-enthusiast.com. Or, send a video and a horizontally oriented photo along with your text.
Postcard Prompts -- What you might want to write about:
Show and Tell i.e. introduce us a to day in your rehearsal process with text video and/or photos
Where  have you traveled/toured and how has it changed you as an artist and as a person?
What exciting ideas are you exploring in the studio or outside of it?
Who is performing in your space and why are you thrilled about it?
Top 5 or 10 qualities that define you.
Need more ideas contact Christine Jowers at info@dance-enthusiast.com