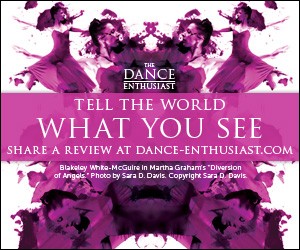 Related Features
CliffsNotes by Cory -Dance/USA 30th Anniversary Conference in San Francisco - Part 1
Notes For Navigating Your Dance Career - Dance NYC's Junior Committee shares their successful blueprint; HealthCare Resources for The Dancer; Should You Write your Own Blog?; Is Dance A Field in Danger?;Questions for Dance's Future
So much to do and see at the 30th Annual Dance/USA Conference in San Francisco, California. So much information to digest on a wide range of topics in dance. Fabulous performances, networking opportunities, and one-on-one counseling aside, the essence of the conference is its breakout sessions. These smaller, specialized, moderated conversations were the place to get a real sense of the concerns in the dance community, get examples of coping strategies, and engage in deeper, and at times impassioned discourse with peers. My only regret is that I could not have been in four places at once.- Cory Nakasue for The Dance Enthusiast

Here's a peek at my notes from the sessions I did attend . Most of these discussions are far from over.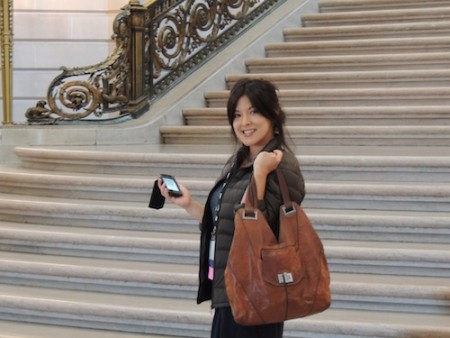 Cory Nakasue, The Dance Enthusiast's Associate Editor at Dance/USA's Opening Reception, San Francisco City Hall; Photo by Christine Jowers
---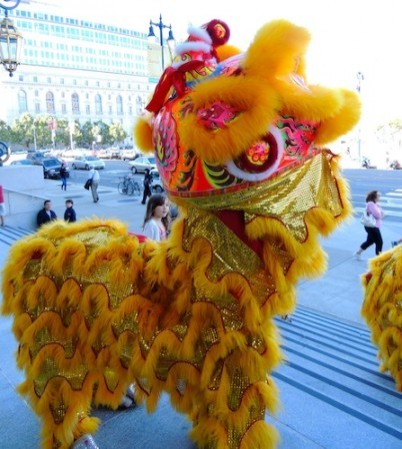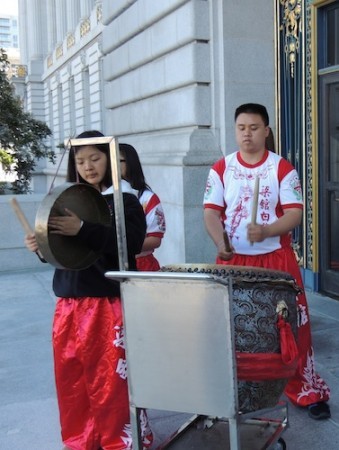 A Chinese Lion member of Leung's White Crane Chinese Lion Dancers meets conference attendees on the steps of San Francisco's City Hall; Photo Christine Jowers

Thursday, June 28th
The Junior Committee Blueprint

The Description: Since 2007, Dance/NYC's Junior Committee has served as a liaison for New York's emerging dance professionals. This presentation shared their blueprint and what they've learned along the way.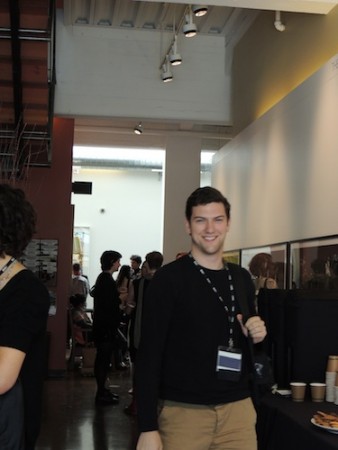 Hollis Bartlett, Member of Dance/NYC's Junior Committee -Photo by Christine Jowers
The Gist: The Junior Committee presented their narrative along with handouts for organizations interested in creating a similar group. They gave advice for organizations starting out with an intense focus on finding your community and its needs, and resource sharing. They unveiled their model for established organizations to usher in future leaders, increase productivity and appeal, while creating longevity and vitality for your organization.

The Take Away: Incubator groups are a great idea for young artists and the organizations they work with. Definitely more useful than an internship--there's ownership involved and it's a useful induction into the dance world. More information about The Junior Committee available at: http://dancenycjcomm.wordpress.com/
---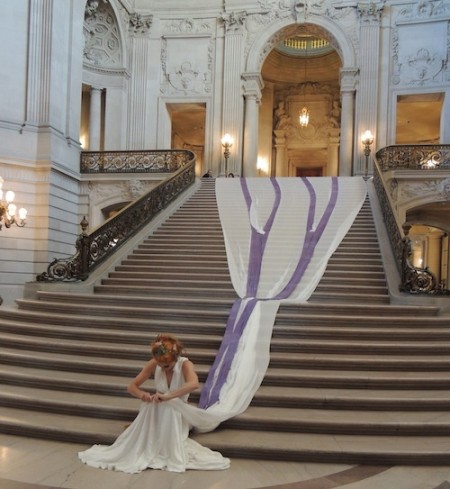 Monique Jenkinson aka Fauxnique performs on the interior steps of The San Francisco City Hall's Library-Photo by Christine Jowers

Healing the Dancer
The Description: Discover the health insurance options currently available to independent artists, the expansion of those options in the health care reform law,
Questions that deserve further discussion and probably their own task forces included:

• Will dance continue to be marginalized if we continue to seek validation through the eyes of commerce, academics, or any other value systems or structures?

• Has Dance/USA along with other organizations ignored the issue of race in dance?

• Does the survival of dance and dancers start in the educational system? One college professor expressed a crisis of conscience in directing her talented dance students from lower socioeconomic backgrounds towards a dance major that they would have to pay for with expensive loans. Should curricula in higher education be changed to better prepare students for a career in dance?

• What does it mean to have a successful career in dance?
and the opportunity through the new small business tax credits for both for profit and tax-exempt organizations to receive subsidies for insuring their members.

The Gist: Most of this meeting centered on a program called The Dancers' Resource. They provide emotional, educational, and financial support to professional dancers. This is definitely a beginning, but there are still so many jobbing dancers who do not fall into the category of "professional" that are not covered; dancers that still make money from organizations that do not file 1099 forms. This, however, may be a whole other conversation. What a coincidence that this presentation was made on the same day the of Obamacare announcement. More information on this program available at www.dhirc.org

The Take Away: Of course the health care issue reaches far outside the dance world, but for the sustainability of the art form, we need to sustain the instrument of the artist and the spirit of the human being. The need for general health care is a given, but what about worker's compensation, injury prevention education, and extended, specialized rehabilitation for the injured and mature artist? The entire culture of movement needs holistic support.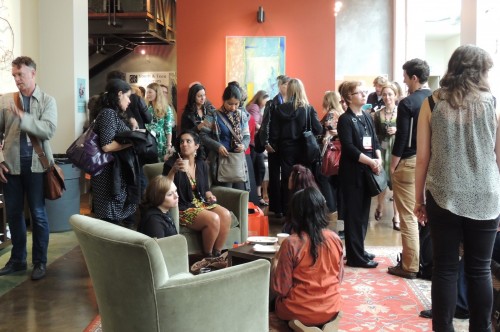 Dance/USA Conference Attendees between Breakout Sessions in ODC Commons Lobby; Photo by Christine Jowers
---

Friday, June 29th

The Blogosphere: Writing For and About Dance

The Description: Is it essential for dance companies and choreographers to blog on their websites? What is the function of having a blog and what purpose does it serve?

The Gist: The panel unanimously agreed you should only have a blog if it stems from passion and not duty (which is painfully obvious when you're doing the latter).A varied panel that included dancer wellness blogs, mainstream crossover blogs, and dance review sites shared their opinions, tips, and reasons for blogging. The session operated as a Q&A for people who already wanted to start blogs, optimize their existing blogs, and marketers who felt they HAD to start blogs. A hefty amount of attention was paid to time management (hint: stockpile timeless content for slow news times and use applications like Tweetdeck), and getting a conversation going by using non-text content and shorter paragraphs.

The Take Away: Think of your blog as long-form social networking that reflects your personality clearly and with passion. This is the place to showcase unique content that humanizes your subject or organization. All other forms of social media should primarily serve the blog. The issue of generating revenue from content was barely touched upon, but surprisingly seemed to be of little interest.
Networking and Animated Conversations at Dance/USA Conference; Photo by Christine Jowers
---
Arts Inescapable by Design: Collaborative Partnerships/Strategies for Dance in the University

The Description: Case studies of successful inter-departmental /interdisciplinary projects and their organizational back-story.

The Gist: The panel from Stanford University shared creative ways to present, foster, and fund dance through sharing resources and common goals with departments as diverse as visual art and medicine. A sticking point during the talk was whether or not the continuation of dance being recognized as a connective art form would sacrifice the establishment of dance as worthy of study and funding in its own right.

The Take Away: Diane Frank said it best, "what we all have in common is that we have a body." In an educational environment especially, dance needs to be seen as a way of knowing through the body. Dance is a way of knowing a present moment.
The argument regarding dance's reputation as a collaborative art form vs. its integrity as its own form, for me, further demonstrates its position as a primary art form that lends itself to so many disciplines because it is inherently a part of them.
---
More Between Breakout Session Networking ; Photo Christine Jowers

Dance: A Field in Danger The Description: Maybe, it's time for professionals and dance lovers to define what is meant by dance?

The Gist: To be honest, I wasn't really sure what to expect in this gathering, and as discussions unfolded, emotionally charged arguments hijacked an already less than focused topic. The stronger personalities in the room gave voice to a myriad of concerns about the field. The result was a runaway train of personal experiences ranging from education to race to the ubiquitous issue of sustenance for the art form and its artists.

Questions that deserve further discussion and probably their own task forces included:
• Will dance continue to be marginalized if we continue to seek validation through the eyes of commerce, academics, or any other value systems or structures?

• Has Dance/USA along with other organizations ignored the issue of race in dance?

• Does the survival of dance and dancers start in the educational system? One college professor expressed a crisis of conscience in directing her talented dance students from lower socioeconomic backgrounds towards a dance major that they would have to pay for with expensive loans. Should curricula in higher education be changed to better prepare students for a career in dance?

• What does it mean to have a successful career in dance?

The Take Away: At the end of this breakout session a young dance artist got quite emotional in her effort to communicate her frustration over the long, hard hours that she works for little money, little recognition, no job stability or healthcare. She wondered how long she and her dance colleagues could grow in a field that will not grow with them. "How will we survive if we get sick? How will we pay our student loans?" A woman in the group rose to her feet and said, "We are dance artists. If it's one thing we know how to do, it's how to create something out of nothing, it's up to us to find solutions--it's what we do."

To learn more about this year's Dance/USA conference and its speakers please visit www.conference.danceusa.org