Related Features
Contribute
Your support helps us cover dance in New York City and beyond! Donate now.
A POSTCARD: Catlin Cobb on Dance as Ritual/Dance as Performance at the Jardin d'Alice in Bordeaux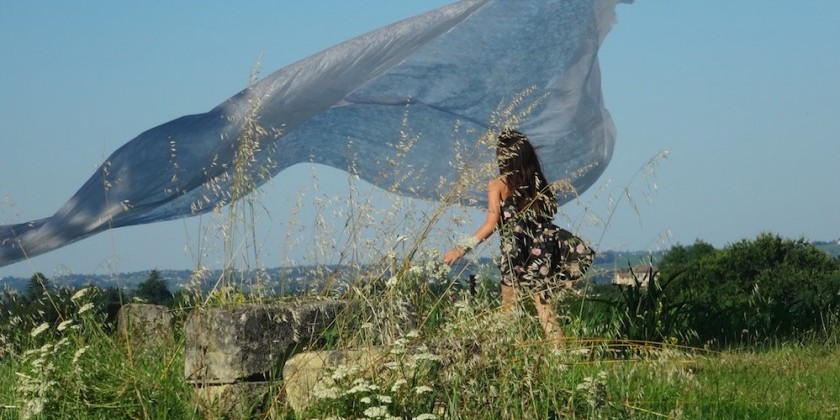 Join Catlin Cobb, Susan Osberg and Mireille-Feyzeau this summer in "The Secret Garden"
Jardin d'Alice is a center for artistic development in the Bordeaux region of France. Since 1990 it has served dance artists, theater artists, musicians, and others as a space for creation, workshops, performances, and social events. Idylilic vineyards, fruit trees, cornfields, and pastures surround this residence nestled between lush agricultural scenery and the very small village of Nerigean (barely on the map). A modest town hall, post office, elementary school, twelfth-century church, and wine cooperative serve the community. Mireille Feyzeau, Jardin's artistic director, grew up a kilometer away farming and tending the local vineyards. Uncles and cousins living nearby still produce vegetables and wine using traditional organic, biodynamic methods.
Jardin d'Alice, The Secret Garden
As with other retreat centers, Jardin offers an opportunity to be removed from the outside world. Other than the sound of a few cars, a tractor, a horse whinnying, the world disappears. One lives for a week without interruption, moving more completely into the intensity of creative work.
Workshops, classes, residencies, and performances are held at the large, rustic stone building (the maison), once the nineteenth-century town café. Later owned by her grandmother, Mireille inherited the property in 1982. It is named after both her daughter, Alice, and after the Alice of Lewis Carroll's novel.  
Vero Paper Exploration at Jardin d'Alice. - photo courtesy of the choreographers
The setting is "outside of time." Not unlike Mireille Feyzeau, whose habits and customs of daily life reflect her sixty some years in this rural environment. She grew up on the art of thrift. Her long hair, not cut since the age of twelve, hangs to her waist, and her 1992 Peugeot runs on supernatural powers. To all of us who know her, she has continually forged an independent vision of movement and dance that communicates a spirit of curiosity. The juxtaposition of rural traditions and artistic exploration form the appeal of Jardin d'Alice.
Appropriately, Jardin has become the home for an annual, week-long summer workshop, Dance as Ritual, Dance as Performance brought to France by way of relationships that emerged from a floating international dance festival for independent dance artists, founded by choreographer Susan Osberg, called Dance Across Borders. The first festival in New York City in 1995 included the founding countries of United States, Sweden, Holland, and France.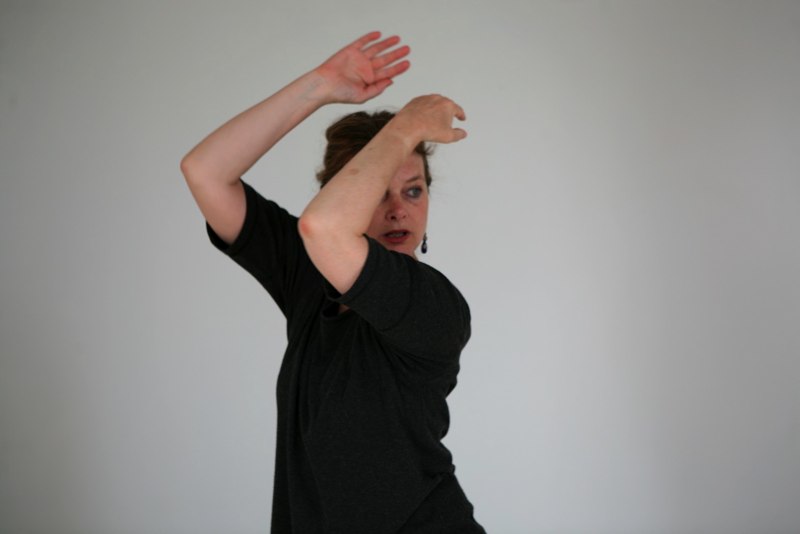 Susan Osberg
Who's Who: The Teachers
Catlin Cobb contact :catlincobb@surfree.com  has choreographed since 1980 for her company, theater, film, and video. Her work, commissioned and produced by theaters in New York City, The American Dance Festival, and small repertory dance companies in the United States, has been supported by various grants including fellowships from New York Foundation for the Arts and National Endowment for the Arts. From 1984-91 Ms. Cobb toured extensively throughout the United States performing and teaching as a soloist sponsored by Affiliate Artists and in 1994 she was a Fulbright Scholar to the Theater Academy of Helsinki, Finland. Internationally her dances have been presented in Europe, Japan, Jordan, and Tunisia. She is the artistic director of New Jersey's Artists' Collective for Social Change and writes about dance.
Susan Osberg contact: susanosberg@mac.com is a choreographer/dancer/writer. As artistic director of  Workwith Dancers Company, she has worked experimentally and collaboratively with new music and visual artists since 1979. Her work has been presented at numerous NYC venues  and has been performed internationally. She was a Professor of contemporary dance techniques and improvisation at several colleges including Bard College (1986-2009). Curating many dance events, she is a founding director of Dance Across Borders at Dia Center for the Arts in 1995, and Directed an International Festival, DAB, at the Fisher Art Center, at Bard in 2007. She is a published poet. Her spiritual practice includes: Sufi Work, Kundalini Yoga, Tibetan Buddhism, and the creative process.
Mireille Feyzeau contact alicetlesautres@me.com trained in Nikolais technique and danced in the company of Susan Buirge.  In 1984 she created her own company, Alice et les Autres, and in 1994 co-founded  Contrespace, a cooperative for creation and productions. She focuses her research on creative approaches to producing links between dance and the environment. In 2000 she combined her studies with Julie West 's Voccadanse. They developed together a practice they call Vocal Contact Improvisation. Mireille is the director of Jardin d'Alice, a dance space for creation, workshops, performances, and other events in the rural environs of Bordeaux, France.
Catlin Cobb: What follows are excerpts from an impromptu conversation with Mireille in Nerigean in January 2017, tracking her background in dance and the evolution of Jardin d'Alice.
Mireille Feyzeau: I began my dance training began in the 1970s with American dancer who relocated to Paris -- Susan Buirge, a former member of the Alwin Nikolais dance company.  Buirge taught the Nikolais technique, developing it into a postmodern practice with improvisation and choreography an essential part of the training. I also danced in Buirge's company. It was she who trained her students to become free spirits.
 
Susan Buirge was passing me interesting things that I discovered later in somatics, in Butoh, in dance contact, which create a relationship with the environment. It is about speaking of the body as a whole dimension, not only the technical way of being a professional, well-trained dancer in the French school.
In the 1970s avant-garde theater in France was very strong, but dance was still an academic field. And the Christian cultural roots of France at that time did not support experimenting with the body, neither exploring movement in altered states of consciousness, meditation, and trance.
Mireille Feyzeau of Jardin d'Alice(right) and Marie Simone( left) reinventing the "Myth of Penelope"
In 1984, after several years of exploring New York City, thriving on new cultural, artistic experiences and classes that included Trisha Brown dancers, Dana Reitz, Butoh, and contact improvisation, Mireille returned to France and created her own company, Alice et les Autres. In 1994 she cofounded Contrespace, a Paris cooperative for creation and productions. During our conversation Mireille described her recent audition of a dance-theater piece, called "Penelope", to an institutional panel, so that she could prove her work was professional enough to be recognized for jobs in the public schools. After more than thirty years of choreography, it is challenging to endure this kind of scrutiny.
Mireille Feyzeau: In our country we have to show that there is a professional quality to sell pieces in high school. We have to show it to the state institution—that we are able to be professional—because it is an institution of cultural affairs and of education. My thinking is that "professional" in dancing exists in other ways.
The secret garden is where Mireille has focused her dance research on creative approaches that produce links between dance and the environment, in her words, "a corporal ecology, a pedagogy which invites the whole being by including different approaches that go beyond the traditional French system."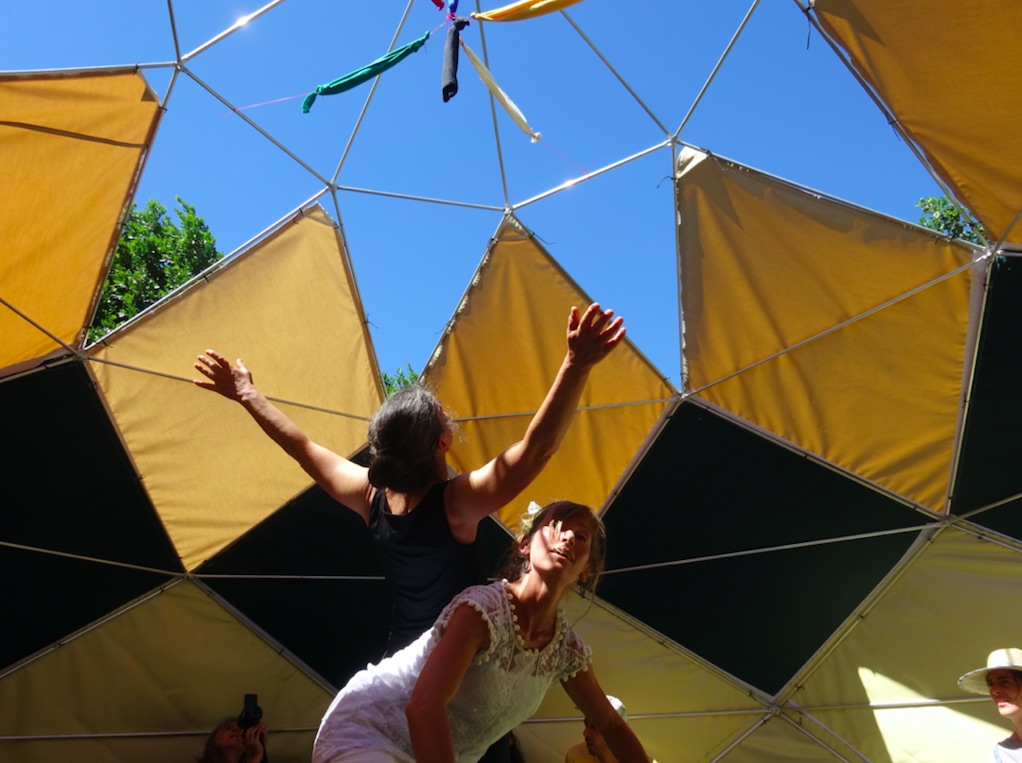 Tent-Snap Exploration at Jardin d'Alice.
Mireille Feyzeau:In the seventies and eighties I always wanted to go to American teachers because they had something more to offer—a way of teaching, not judging. My most important teachers for contemporary dance were American, but I also trained in African and Asian traditions.
Ballet can be very formatted here. The technique is related to the way the body has to be—not including the whole being. That is how somatics helps—to move with the whole being while paying attention to energy, vibration, the subtle body, and images as one becomes informed by the content of the moment.
---
Learn more about : The 9th Annual Dance as Ritual/ Dance as Performance Retreat
July 9-16 2017 Taught by: Catlin Cobb, Susan Osberg, Mireille Feyzeau
A Dance Across Borders Workshop at Jardin d'Alice
Nerigean, (Bordeaux) France
Click the link below or contact the teachers (see above) for more information
Check out the website : http://www.alice-et-lesautres.fr
---