A Postcard from Choreographer Daniel Gwirtzman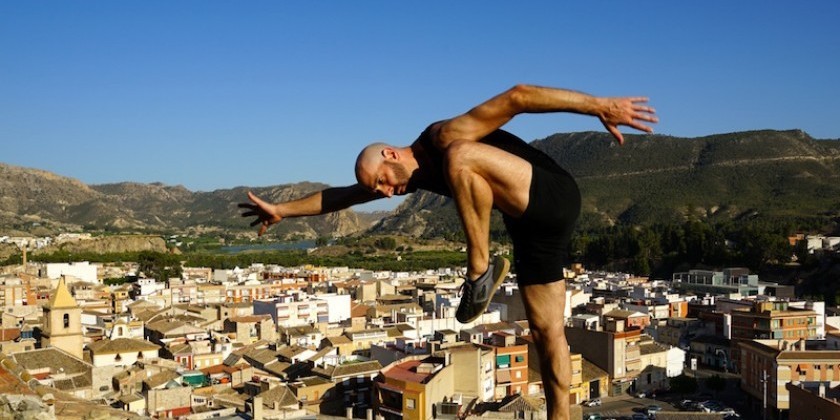 A Dance Artist Embarks on New Directions in France and Spain
It is a wonderful, rare gift for a director/choreographer to have a two-month working retreat, to question, explore, embark on new directions. Thanks to two residencies, a month each in France and Spain, I have had the opportunity to work intimately with the dancer who has been with me the longest: myself!
In France, at the historic Dora Maar House in gorgeous Ménerbes, Provence, I initiated multiple video and photographic dance projects. This photo "Géant" [Giant] won a prize in a photography contest in Oppède, a neighboring village. The theme of the contest was the quarry and its workers: From the Brute Rock, the Cut Stone. This is  one of three exhibited in the show, a collaboration with Yann Capapé-Masera.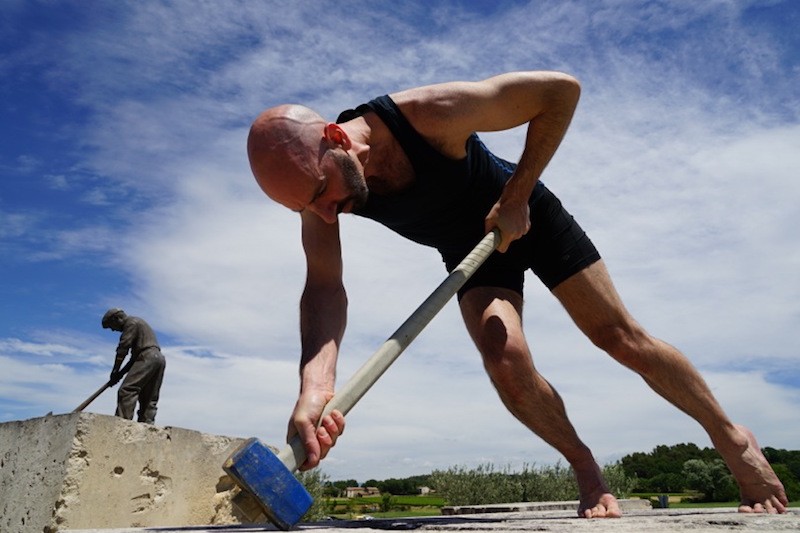 Géant," Photo courtesy of the artist
I had several opportunities to work closely with the village: choreographing a dance for a class of eight-year olds, which they performed for the annual Fête de la Musique; teaching dance to the whole community; performing in a gallery and in the streets. The photo suspended on the railing was an especially gratifying shot to capture, snapping it using tripod and timer!  The jumping one in green also a test of repetition, trying to get the shot alone.
Daniel Suspended Photo Courtesy of the Artist
In southern Spain at Centro Negra, where I've been in residence for two weeks with two weeks to go, the creation of dance films and dance photography has continued. Currently living in the village of Blanca, one of six municipalities that make up the Valle (Valley) de Ricote. Endless inspiration in this unusual, unexpected landscape, a lush, fertile desert thanks to the river (El Rio Segura) which runs through the village. The views are stunning. Each day I climb into the mountains–skirting the line separating safety from danger. It is off the path that one finds the unexpected magic, the thrill of the unknown and the adrenaline of living literally on the edge, stumbling down the craggy mountainside, catching one's feet on the thorny plants, clinging to the precipice.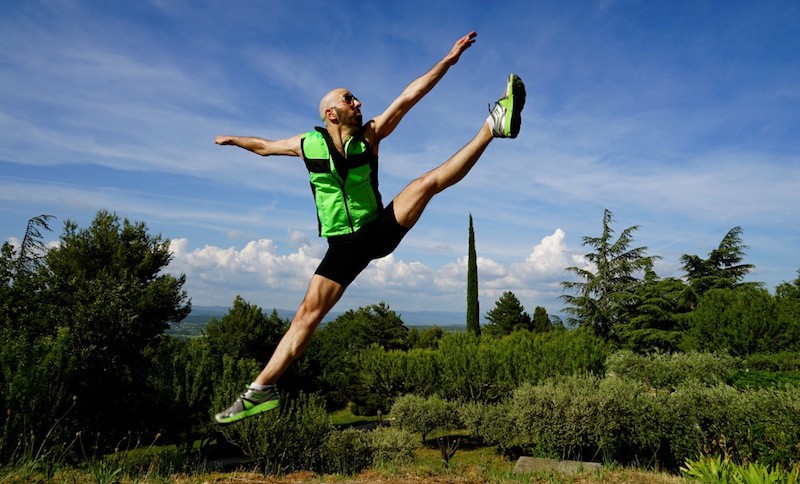 Daniel in Green; Photo Courtesy  the artist
During my time here, in addition to dancer/choreographer I have primarily been the photographer and sole technician. A photo shoot with a staff of one! The top of the ridge is one of my favorites. I was climbing up the mountain when the golden light provoked me to stop to take this photo. 
In the fall the Company will begin sharing the photographic and video projects online. To stay informed of this calendar one can subscribe to the Company's mailing list for our regular e-blasts
HERE
. 
Or follow us on Facebook
HERE
.