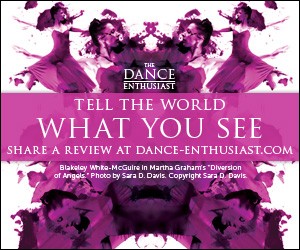 Related Features
Conversations with Choreographers and Composers: A Postcard from DELIRIOUS Dances
"To Begin the World Over Again" at Gibney Dance
DELIRIOUS Dances is excited to bring To Begin The World Over Again back to the stage. After a celebrated 2012 performance at the Irondale Ensemble Project, choreographer Edisa Weeks looks forward to sharing this work today, in the midst of an uncommon election season that leaves us wondering if common sense still exists.
To Begin The World Over Again explores the writings of Thomas Paine and his spirited advocacy for freedom and democracy. Fusing the visions of composer Joseph C. Phillips Jr. and choreographer Edisa Weeks and their respective companies --the music ensemble Numinous and DELIRIOUS Dances--  the work eloquently explores how freedom and democracy are packaged and promoted in America.  What does it mean to be free in America? And, as America becomes more consumer driven, polarized and disenchanted, is the country living up to its promise?
Recently Weeks sat down with Phillips to discuss how he crafted the soundscape for this evening-length, multi-disciplinary piece, a work that culminates with the reflection that democracy, ideally, is the coming together of various voices.
Delirious Dances; Photo: Brian Palmer
---
Edisa Weeks of DELIRIOUS Dances: Let the people know what brought us together? And more specifically, what made you decide to work on this particular project?
Joseph C. Phillips Jr. of Numinous: Carl Rosenstein, who used to run The Puffin Room Gallery in SoHo connected us almost ten years ago. You had done a few projects there and so did I. Carl just figured we should meet. We discussed various ideas that we could collaborate on and you mentioned that you were thinking of something political, something about democracy. I mentioned I was intrigued with Thomas Paine even though I knew only a little about him (mainly Common Sense). So we both agreed to research and, especially after reading Harvey Kaye's great book Thomas Paine and the Promise of America, the seeds of the project which became To Begin the World Over Again grew.
Delirious Dances; Photo: Julie Lemberger
Weeks: Tell us about the soundscape. How did you craft the sonic experience of this world?
Phillips: To Begin the World Over Again uses a variety of musical techniques based in a post-classical style that also reflects my musical philosophy of "mixed music" (a fusion of artistic and cultural influences into one distinctive musical vision and style). There are longer, more emotionally intense and probing compositions ("Dreams of Wonders Undreamt", "These are the Times that Try Men's Souls", "We Have it in Our Power…") juxtaposed with smaller, lighter "reels" ("Reel Liberty", "Reel Equality", "Reel Democracy"). During our discussions on the project, you related that you wanted to use contradance, which connects to the music in Paine's own time, but use them in a more modern construct; so I created reels that are all original but crooked (deviation from the typical form/rhythm), which evoke the flavor of the contra-dance music of the colonial years but from a contemporary perspective.
Ricarrdo Valentine of Delirious Dances; Photo: Julie Lemberger
Weeks: Which lesson or idea from Thomas Paine might be most applicable today?
Phillips: One of the things that I admire about Thomas Paine is his sense of questioning – to not only question his own thinking but especially that of those in power or who would want or desire to be in power over others. Whether it is challenging theocratic dogma with Age of Reason or government (democratic or monarchy) in Common Sense or Rights of Man, Thomas Paine always asserted the primacy of thinking for one's self – "my mind is my own church" – and to have the wisdom and especially the courage to forge a path that is just and right, no matter the consequences.
Weeks: What does your dream America look like?
Phillips: To answer this question I would reference words I used to explain my composition "Unlimited" from my recent album Changing Same, which get at what my dream would be: "In January 2009 I stood freezing on the National Mall in Washington D.C. with two million others witnessing Barack Obama become President of the United States. Standing there with faces black, brown, and beige there was a palpable sense of excitement and anticipation that the truly unlimited opportunity the original 'promise of America' represented, seemed finally reachable to not only someone like me, but seemly anyone and everyone with ability, a dream, temerity, perseverance, and luck."
Victor Gonzalez of Delirious Dances; Photo: Julie Lemberger
Weeks: If you had to describe To Begin the World Over Again in only 5 words, what would they be?
Phillips: Questioning, challenging, engaging, thoughtful, timely.
Weeks: What's next for you and Numinous?
Phillips: I wrote a new piece for pianist Lara Downes called Never Has Been Yet, which will incorporate an audio collage of various young children reciting parts of the Langston Hughes poem Let America Be America Again. This was originally planned to be on Lara's upcoming recording of American music in October 2016 but now will just be a part of her touring performances for the album this fall and into 2017. My next big project for Numinous is a music drama/opera called The Grey Land that "explores themes of acceptance and identity through the intractable issues of race, class, and power in American society" (which of course you will be doing choreography for) and is set to premiere in Fall 2017, with an album recording of the composition in 2018.
---
We invite you to witness To Begin the World Over Again on Thursday, Friday, and Saturday June 30-July 2, 2016 at 8:00pm at Gibney Dance's Agnes Varis Performing Arts Center 280 Broadway (enter at 53A Chambers). Tickets are $15 Online and $20 at the door. To purchase tickets in advance visit gibneydance.org/performance/pop/delirious-dances.
The July 2 performance is also Family Night and will feature FREE programming and care for children of all ages from 7:30-9:30pm. Parents must RSVP their children by Friday, July 1 at 5:00pm using this form: http://bit.ly/EdisaWeeksFamilyNight.
---
About The Composer and Founder of Numinous Music, Joseph C. Phillips, Jr
The compositions of Joseph C. Phillips Jr. are not limited or defined by any one genre but rather are an amalgamation, transmuted into a singular and individual style. Phillips calls his style, mixed music; the term is inspired by mixed-race people who have traits and characteristics that come from each individual parent, from the melding of the two, and from their own uniqueness.
Mixed music is an organic fusion of elements from different influences forming compositions that are personal and new. Since 2000 Phillips has lead his ensemble Numinous, part chamber orchestra, part big band, and part contemporary alternative group. Numinous deftly and organically transmutes inspiration from contemporary classical, jazz, world, and popular music as well as cinema, literature, and science through its numerous performances.