Related Features
Contribute
Your support helps us cover dance in New York City and beyond! Donate now.
Dance Filmmaker Mary John Frank Leads "Choreography for the Digital Dancemaker" Workshop
On February 6 at Gibney Dance
Mary John Frank, a choreographer and filmmaker, will lead the "Choreography for the Digital Dancemaker" workshop for professional dancers and choreographers on Saturday, February 6 from 1-3pm in Studio A at Gibney Dance: Agnes Varis Performing Arts Center (280 Broadway Entrance at 53A Chambers New York, NY 10007). The classes are free of charge.
Class Description- Choreography for the Digital Dancemaker :
The two hour workshop is geared towards dancers and choreographers interested in filmmaking and documenting their dance works. The class encourages students to implement technology into their process as well as think about how camera placement and movement can enhance their dance creations. The class will be divided into three sections. First, we will watch footage of well crafted, existing dance on camera works and discuss what we see. Next we will move, sweat, and learn some choreography. Finally, we will experiment with cameras and smart phones and record the movement we create in class. The goal is for students to walk away with a better understanding of how to capture their own works and create high quality, thoughtful video projects while having a little fun too!
Frank sat down recently to answer some questions The Dance Enthusiast posed about her work and love for dance and film. Here are excerpts from the conversation.
---
TDE: Why do you find Dance on Camera a compelling medium?
MJF: The process holds me accountable! When a camera is involved I have to get clear on the story I want to tell and the reasons why I'm presenting a phrase of movement in a certain light, with a certain lens, or from a specific angle.
There are also parts of filmmaking that I love applying to dance like post-production. Editing, color, and sound provide even more opportunities to create. In post production, you continue building on a work even after the choreography and shooting are complete.
I am also a fan of the preservation of dance works. We pour so much energy and time into making a piece. I appreciate that with video we can see the work more than once, and more importantly, share the work with other people.  
TDE: We're living in a world that functions in a fast-paced manner where people increasingly consume their culture digitally. How do you see Dance on Camera fitting into this landscape?
MJF:
I feel that this fast-paced world that we live in can actually encourage us to become better, smarter choreographers if we choose to embrace it. 
We now have the ability to receive instant feedback from viewers in the form of likes or comments and we can also easily see how many people are watching our videos. While we shouldn't value our work based on the amount of "likes" we receive, this system of sharing encourages us to pause, look at what we are making, and think about whom we are trying to reach. Awareness of and consideration for our audience can be a great thing for dancemakers and knowing that hundreds of people could potentially see your video in a day can also provide motivation to dig in and find the most interesting version of the work.
To me, "dance on camera" is not so much a genre, but an integral part of the dancemaking process. If you are a choreographer and want to get your work seen you are going to have to film it and put it out there. It is a necessity if you are looking to get hired as a choreographer, receive a grant (assuming they are asking for video submissions), raise funds via crowd funding, or promote a live show. We are all faced with "dance on camera" to some degree and knowing a little more about cameras or how to communicate with videographers can only benefit us as creators.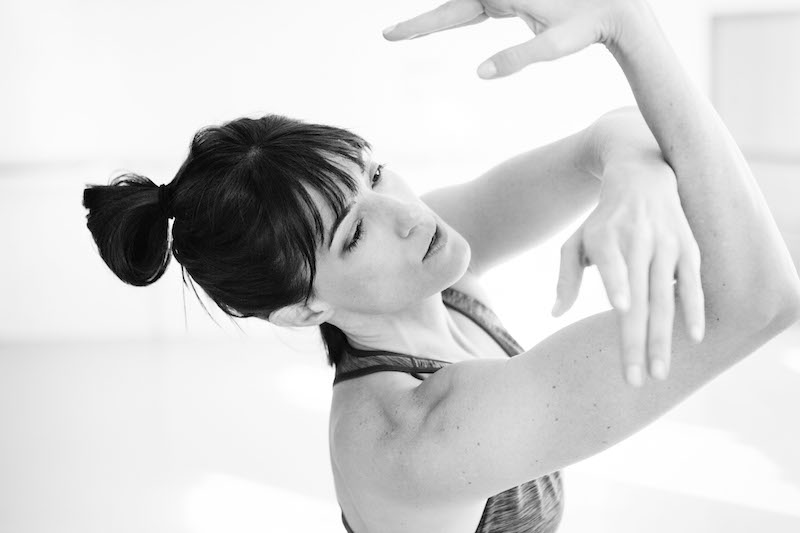 Mary John Frank. Photo by Taylor Jewel.
TDE: Can you share some of your influences for your work?
MJF: "Fosse, Fosse, Fosse, Martha Graham, Martha Graham…" Thank you Robin Williams and Mike Nichols! Some other influences are:
Wes Anderson – the symmetry and physical comedy in his work.
Busby Berkeley – beautiful kaleidoscopic shapes, pre-drones!
Mary Oliver – her poem "The Journey" inspires me endlessly and encourages me to keep going when I feel like I'm trudging through thick mud. Poetry inspires me in general. 
Fatima Robinson – she was the first choreographer (who segued into directing) that I had the pleasure of meeting and she made it all seem possible.
Celia Rowlson Hall – a genius storyteller and dance on camera creator and a gorgeous performer to boot!
My sister, Lu (see photo) – a true artist, a brave soul, and she is the only person I know who could pull off a tattoo of Tom Robbin's "Even Cowgirls Get the Blues" on her thigh. She encourages me to keep going and her cowgirl spirit finds its way into the female characters in many of my works.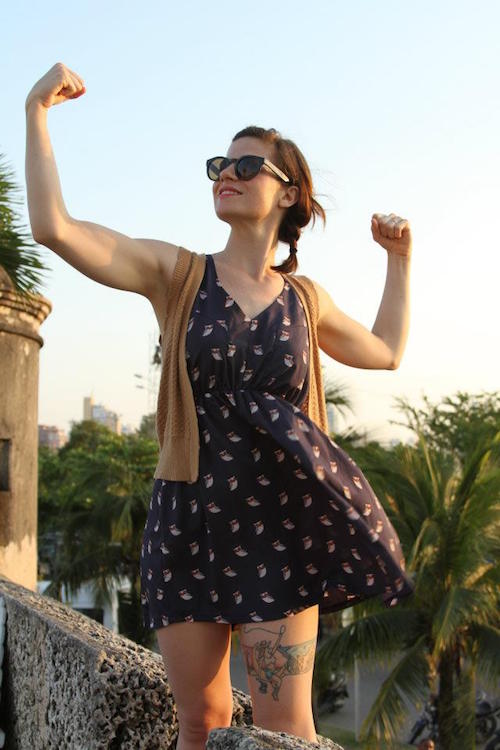 Louise "Lu" Pennebaker. Photo by Mary John Frank.
TDE: What do you hope students learn from your Choreography for the Digital Dancemaker?
MJF: I hope students walk away feeling less intimidated by technology, curious, and interested in collaborating with filmmakers and technical artists. This is an exciting time to be making work and if the students learn even one helpful technique or have a little more courage to experiment, I will feel as if I have done my job. I am grateful to Gina Gibney and Paul Galando for creating space for a class like this and for giving me the opportunity to teach. Thank you for reading! 
---