Related Features
Contribute
Your support helps us cover dance in New York City and beyond! Donate now.
POSTCARDS:Hanna Q Dance Company on Staging Outdoor Performances in The Woods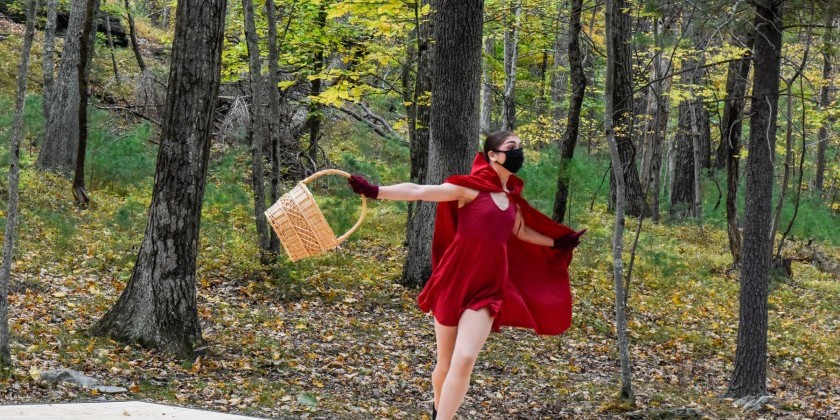 Hanna Q Dance Company (HQDC) couldn't just stop and do nothing.
Zoom has just been driving me crazy, as I can't see what others are doing properly and it just isn't the same. I need my dancers in person or it doesn't inspire me in the same way.
When I realized that I had been staging outdoor performances at our country residence in the Pocono's for many years, I thought, "Why not  continue now?" I asked my dancers if they would be interested in rehearsals in Central Park, and the answer was yes! And so it began...
A respectful audience at Hanna Q Dance Company's outdoor performance (Photo: Ray Yaros)
Hanna Q Dance Company's performances in the park were met by a very enthusiastic and thankful audience! Everyone had face masks and followed the safety guidelines. We had a limited number of seats—just 50—to stay extra safe. Each of the three outdoor performances with different choreography sold out. Our four dancers, John Trunfio, Kristina Bermudez, Abigail Dias and Jonathan Matthews, made it possible for the show to go on.
Furthermore, a fundraiser allowed us to raise money to build a new stage in our woods, where we performed Red Riding Hood. The immersive dance performance encouraged the audience to follow the performers to different spots to witness different scenes in the story. 
Hanna Q Dance Company's "Red Riding Hood" (Photo: Ray Yaros)
Red Riding Hood is my own full contemporary ballet with a (very) twisted narrative, much to the audience's delight. I choreographed and premiered the work at Dixon Place in 2017. For the  October 2020 performance, I made it a tad different so it would fit in with the woods. We were very lucky to enjoy the gorgeous Autumn weather and nature's beautiful colors.
Eroica Spray scene (Photo: Ray Yaros)
Hanna Q Dance Company's Gala Performance  on September 26, 2020 was a performance and dinner party for dance enthusiasts starved for cultural events and gatherings—but in a safe way while still following the safety guide lines.
I premiered my  new work  in celebration of Beethoven's 250th anniversary and choreographed a new piece to his symphony Eroica. The dancers were, of course, wearing face masks, but also face shields and it got a little wild later on in this robust and athletic but humorous dance when they couldn't resist spraying Lysol on each other!
I also premiered  "Lips" a multimedia dance piece full of  passion, inspired by Alan Kaplan's pastel drawings of lips, which were projected onto a screen behind the dancers. It is a nostalgic piece reminiscing the days of "night life", going club dancing, and socializing in a "normal way". Unsurprisingly, the work is set to club  dance music. 
Hanna Q Dance Company's "Lips" (Photo: Ray Yaros)
I am currently choreographing new work as you read this. Stay tuned for HQDC's live streams and dance films and videos—come behind the scenes and watch our work in progress! Just a few weeks ago, we were rehearsing and recording this new piece at Union Square Park; the solo piece stars dancer John Trunfio and saw Christian de Luna Zuno behind the camera.
---
The Dance Enthusiast is delighted to hear from you. Share your story with our enthusiastic audiences and be part of the conversation. Send a digital POSTCARD to The Dance Enthusiast at info@dance-enthusiast.com. Include your text (not a press release) and three to five properly credited pictures, or links to short video. If you have any questions, let us know.
---
The Dance Enthusiast - News, Reviews, Interviews and an Open Invitation for YOU to join the Dance Conversation.