Rhode Island's Island Moving Co. Makes Great Friends While Dancing and Touring Kazakhstan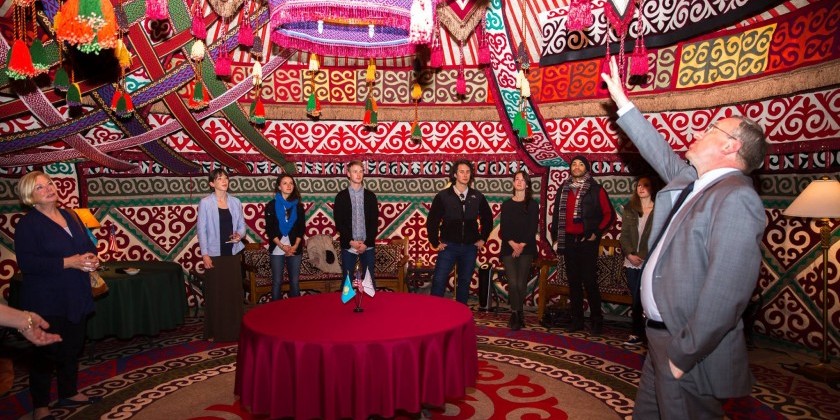 Island Moving Company's First International Tour!
Сәлем! (Sälem!), Kazakhstan!
Island Moving Co. toured to Kazakhstan this spring as part of the Company's Great Friends Touring Project. This was the first international venture of the Project, which creates touring opportunities through simple trades with other dance companies. Companies from California, Missouri, Texas, Virginia and Florida have performed at the IMC's Great Friends Dance Festival and have, in turn, hosted Island Moving Co. at their home venue. Samruk Dance, of Almaty, Kazakhstan, was part of the Festival in the summer of 2015 and invited Island Moving Co. to come to Kazakhstan in the spring of this year.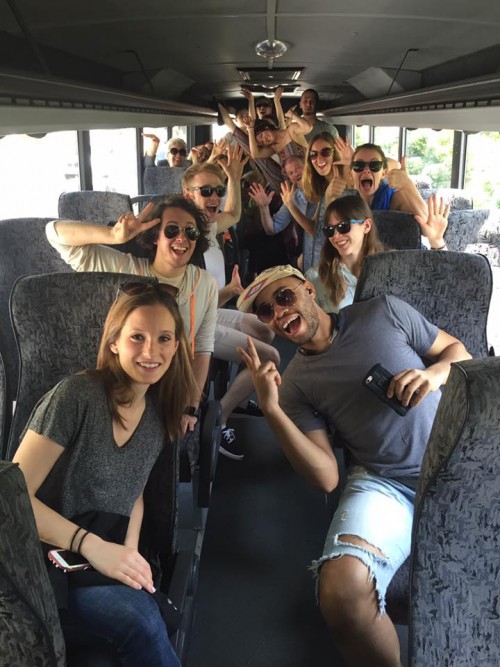 Island Moving Co. company members traveling in Kazakhstan. Credit: IMC photo.
Serendipitously, 2016 is the 25th anniversary of US/Kazakhstan relations. When the Embassy and Consulate learned that a cultural exchange between the two countries was in the works, they offered to expand the exchange by adding two cities to the tour as well as numerous outreach activities with schools and community centers. During the two weeks that IMC was in Kazakhstan we performed to sold out audiences in Almaty, Astana and Shymkent and interacted with teenagers at the American Corner, dance students at the Choreography College and young students at the Shymkent School. The two companies were greeted everywhere with open arms, feasts were laid out and many toasts were made. Kazakh artists performed traditional dances, music and songs and the IMC dancers learned and performed the Balbrun, a fierce Kazakh folk dance complete with swords, backflips and shouts. We performed it with Samruk, bringing down the house at each show.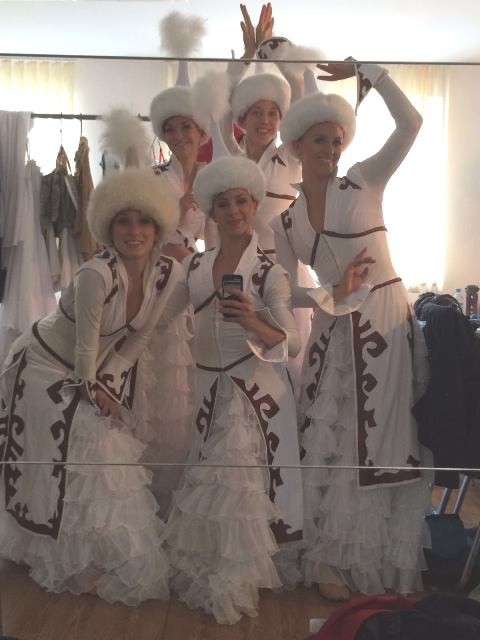 Our dancers Lauren Difede, Christine Sandorfi, Tara Gragg, Katie Moorhead and Brooke Difrancesco backstage
before performing a traditional Kazakh folkdance in Astana Credit: IMC photo.

About Island Moving Co.
Island Moving Co. was founded in 1982 by a group of choreographers seeking a forum for their work. Miki Ohlsen was elected Artistic Director; she has commissioned over 70 dances from guest and in-house choreographers. IMC has commissioned over a dozen musical scores as well as collaborations with visual artists, actors, and poets. Our 9 professional dancers are classically trained and remarkable for their intelligence and adventurous spirit. IMC works extensively with area schools, interacting with 5000+ children each year in RI, MA and FLA. Open for Dancing, its biennial site-specific dance festival, has engaged 600+ participants, 75+ musicians, and 30+ cultural non-profit partners and featured site specific work by choreographers such as Joanna Haigood, Noemie Lafrance, Monica Bill Barnes and Zach Morris.

Island Moving Company together with Kazakhstani contemporary dance theatre Samruk visited the Almaty metro and delivered a memorable performance in an unusual place.

About the contemporary dance scene in Rhode Island...
RI's dance scene is populated by three ballet companies, Island Moving Co., Festival Ballet Providence and the State Ballet of RI, which is mainly a student company.  Festival and IMC both present new work by contemporary ballet choreographers. While Festival Ballet presents the classics in large proscenium theatres in Providence, Island Moving Co. has made its signature in site specific work, recently performing in large theatres at home and on tour as well. In Providence, there is always a flux of modern choreographers at work, many of whom come to perform at IMC's Great Friends Dance Festival.  Recently, Colleen Cavanaugh, Shura Baryshnikov, Heather Ahern and Nikki Carrara have been presenting work.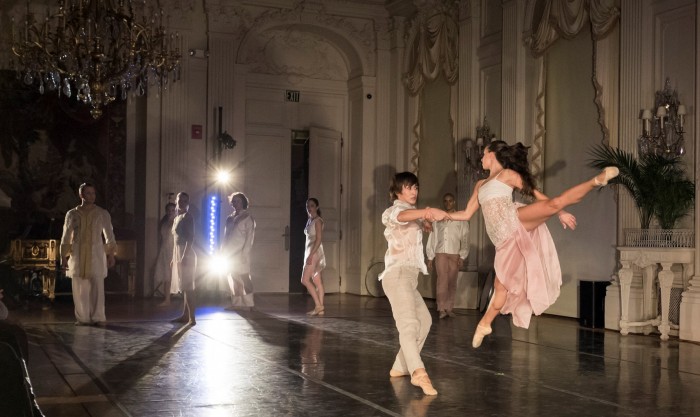 Azamat Asungul and Lauren Difede in a performance at Rosecliff in Newport.  Credit: Thomas Palmer.
Future plans and upcoming performances
Island Moving Co is busy during the summer, taking advantage of the lively Newport scene. Our biggest fundraiser, the Nuit Blanche, will be held at The Elms, one of the Gilded Age mansions on Bellevue Ave. Immediately following, our Great Friends Dance Festival opens on July 14th for nine nights of performance at the 1699 Great Friends Meeting House in Newport. The residency company this year is Owen/Cox Dance from Kansas City, MO. Other guests performing with us over the two weeks are Nomad Contemporary Ballet, BodyStories: Teresa Fellion Dance, Trainor Dance and Ballet des Ameriques from New York; plus Sundance from Massachusetts and part of the oath from Providence.  In September we will premiere Second Star on the Right: A Tale of Hook and Pan, a ballet staged aboard Newport's Tall Ship, the Oliver Hazard Perry.  At the end of November, we are at Rosecliff mansion for our unique Newport Nutcracker at Rosecliff for a short one week run.