Related Features
Contribute
Your support helps us cover dance in New York City and beyond! Donate now.
Jill Sigman - OUR LADY OF DETRITUS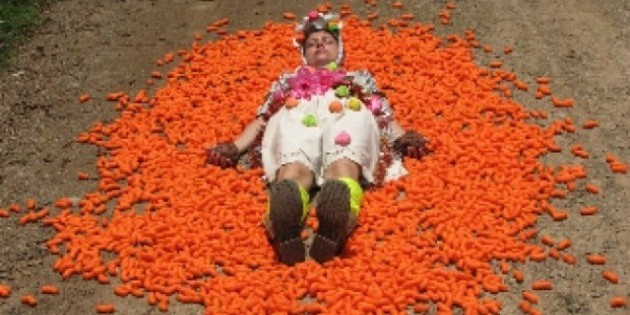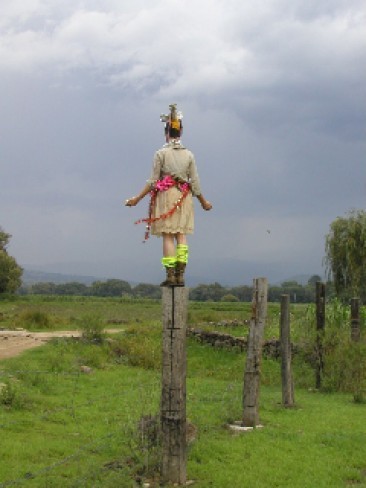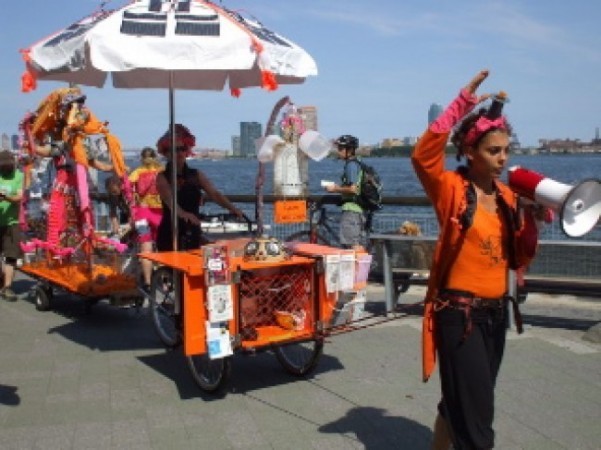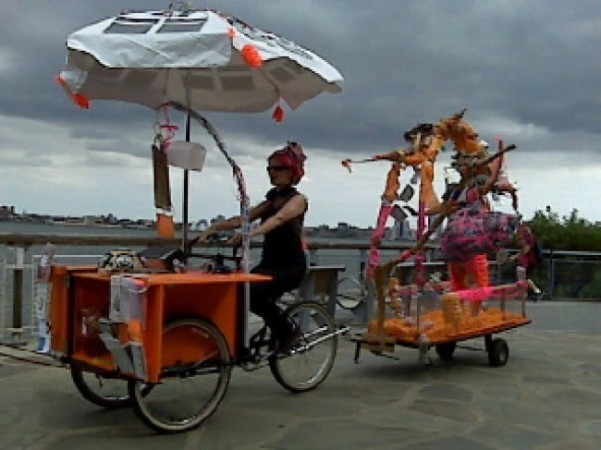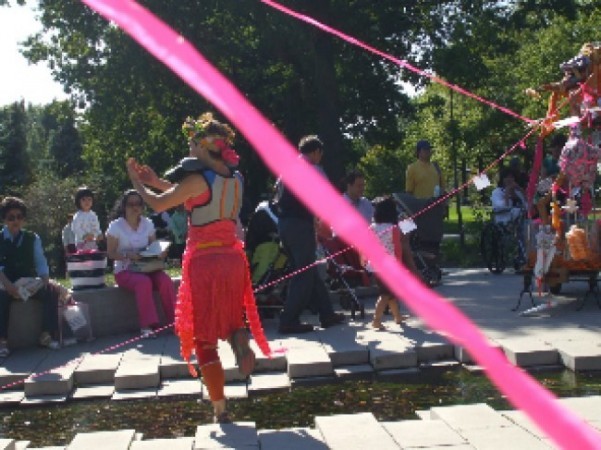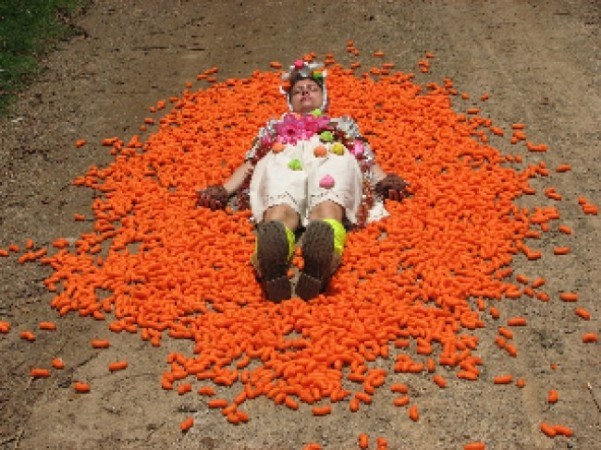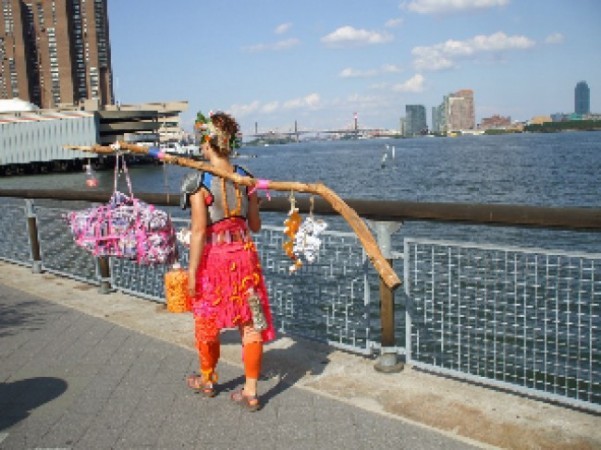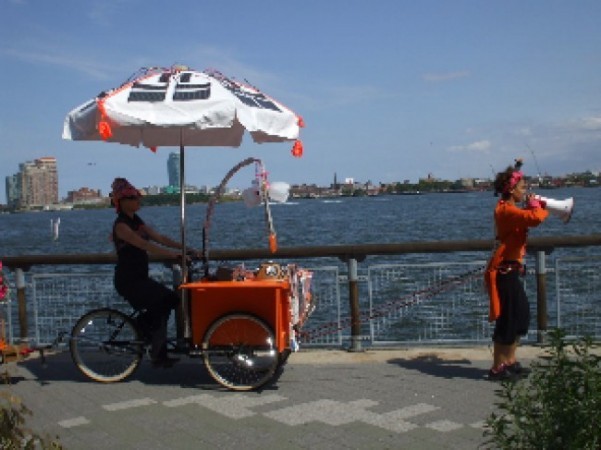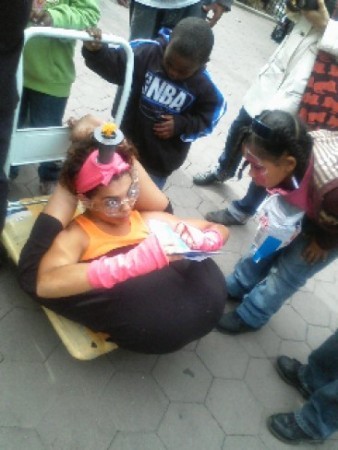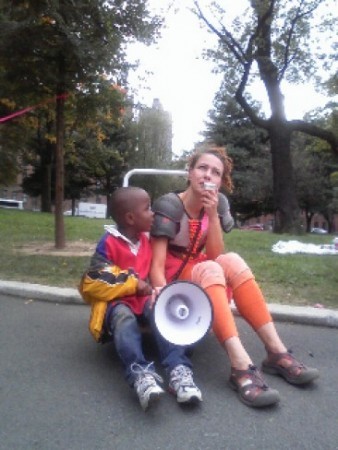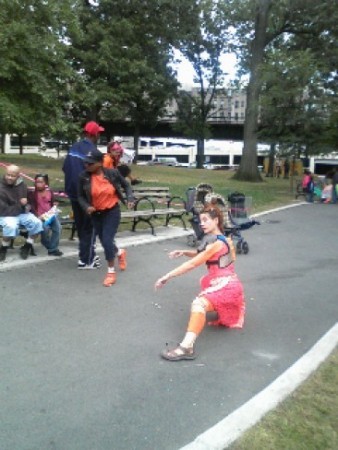 Our Lady of Detritus was a portable performance installation about trash and transcendence. It was presented in 5 public sites in 4 NYC boroughs and seen by over 2,000 viewers this past Fall. The piece ran for 2 hours at each performance and was performed by choreographer Jill Sigman, composer Kristin Norderval, and actor Mariana Ferreira.
---

"The piece was originally researched and conceived on a residency in art and ecology in Michoacan, Mexico. While there, I was surrounded by Mexican mortuary images, home-made shrines, fluorescent junk foods, and issues about trash disposal.

I was struck by how the mundane and "cast off" could so easily be transformed into something otherworldly and spiritual. Metallic wrappers from saltine cracker boxes, cans, and other "trash" were re-invented to make beautiful roadside altars, and I was captivated by this theme of re-invention and recycling— both for our trash and for ourselves.

I was also struck by how the junk foods symbolized a kind of fixation with consumption— the bold, the fast, the illusory— and for me connected to what I sense exists rampantly in American culture at the moment.

Beyond that, there were major issues about trash disposal in that region— too much stuff and no good solutions about what to do with it. All of these themes fed together into "Our Lady of Detritus".

I was intrigued by the idea of creating a "local" religious icon who symbolizes our cultural fascinations and addictions— who offers a suggestion about transformation, while at the same time reminding us that we have made plastics and other toxic non-decomposing substances our new gods.

Finally, I learned about the existence of Tlazolteotl, the Aztec goddess who absorbed the sins of the people and vomited them out. I see "our lady of detritus" as linking the pre-columbian and the postmodern by way of a ubiquitous Christian iconography."