POSTCARDS: Joanna Kotze On Her Latest Work, "'lectric Eye," at The Space at Irondale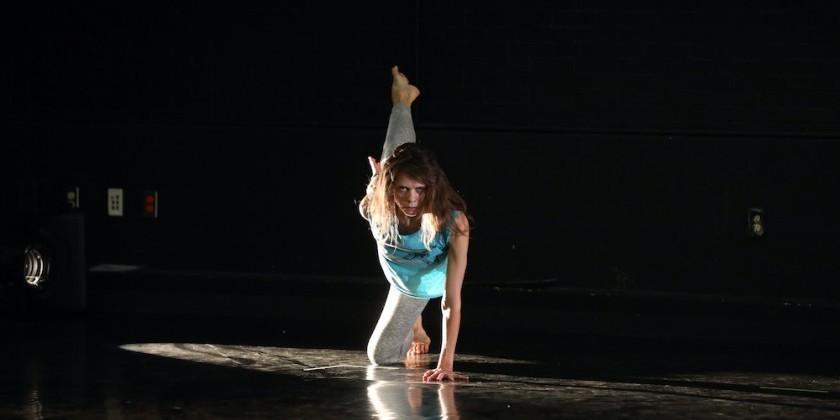 Pushing Physical and Sonic Limits
'lectric Eye by Joanna Kotze
February 9–12, 2022, Wednesday–Saturday 7:30pm
at The Space at Irondale, 85 South Oxford St., Brooklyn, NY  
TICKETS: $20.00 General Admission, $15.00 Students, Seniors, and Working Artists
$10.00 for the Live Stream (Saturday, February 12 at 7:30pm only)
COVID CONDITIONS: Proof of full vaccination will be required at the door, and all patrons are to remain masked for the duration of the event.
---
Hi! I'm Joanna Kotze and I'm gearing up for the premiere of 'lectric Eye –– an evening-length, highly physical dance performance I've created through a multi-disciplinary process. The piece responds to collective and personal loss and isolation and draws attention to the human body's potential for persistence, resistance, and power. 'lectric Eye uses the connection between music and movement to push physical and sonic limits, both as a collective and as individuals.
Making a live performance right now has been largely unlike any other process I've ever been a part of, or led. After performing a short excerpt of 'lectric Eye at Judson Church through Movement Research in January 2020, my collaborators and I began trying to figure out how to keep the work going and the group connected during the COVID-19 pandemic. We rehearsed on Zoom and outdoors, and eventually came slowly back into the studio together in Spring 2021. Thanks to several amazing residencies since, at Mt. Tremper Arts, Movement Research, and MANCC, we finally have finished the piece that we will share February 9–12 in the beautiful Space at Irondale in Fort Greene, Brooklyn!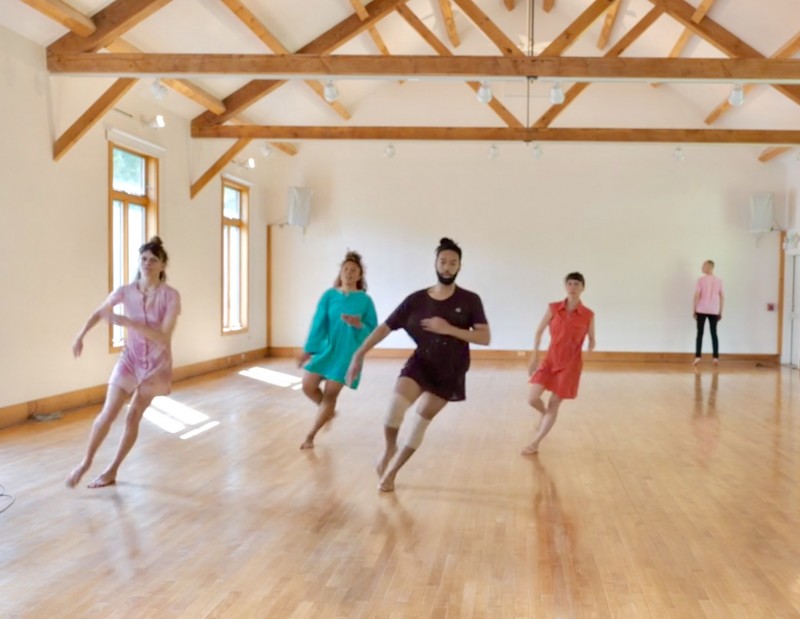 Joanna Kotze, Symara Johnson, Wendell Gray II, Moller Heller, Ryan Seaton, screenshot from rehearsal at Mt. Tremper Arts
While the main themes of the work began to emerge in 2018, prior to the pandemic and the explosion of police violence against Black people that resulted in widespread protests in 2020, they feel extremely relevant today. With 'lectric Eye we ask: How do we look at and experience effort, labor, humor, violence, unpredictability, and beauty? And more broadly, How do we continue?  Over the last few years, it has become clear to me and my collaborators how important it is to recognize and reflect on our connections to each other. It's also really clear to us how much strength and value we can offer, as individuals, to a group and to a greater good.
I am a Brooklyn-based choreographer, dancer and teacher who has been part of the New York dance community since 1998 and this will be my fourth evening length piece. This process of making 'lectric Eye began as it often does for me with a series of questions––How do we inhabit space together? and how do we continue to create change?–– and the "answers" or subject matter emerged from there, from my moving body and from the collaborators in the room.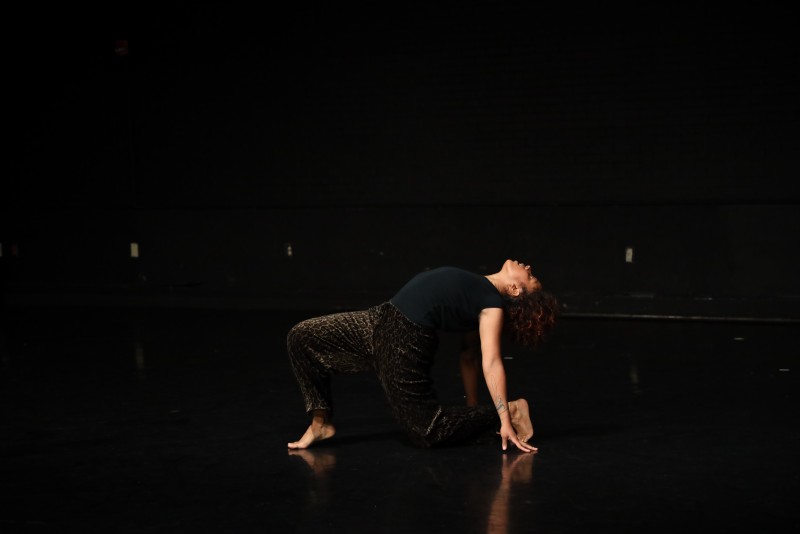 Symara Johnson  in rehearsal at MANCC, photo by Chris Cameron
'lectric Eye features dancers Wendell Gray II, Molly Heller, and Symara Johnson and composer/musician Ryan Seaton. It is the first time this group has worked together and I'm so grateful to have had these amazing artists on board for the last two years. Ryan –– who performs his profoundly kinetic score live –– and lighting designer Kathy Kaufmann are longtime collaborators. I feel so fortunate to have worked with them both for the better part of the last decade!
In so many ways, my work IS the people and what the diversity of their bodies and personalities bring to the process. Over time, these relationships with my collaborators lead to an examination of what is housed in their own body. These histories, desires, and influences are crucial to how I develop each performer's role. Each role becomes a way for the performer to access and express rigor, power, vulnerability, and individuality.
Molly Heller, Ryan Seaton, Wendell Gray II in rehearsal at MANCC, photo by Chris Cameron
As part of the research process, I was trying to push myself to some new places and I began incorporating a writing practice––15 minutes, unfiltered & unedited, by hand––in order to take in and process the information around as I do in my movement practice but through language. I wanted to share this with someone, and thought of my good friend Lauren Slone who had been in touch with me about her own writing practice. As a 'writer-in-residence' on the team, Lauren has helped bring a perspective and response that is very different from a traditional review, or description that might be used in applications or marketing materials, and I am so glad I ventured into this new terrain with her.
At some point in the 'lectric Eye process I was also toggling back and forth between how the material would work outside of a traditional theater setting, on my body as a solo and on a large group of many bodies. Three whole other stand alone projects––a short book with Lauren combining our writing, a short film, and a short outdoor performance––emerged and have been so crucial to understanding the bigger picture. Seeing how they each feed into and affect each other as they manifest is how I imagine a visual artist might feel when they have multiple works hanging next to each other in the studio, progressing at different rates but in conversation with each other.
The short film, Nothing's changed except for everything was made in collaboration with Ryan Seaton (sound) and Chris Cameron (cinematography). We filmed in December 2020 while I was an artist-in-residence at the Maggie Allesee National Center for Choreography in Tallahassee, Florida and then edited throughout 2021. This residency at MANCC was initially supposed to be time to work with the dancers on 'lectric Eye, but not wanting to risk others travelling and getting Covid, I went alone knowing I wanted to make something from the material I had been working on for the prior two and a half years. Chris and I started visiting different sites: city parks, parking garages, and dance studios to film what would become a journey through the various locations. Having this visual representation of this intense emotional time, as part of the choreographic process, is so special to me. You can watch the 10 minute long film here until February 12 and we will also screen it after the 'lectric Eye performance on Thursday, February 10!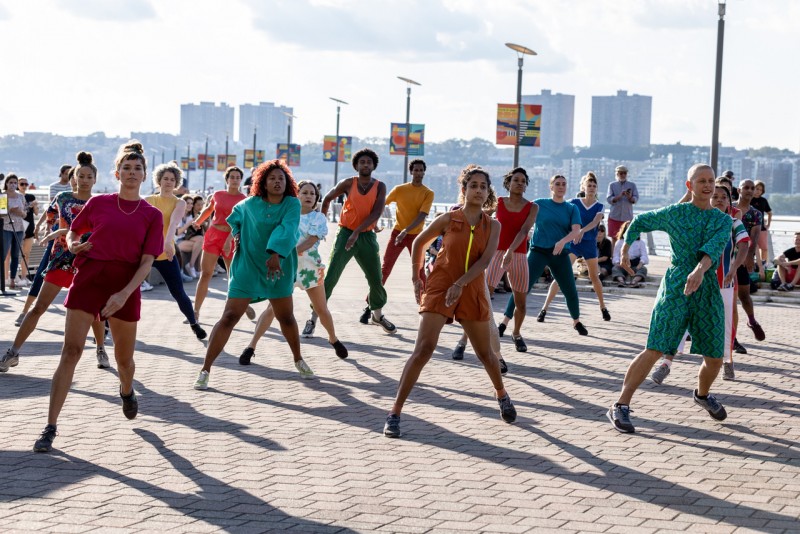 BIG BEAT;  photo by Maria Baranova
The other tangential project came about as I was lying awake one night envisioning some of the movement we had been working on for 'lectric Eye, being done by a huge group moving in unison. I remember wondering how this dynamic would relate to the solo material that was surfacing from working with Wendell, Symara, and Molly. Last summer I was fortunate to invite a group of 19 other professional dancers, thanks to a City Artist Corps Grant and the amazing team at the Summer on the Hudson Festival to premiere BIG BEATS, a 15-minute, free outdoor performance in Riverside Park in September 2021. It was exhilarating to perform in front of a live audience again and definitely helped me solidify the vision for a larger group dancing in 'lectric Eye.
Now that we have had a few rehearsals in the Space at Irondale, Kathy's had a chance to design the lights, and Christian Joy is finalizing the costumes, I feel like all the pieces, decisions and experiments from the last few years are finally coming together. I met the team at The Space at Irondale after a performance in 2019 and am excited that those initial conversations have led to this moment. Bringing 'lectric Eye to audiences in Brooklyn, in this historic space that champions live performance and activism, is very energizing to me right now and I hope you will join us for either the in person shows or the live stream!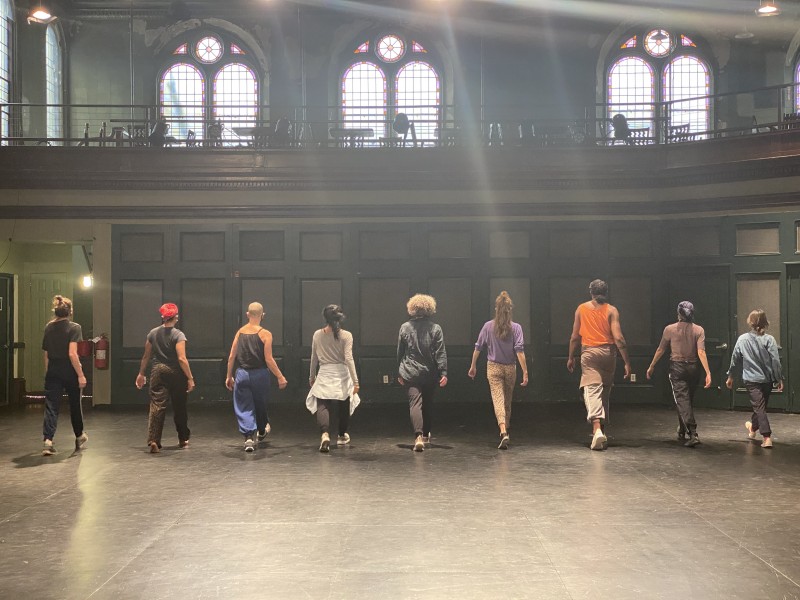 'lectric Eye rehearsal at the Space at Irondale, photo by Audrey Collette
---
The Dance Enthusiast is delighted to hear from you. Share your story with our enthusiastic audiences and be part of the conversation. Send a digital POSTCARD to The Dance Enthusiast at info@dance-enthusiast.com. Include your text (not a press release) and three to five properly credited pictures, or links to short video. If you have any questions, let us know.
---
The Dance Enthusiast - News, Reviews, Interviews and an Open Invitation for YOU to join the Dance Conversation.