Diana White, Formerly of New York City Ballet, on the Rising Stars of Korean Ballet at Symphony Space July 11 and 12th
Korea National University of the Arts (K Arts) Sparkles at Symphony Space
Who: Korea National University of the Arts (K Arts)
What: Rising Stars of Korea Gala
Where: Symphony Space, 2537 Broadway at 95th Street, New York, NY
When: July 11 and 12 at 7.30pm
More details HERE.
---
About the George Balanchine Trust's Partnership with K-Arts:
Diana White, former soloist with New York City Ballet, was in Paris last October teaching and staging Balanchine excerpts at the Conservatoire National De Paris. At that same time, K-Arts dancers were in residence on an exchange program. They had a final performance that she was invited to attend, where she watched the dancers present works that ranged from classical to contemporary to traditional Korean dance. Upon watching this performance, she was beyond impressed by the artistry and sophistication of these young dancers. It was there that she met the Dean of K-Arts, Son-Hee Kim, who immediately asked her if she would be willing to come to Seoul to work with her students on Balanchine rep. She explained to Diana that she is very eager to bring Korean ballet to the international stage. Furthermore, K-Arts has seen their students dance all over the world in many major companies but wanted to present her current graduates in New York, and very much wanted to include Balanchine in the program. This is an unusual request because students don't often get to dance Balanchine -- the quality of the dancers needs to be extremely high for the trust to approve it. 
One such dancer is Soobin Lee, an extraordinary talent at K-Arts:

Soobin Lee dancing NIkiya's second Act variation from La Bayadere.
 
"At 15 she won special juried prize at Varna and was invited to perform a four-act Swan Lake and La Bayadere at the Bulgarian National Ballet," says Diana. "She is an unusually gifted artist. She has an instinctual and innate artistic sense, and I predict we will be seeing a lot from her in the coming years."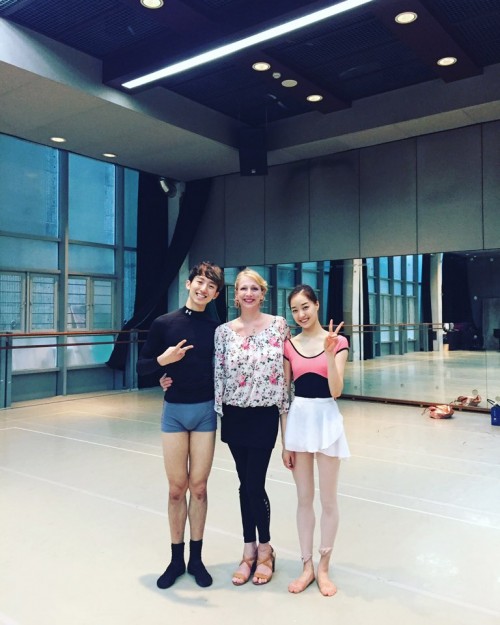 K-Arts dancers Daehan Na (left) and Hohyun Kang (right) with Diana White, former soloist with New York City Ballet.
You wouldn't think it, but teaching dance in Korea where English isn't the first language is relatively easy.
"There isn't much of a language barrier when I go to places like Seoul to set works -- dancers know how to communicate with each other," says Diana. "Occasionally minor things get lost in translation, but the movement always prevails. I always demonstrate the choreography, its intention and the movement quality. The music also speaks to us and them in a way that makes everything clear. Ballet really is an international language. I also have a translator much of the time for all of the other conversations, which of course, always helps!"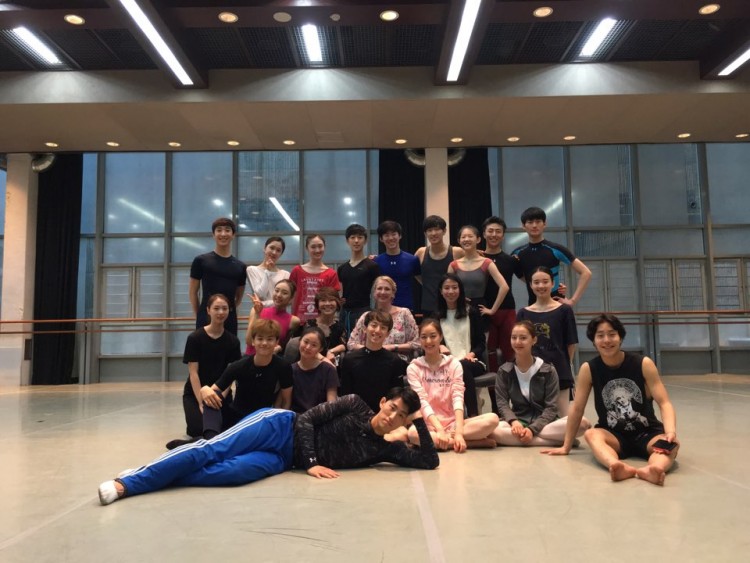 K-Arts dancers and Diana White posing for a group shot after rehearsals.
"(After watching The Rising Stars of Korea Gala), it will be evident that ballet is alive and vital in Korea -- they have treasures that they don't even know they have," asserts Diana. The Korean public and the government aren't aware of these dancers, as dance in general doesn't hold a large place in their culture. With engagements like this, Korean dancers can establish themselves internationally and will hopefully help to raise them recognition back home."