POSTCARDS: Kanyok Arts Initiative on Presenting "STAGES" at the Battery Dance Festival
Battery Dance Festival
Through August 20
Kanyok Arts Initiative performs on August 16 at Robert F. Wagner Park at 7 p.m. More info HERE
For the full lineup of live and virtual presentations, please go HERE
---
Hi, everyone! We're writing to you from downtown New York City, at Kanyok Arts Initiative in Studio 160 where we are hard at work prepping STAGES, set to perform at the Battery Dance Festival this week! STAGES is a seven-minute collective choreographic response to the 15 months of the pandemic lockdown as well as the political and social climates which the dancers have lived through. The piece is a creative approach to mixed repertoire, a conglomerate of all styles and all representations of dance — and where better to premiere STAGES than at Battery Dance Festival!
All of our students can feel the energy sizzling in the studio this past Thursday evening during one of our final rehearsals. Mentor and co-choreographer David Fernandez shouted, "What is the name of this piece?" Our dancers replied, "STAGES!" and took places scattered through the studio, their eyes narrowed with focus, dedication, and fire as the percussive music exploded for the opening 5, 6, 7, 8!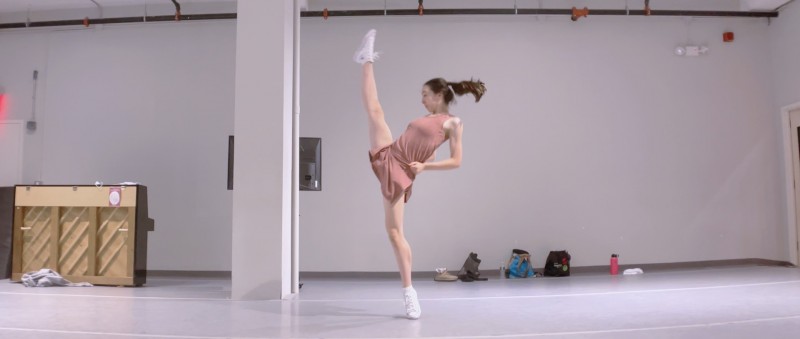 Photo courtesy Kanyok Arts Initiative
At the end of our run, our students were dripping with sweat but had smiles plastered on their faces. All of their collective experiences of the pandemic are applied to this piece, and you can tell they've been through a lot. One of our girls spent the duration of the lockdown in her basement. She hated it! All of their exuberant joy radiated past their exhaustion, happy to be back in the studio and on the stage. 
"I know a lot of people think just because things are returning to 'normal' that we should all be grateful. But COVID has had a lasting impact on everyone, especially teenagers," shares our dancer Arielle Telfort. What most teenagers usually experience as seniors in high school: auditions for dance companies, decisions for colleges, and final performances with their childhood friends, we were robbed of."
KAI student Hailey Fleming has dealt with asthma her entire life and didn't feel prepared to undergo the massive lifestyle shift of moving into a dorm realizing that the increased exposure to other teenagers was a risk to her health during this time. "My decision to take a gap year was the hardest decision I have faced, but with this decision has come with a lot of personal growth." She feels more confident than ever with her decision to attend Boston Conservatory this fall and is certain these skills she has learned over her gap year - both in her training and in life - are ones she will treasure in her future.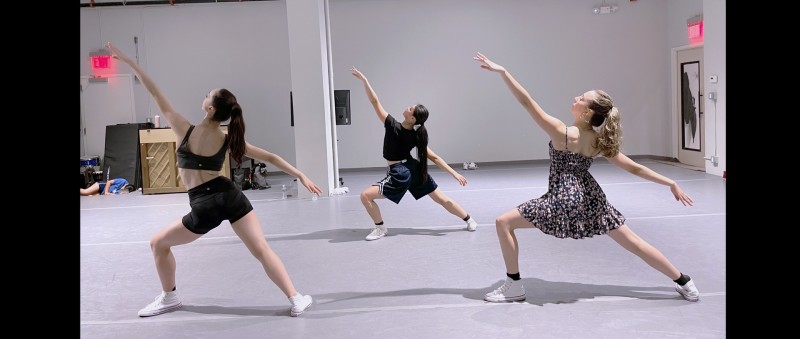 Photo courtesy Kanyok Arts Initiative
Hailey isn't our only dancer discovering silver linings through their time training with KAI over Zoom. Haley Herman shares that being in front of the computer all day was frustrating at times, but "our ability to continue training and performing in some capacity gave us a sense of purpose and motivation while the world was at a halt." She couldn't be more thrilled taking the stage at the Battery Dance Festival in just a few days! Dancer Kiera Fleming adds that having her friends to uplift and motivate only adds to the excitement premiering STAGES. 
Our mentor Danielle Diniz explains the creative process behind STAGES as, "The epitome of collaboration, all stemming from an honest place of a group who loves dance to their core. It explores the 'stages' of life and how they have continued to hone their craft within the context of our current year and a half, but does so with intention, versatility, and engaging movement." She is blown away every single day by KAI's dancers' return to the studio and stage! They have overcome every confine and obstacle, maintaining every last ounce of their technique, laser-focus dedication, and explosive energy.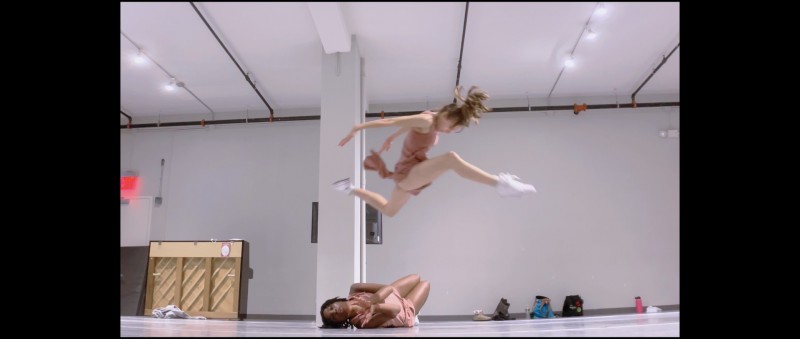 Photo courtesy Kanyok Arts Initiative
"Being able to see my students onstage again after being isolated for more than a year and a half is sweeter than the best summer watermelon," shares director Laurie Kanyok. After having to suddenly close down her studio in March 2020, Laurie is proud that every last person at Kanyok Arts Initiative stuck together and created a bond stronger than ever before — all resulting in the zenith of this work, STAGES! 
We are so proud of our dancers using the space to project their voices and share their stories from the stages of their lives. We are counting down the minutes to share with our audience the exuberant final product against the magnificent setting at The Battery Dance Festival! 
We can't wait to see you on the STAGE!
---
The Dance Enthusiast is delighted to hear from you. Share your story with our enthusiastic audiences and be part of the conversation. Send a digital POSTCARD to The Dance Enthusiast at info@dance-enthusiast.com. Include your text (not a press release) and three to five properly credited pictures, or links to short video. If you have any questions, let us know.
---
The Dance Enthusiast - News, Reviews, Interviews and an Open Invitation for YOU to join the Dance Conversation.