MARIE-CHRISTINE GIORDANO DANCE in the premiere of Giordano's 'IN and OUT'
Postcard for a Premiere
A Postcard from: Dancer/Choreographer MARIE-CHRISTINE GIORDANO
as she prepares the premiere  'IN and OUT'  and Celebrates 10 years in New York
---
Thursday-Saturday, June 7-9 at 8 PM St. Mark's Church, 131 East 10th Street Tickets: 8; 2 for seniors/students/dancers Reservations: 866.811.4111 or www.danspaceproject.org

Dear Dance Enthusiasts,

I was born and raised in Fribourg, Switzerland and  came to New York City to study modern dance thanks to a Merit Scholarship. I fell in love with the city and never left.
It has been an amazing journey of discovery and growth; at times lonely, at times scary, exciting, and a little crazy ,but always enriching eye-opening and even gravity defying!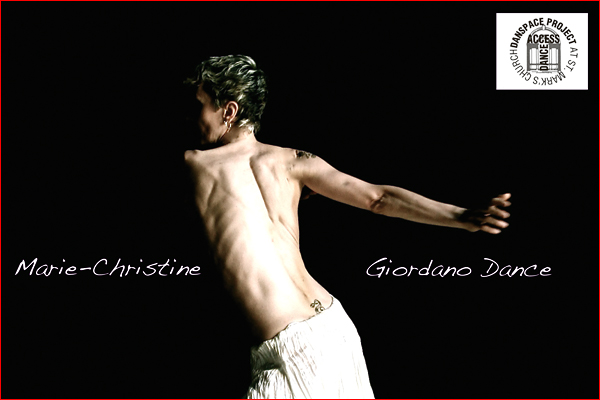 Marie- Christine Giordano ;Photo courtesy of the choreographer

For the 10th anniversary of our company, we are thrilled to present a new creation In and Out at St. Mark's Church in the East Village, June 7-9. It is dedicated to all who leave the security of the known - whether  it be social expectations, a community, a country, an inherited or implied identity- to engage on a path of discovery and self-discovery and of shedding of preconceived ideas.

Everyone perceives art with their own sensibility and taste but one thing is for sure; this is a labor of love!

Performers: Marie-Christine Giordano, Andrea Lanzetti, Kana Sano Music: Al Comet Lighting Design: Michael O'Connor Sculpture: Walter Rossi


Thank You,
Marie-Christiine
PS. We are offering 2 discounted tickets for all dancers. Order on line, no extra fee. Click Here to Order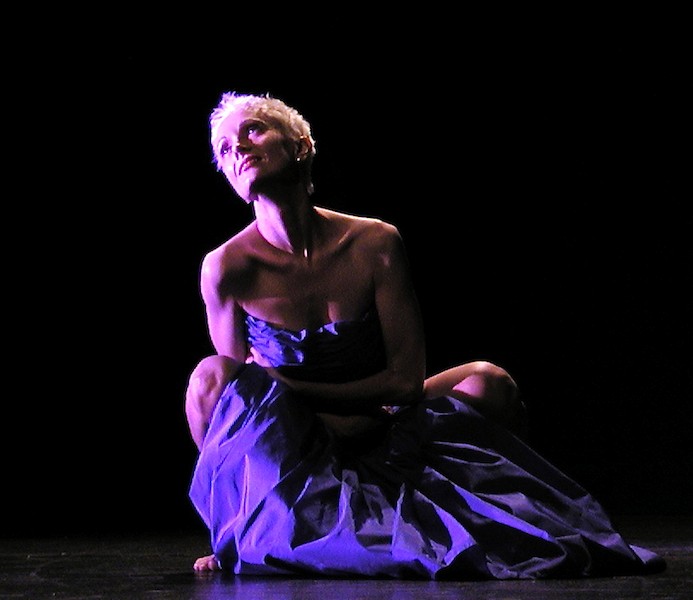 Marie Christine Giordano; Photo Courtesy of the choreographer
---
The Dance Enthusiast is delighted to hear from you. Share your story with our enthusiastic audiences and be part of the conversation. Send a digital POSTCARD to The Dance Enthusiast at info@dance-enthusiast.com. Include your text (not a press release) and three to five properly credited pictures, or links to short video. If you have any questions, let us know.
---
The Dance Enthusiast - News, Reviews, Interviews and an Open Invitation for YOU to join the Dance Conversation.