A POSTCARD From Morgan McEwen, Artistic Director of MorDance, About the Company's 5th Anniversary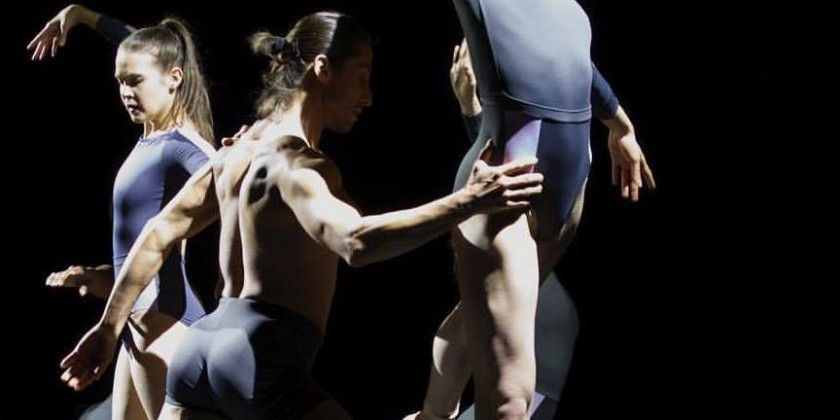 In case you missed it, MorDance's 5th season kicked off with a work in progress showing on September 29th at Martha Graham Dance! We presented three works during this showing, one which will premiere during our CUNY Dance Initiative Residency in January and February and the other two will premiere in April at our fifth anniversary season performances. 
Mordance's Jace Coronado, Cassia Farely and Amy Saunder in Leonard Bernstien's On The Waterfront Suite.
Our CUNY Residency was granted for my proposal to make a ballet to music by Fats Waller. My interest in his music was precipitated by my husband's and my move to the Morning Side Heights/Harlem area and being surrounded by amazing jazz venues like Smoke Jazz and Super Club and the Cotton Club. I've also attended additional events with a focus on Jazz music and really became enthralled.  After honing my focus on Waller I further began researching him as an individual and became really infatuated with his story and life. This piece is really lively and fun and will have audiences dancing in their seats.  We are so lucky to be able to have the music performed live on stage with the dancers for our performances at Aaron Davis Hall on February 8th.  
The next we presented was a piece choreographed to Leonard Bernstein's On The Waterfront Symphonic Suite in celebration of his centennial. This score is a chillingly beautiful concert suite that he composed for the 1954 movie "On The Waterfront." The work will pay homage to Leonard Bernstein by doing with choreography what he did for film: listening, learning the nuances, and conceptualizing the music through dance.  This piece is stark yet lively and tender.  The music is powerful and the dancers match that with every stride and movement.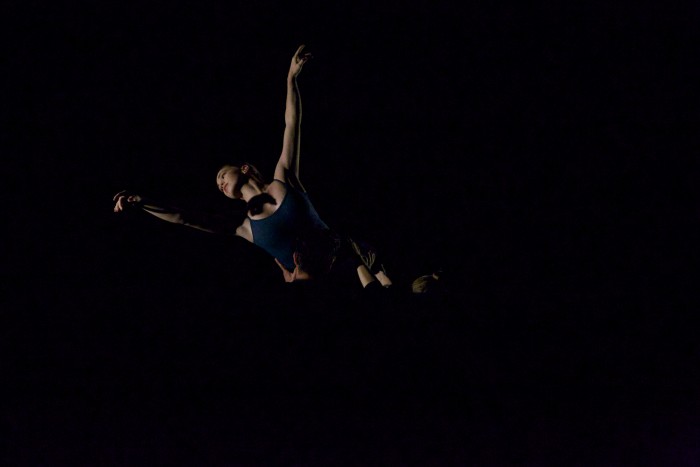 Dawn Milatin floating across the stage during the Stabat Mater Works In Progress Showing.
The third work we presented was a work to Stabat Mater by Arvo Pärt. I fell in love with Pärt's rendition of this work many years ago and have been waiting for the right time to begin this endeavor. This piece of music is large and heavy in every sense and it was so important to me to really be ready to tackle this. This piece will explore Mary's mourning and sharing of sorrow following Christ's crucifixion but not solely be a piece about morning and loss.  I'm also looking to finding moments of rebirth and joy despite a deep sense of grieving that the music portrays. Lighting designer Becky Heisler has been a huge part of this piece helping to employing lighting techniques to give the illusion of silhouettes and shadows, and dancers floating and being supported by others.
My process often begins with the music. I spend countless hours listening to and researching music. I then slowly begin to form the structure of the ballet which then often changes throughout the creation of the work. I then tend to choreograph phrases of material on my own that I will then mold and form on dancers in the studio. As far as finding dancers I've found them in a myriad of ways from auditions, to seeing dancers in open classes in the city, to having experience working with them on other projects, or by colleague recommendation.
Mordance Lighting Designer Becky Hiesler and Morgan McEwen.
This was the first time we have taken part in a works in progress showing and we hope to do so every year now. I did look for feedback from the audience after the showing. Not so much to make changes to the works but to hear the thoughts on the works and really make sure I am conveying my thoughts through movement and the dancers in a clear way. 
We have not presented new work in over a year and I think it was a good break for me and needed time for the company to grow and develop not just artistically but as a business as well.  The company is in a really strong place right now to make a mark and I have grown a lot with my vision.  This was mentioned to us by a lot of our attendees. We also learned how important it is to give our audiences a look into the creation of the work by talking to the whole artistic team and speaking about the work in an open format.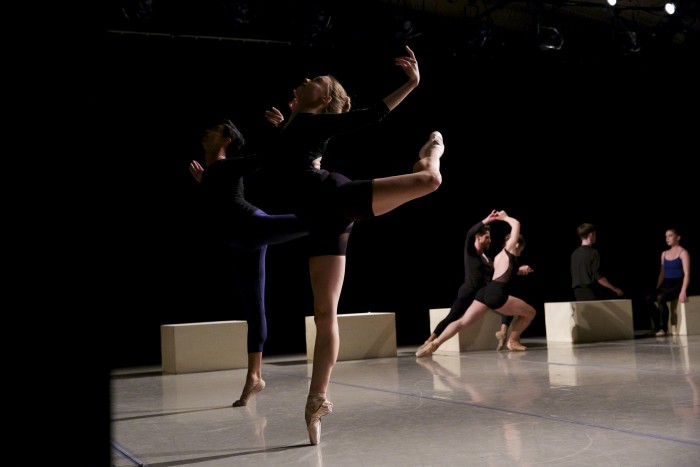 Mordance's Rachel Thalman and Mauro Villenueva.
A lot of people were very excited to see the new works and how much the company and my vision as a choreographer has evolved and grown since we last presented work. 
In this milestone year, I am most looking forward creating new works, bringing in new audience members, celebrating art, dance and music, and continuing to expand our outreach programing. Hope to see you there!
---
The Dance Enthusiast Encourages Artists, and their Friends and Representatives to Share Dance Stories and Create Conversation in a POSTCARD.
Find more Postcards HERE.

We are delighted to get mail.
Consider sending a digital POSTCARD to The Dance Enthusiast.
Tell us what you are up to.
Include your text (not a press release) and three to five properly credited pictures, then send to info@dance-enthusiast.com.
If you have any questions, let us know at the same email address as above.