Related Features
Contribute
Your support helps us cover dance in New York City and beyond! Donate now.
POSTCARDS: Meet and Follow NYC's PMT Dance, the House Head Session, and the Crazy Natives Crew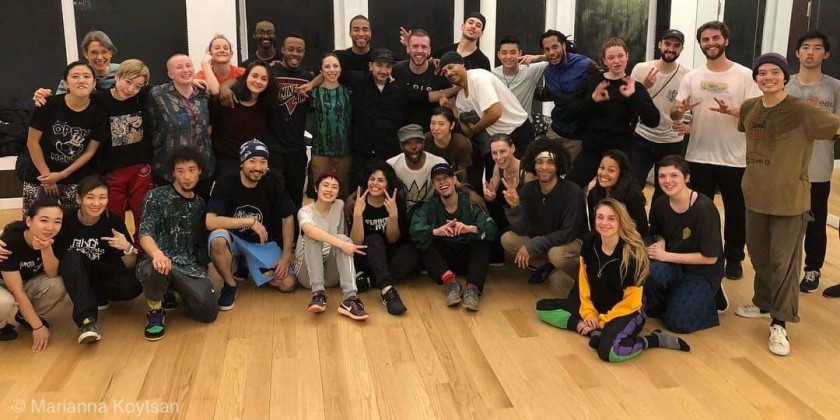 A Place for Everyone Who Loves to Move From All Generations and All Nations!
If you enjoy world-class House music and movement, let me introduce you to one of New York City's little-known gems, House Head Session at the PMT Dance Studio, originally created by Byron Cox, now run by James "Cricket" Colter.
I came to the House Head Session in 2012. In this place that lives between class, club, and stage, we dancers exchange methods and styles. We watch, laugh, improvise, and lose our minds as we play gravity games with our bodies.
While House dance is what we come here to learn, Breaking, Waacking, Capoeira, Contact Improvisation, Contemporary, Latin, African and various folk dances are also part of the mix.
You can be involved in cyphers (circle dance jams), train solo, dance with a partner, or rehearse and develop work in a group. Usually each session has a DJ, which fills the atmosphere with an especially powerful connecting energy, one that's even stronger than what you feel in the dance clubs. Perhaps this happens because we are in an intimate dance studio.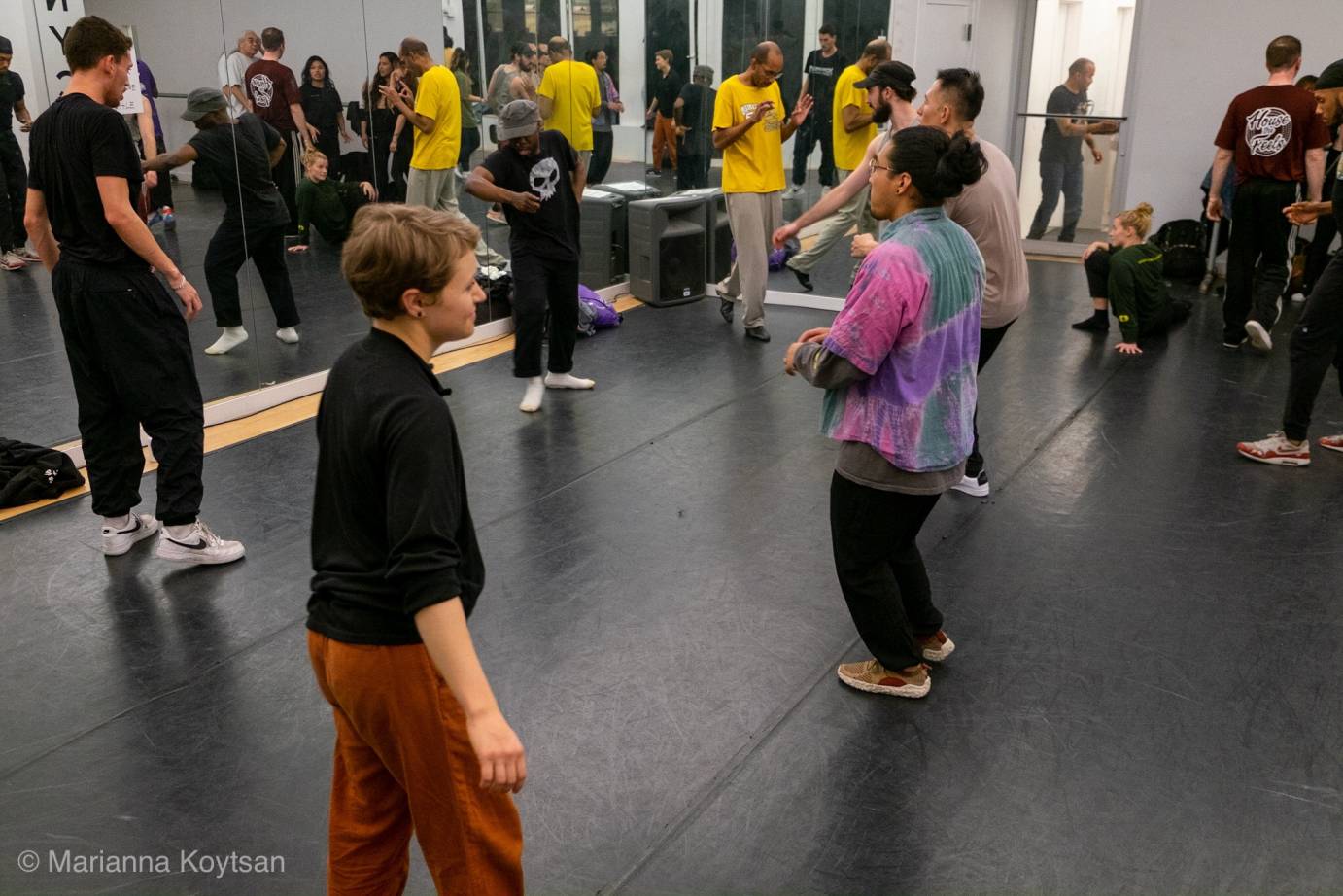 Members of the House Head Session ; Photo Marianna Koystan

 
The session is open to anyone who likes to move, whether you live in NY or are just passing through. We are also multi-generational. Young kids join to play with the music and dance, OGs (Older Generation) come to teach, learn, and stay in touch. Occasionally percussionists stop by and play in tandem with our DJ.
A session usually lasts for 2.5 hours, but I often lose track of the time. When it's over, I feel warmed up and ready to hit the clubs like a dance demon.
Friday night House Head Session: Photo by Marianna Koystan
In March 2018, "Cricket" Colter created a "crew" out of people who attended House Dance Session at PMT. We are called the Crazy Natives. (Actually, he and Roberto "BJ" Trinidad originally founded the crew Crazy Natives in 1997, but the group had many iterations over the years.) We are the latest and we come from a variety of dance backgrounds Breaking, Hip hop, Contemporary, Capoeira, Ballet, Modern, Hustle  are represented. Our crew is multi international from here in the USA, as well as Russia, Japan, Indonesia, France, and China.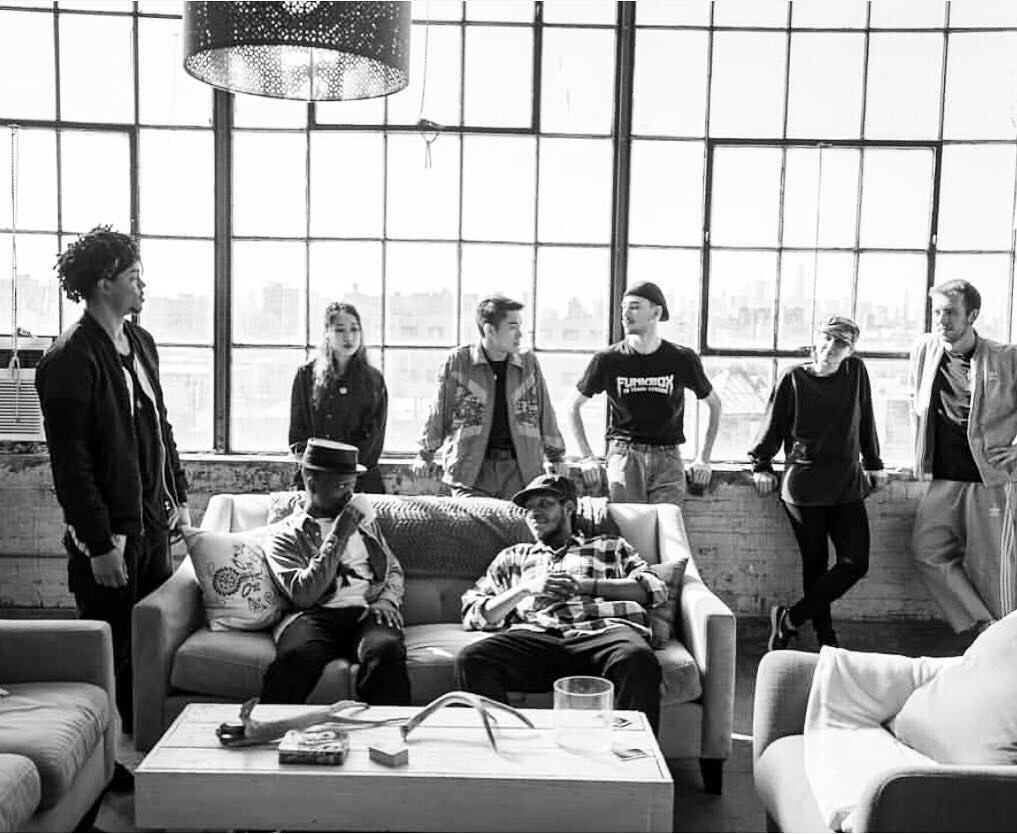 Left to right:  Shango Nijah Ra Bartley Robinson aka Jungle, Yunmeng Xu, Joki Kano, Alexandre Beaslay-Bolivar, Marianna Koytsan, Thomas Sweeney aka Tommy
On the couch left to right: James Colter aka Cricket and  Marcus Thompson aka Phoolish ROC; Photo by Alex Lopez

 
For the past year-and-a-half the Crazy Natives have participated in competitions and taught across the United States, Japan and Europe. We have performed in NYC, Pace University, and at the Laye Rhythm event, Long Island at Lindenhurst High School. We are also happy to be the faces of the Manhattan Portage Bags brand.
Our mission is to expand the movement styles that exist in street dance, while keeping true to the authentic feel of NYC clubs. We're bringing our work not only to street dance events, but also to the concert stage.
Let me introduce you to my friends and members of the Crazy Native crew: James "Cricket" Colter, Tommy Zapatista, Yukiko "Swan", Alexandre Bisley, Mayu Shirai, Shango "Jungle" Bartley, Marcus "Phoolish Roc," Sucram, Joki Kano, Yunmeng Xu "Erika" and me, Marianna Koytsan.
---
---
The Dance Enthusiast is delighted to hear from you. Share your story with our enthusiastic audiences and be part of the conversation. Send a digital POSTCARD to The Dance Enthusiast at info@dance-enthusiast.com. Include your text (not a press release) and three to five properly credited pictures, or links to short video. If you have any questions, let us know.
---
The Dance Enthusiast - News, Reviews, Interviews and an Open Invitation for YOU to join the Dance Conversation.