A POSTCARD From Julia Gleich / Gleich Dances About "Martha (and the Searchers)," A Ballet About The American West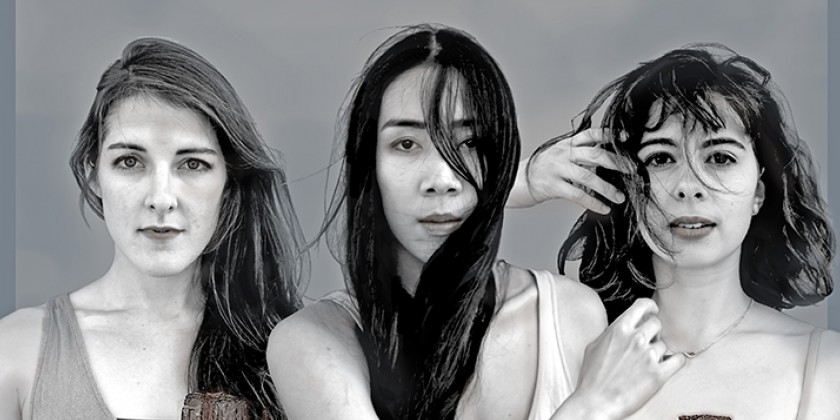 The Company Is Celebrating Its 25th Season This October 27-29 At Mark Morris Dance Center
From London back to New York, hi there!
My upcoming premiere Martha (and the Searchers) is a ballet about the American West—the frontier and all the trials and tensions surrounding it. It addresses an American history that has been disregarded and even rejected. The work is a series of episodes and refractions of one single woman—touching on the ugly past, the stoic journey and the romantic notions of women and the past. I was motivated by what seemed to me the most unlikely of sources, the 1956 John Ford Western, "The Searchers" starring John Wayne. I remain baffled by this – of all the things to inspire me. I thought westerns were just long tedious clichés of the frontier, the good guys, the bad guys, cowboys and Indians, racist tropes and sexist figures. In fact, this western is fairly ugly, John Wayne is an anti-hero. And Martha, whose character takes center stage in my ballet, well, she is an unlikely hero. She is iconic. Appearing for only 20 minutes in the movie, she is the motivation for the whole film. I think because John Ford had made silent movies, he was able to direct iconic gestures and organize the space to create a dancerly, choreographic effect. Martha is an idea that engenders thoughts of trail-blazing alongside a stoic, fully-formed, mature identity. If ballet can be a Western, then Martha is a stalwart Giselle, a homesteader who lives in unrequited love for the good of all, and her spirit motivates her every drive. I felt compelled to learn more about her and to explore her identity through movement while continuing to re-construct conventions of ballet.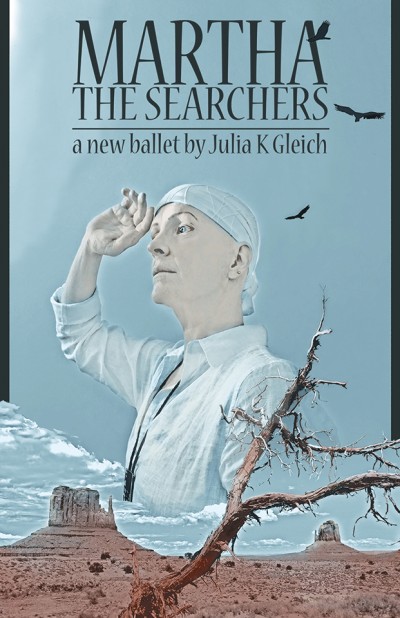 Image courtesy of Gleich Dances.
I am so glad to be celebrating the 25th anniversary of Gleich Dances back in New York! If I have any home, NYC is the closest thing as my main creative work is here. I have talented and richly artistic dancers with whom I work. Curiously, a lot of this choreography emerged from a digital interface between London and NYC. My dancers in NY would learn and interpret choreography sent to them on video devised with my dancers at Trinity LABAN in London. We would send files back and forth and in April I worked that material into a first draft of Martha. But teaching in London at 2 prestigious conservatoires was filling me with new ideas and at the same time compelling me to take some decisions about focusing my energies. I have such terrific collaborators who I wanted to spend more time with. I thought about Martha, her commitment to go west. I guess I did the same.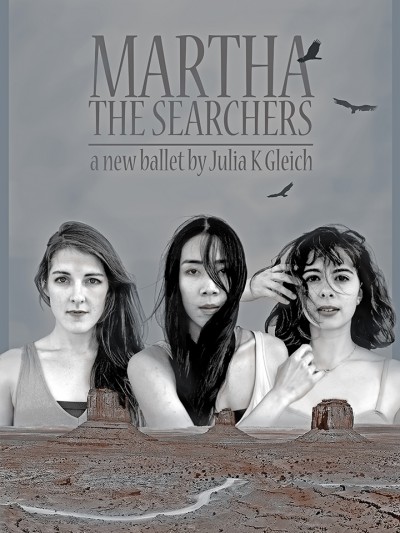 Image courtesy of Gleich Dances.
I think teaching choreography for the past several years abroad has changed the way I choreograph my own work. There was a lot to learn about ideas of dance education in the UK. It was a steep learning curve. I like to think that I brought some new ideas to my programs and students. But they seemed a bit confused about how to react to me. I suppose I brought a little American craziness to them. I know that I am grateful for the messiness of some of our US values – the willingness to not easily label a technique or dance form. (Though it makes it more difficult for presenters and publicists.) At London Studio Centre I discovered that I was more American than I thought.
The main value I have learned through all of the choreography advising over the past 14 years (and some of my students are making very good work, like Liam Francis with Rambert and Lucy Ridley of Secret Cinema) is that feedback on art, on choreography, must 'feed' the creator. That you don't need to focus on the negative. Most artists are already there in the negative. Instead share imagery and highlight strengths of the work. Artists 'hear' what isn't said. That's how I want to receive feedback. Leave critiquing for critics.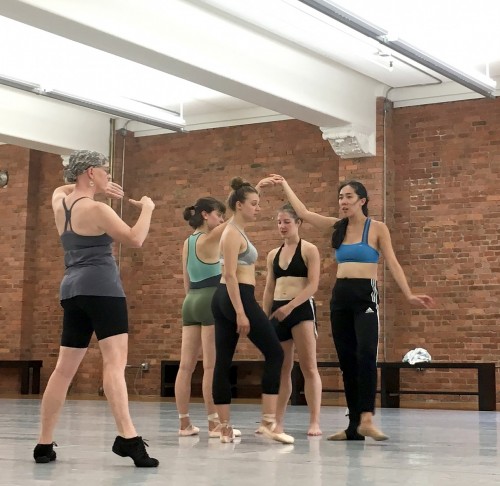 Image courtesy of Gleich Dances.
Collaboration is always a necessary part of creating too. I have 14 years of collaborative innovation as a co-Founder of Norte Maar with Jason Andrew. I like to think of Jason as a kind of Diaghilev, motivating new ideas by pairing artists and creating new challenges. He is an exceptional friend and our organization keeps me very much connected with visual, sound and all kinds of artists. I prefer collaborations that are fairly open. Another artist's view can only enhance, and perhaps challenge my own creative imagination. It's great when a collaborator drives the work into new directions. I think this is what happened with Elana. Something about that first meeting in her studio, the colors, the textures, it all merged together and suddenly we were fully committed to a concept of Martha!
Image courtesy of Gleich Dances.
My artwork has always involved materials that evoke human activity, and is scaled in relation to the human body. I often respond directly to the architecture in which the work is sited, explains Elana. "Julia's choreography brings real bodies, time and movement into the mix. And then there's the music!!! As a visual artist I've spent most of my life working alone on pieces who's authorship was only mine. Collaboration is a wonderful opportunity to see art evolve through an exchange of ideas, energies and visions. Its such a pleasure to be a part of an art form that combines so many disciplines, distinct talents, and sensory experiences into something that is truly greater than the sum of its parts!"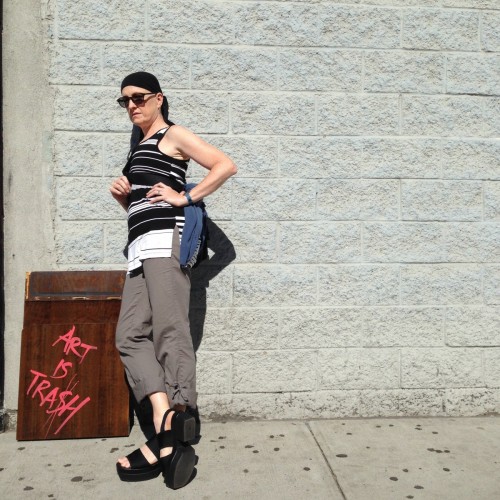 Image courtesy of Gleich Dances.
Establishing my company here in Brooklyn and really diving in to making more choreography for them is at the forefront of my mind; and continuing to challenge my own habits by working with excellent collaborators like Elana. Expanding and sharing my choreographic ideas and intention, particularly my interest in vectors. Of course, this project is just the beginning in a series of ballets I'm developing around women from the American West. The dialogue back and forth across art and memoir, narrative and the snapshot in time, the connection between ballet as history and ballet as a living form, between fact and fiction. There is a place in between where Martha exists, and it's there where more work needs to be done. 
---
The Dance Enthusiast Encourages Artists, and their Friends and Representatives to Share Dance Stories and Create Conversation in a POSTCARD.
Find more Postcards here.
We are delighted to get mail.
Consider sending a digital POSTCARD to The Dance Enthusiast.
Tell us what you are up to.
Include your text ( not a press release) and three to five properly credited pictures, then send to info@dance-enthusiast.com.
If you have any questions re content etc. let us know at the same email address as above.