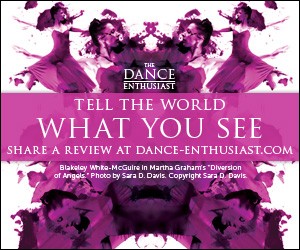 Related Features
POSTCARDS: Accent Dance NYC Highlights Choreography that Aims to Reach Beyond the Stage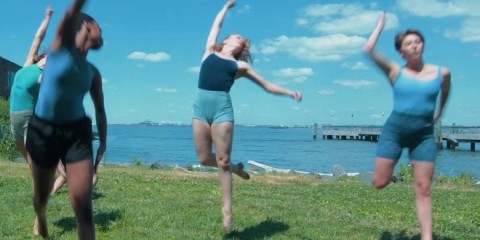 Over the last five years, Accent Dance NYC has remained committed to offering dance education to communities all around New York City as a way to unite, celebrate culture, expand opportunity and offer an alternative outlet of self-exploration, self-confidence, and communication in school-aged children. As the professional performing company of Accent Dance NYC gets ready for its annual "Let's Dance" gala on November 12 at Ballet Arts Center for Dance, my new commission The Waters is about to make its world premiere for this special event!
Poster for Accent Dance NYC's The Waters
In this new work, we are exploring an ongoing environmental justice issue that has plagued the community of Pueblo, New Mexico for over sixty years. The  water has been contaminated  from Cold-War-era uranium mines which continue to cause water scarcity, water contamination, widespread cancers and other issues amongst the people living there. The water shortage disproportionately affects the Pueblo, Laguna, and Navajo people who lived off that land before the mines were there, and have witnessed industrialists deplete their clean water sources and fisheries for decades. Already an arid climate, New Mexico depends on groundwater to sustain life when it does not rain. When the groundwater is poisoned, so too are the people, the livestock, the land.
In an ongoing effort to bring elements of art activism into its curriculum this school year, Accent Dance NYC will incorporate The Waters into its larger lesson plan about the environment, about how each one of us can take action to bring positive change to our earth. For Accent Dance NYC's upcoming "Let's Dance" gala, we continue to explore solutions.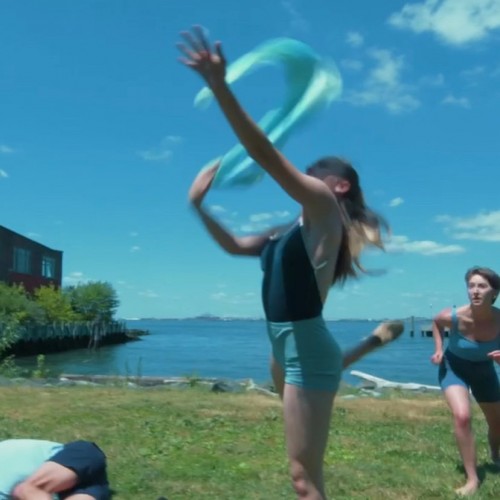 Still from The Waters video by Angelo Vasta
Just as it requires the whole team — choreographers, dancers, directors, musicians, costume designers and more — working together to create a piece of art, so too will it require the cooperation of all of us in our community to protect our water, cherish it, and keep it clean. 
Dance is rooted in discovery, and by creating a piece based on a social justice issue, we are learning together while emotionally processing the atrocities that are happening around us. When we bridge together the vision and concepts of a choreographer with  the human physicality and vulnerability of a moving body, our story begins to take shape.  And this story relates to all of us. As the Laguna say, "water is life," and we too face water shortages across the United States as we continuously overuse our limited resources.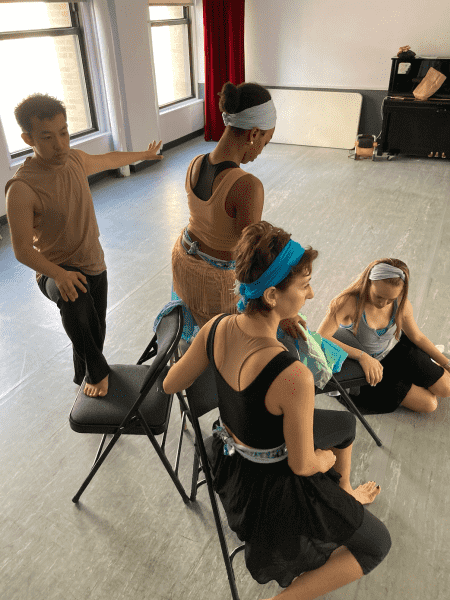 Accent Dance NYC in rehearsals; photo courtesy of the company
The cast of The Waters hopes to bring beauty to the stage next month, but also to signal a call to action to do our part, live with compassion, and educate the next generation who will inherit all that we leave behind.
I am forever grateful to Sarita Apel, Rose Barbantan, Paige Cowen, Fatou Diouf, Chris Makens, Tsubasa Nishioka, and Junyla Silmon for their courage; bringing their literal, entire beings to this dance piece. They use their physicality and spirituality to tell the story, and I could not fully comprehend the power and life force they would bring to the floor upon learning the work, until it was in motion.
It's magical being a part of this creative process and witnessing the dancers as they work to bring moments of this narrative to life. 
Be among the first to see "The Waters," meet the dancers of Accent Dance NYC, and attend their gala evening: Visit https://accent.dance/events/
---
The Dance Enthusiast Shares news from the dance world and creates conversation.
For more Dance News pieces, click here.
If you have important news to share, please send announcements or press release to info@dance-enthusiast.com!
---
The Dance Enthusiast - News, Reviews, Interviews and an Open Invitation for YOU to join the Dance Conversation.