POSTCARDS: Ariel Rivka on Seeking Stillness Amidst Movement This Spring 2023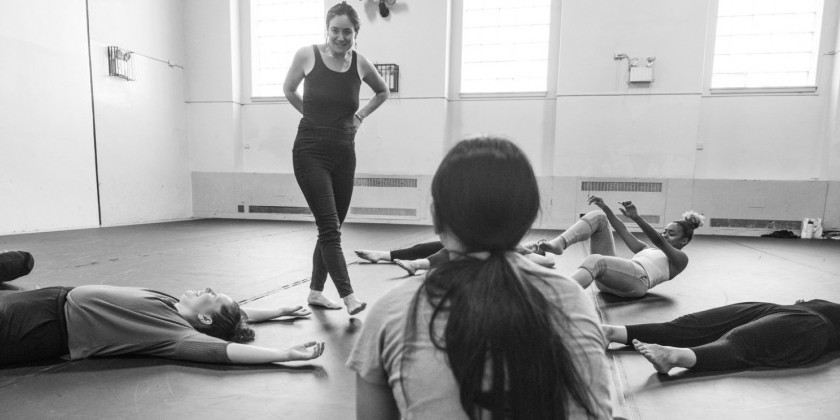 When you consider dance, you may not immediately think of stasis. When I watch my dancers rehearse, and when I reflect on what I noticed, I find the most meaning in simple interactions. I see moments of myself captured in time. As I think about 15 years of my company Ariel Rivka Dance (ARD), I see constant evolution — shifts forward, and sometimes backward — around myself, my work, and my body.
I am proud that I have created a space for my dancers to move with vulnerability — a space where I can share my deepest emotions and have them physicalize it so accurately because it is their experience they are expressing, not only mine. I am 41, recently divorced, a mother of 2 kids, and starting a whole new life chapter. It is humbling to have the personal and professional support of this company. It is humbling to share such rich, layered, and complex experiences with each other.
Ariel Rivka Dance in rehearsal; photo by Trey McIntyre
Ariel Rivka Dance has been a home for 25+ dancers, 20 new works, and 12 tours, and innumerable collaborations with multi-genre musicians, educational workshops, international performances, galas, and authentic connections with audiences. Amid all this growth and movement, I do see stillness. This stillness brings me grounding and hope. It gives me a moment to breathe and feel connected to the world and seen by my community of movers and creators. 
During the Covid-19 pandemic, the company barely paused. It wasn't a choice. I had to keep going. We met regularly in the digital world, challenging ourselves to move and create even in the midst of immense change. Returning to the studio in person moved my practice forward;I was changed. I was ready to share my soul, heart and mind with the dancers and our audiences. I keep reminding myself of how many times throughout my life, when I shared my struggles people were grateful for, and not fearful of, my openness.
Ariel Rivka Dance in rehearsal; photo by Trey McIntyre
After 15 years of leading the company I am proud that our upcoming season focuses on how our individual experiences inform a collective story — from the world premiere of Donna Weng Friedman's film Never Fade Away, featuring dancers Chun Wai Chan and Xiaoxiao Cao, to the company's continuation of a multi-year project with Summer Dregs.
This all-new season includes Microvids, 19 vignettes inspired by Stefania de Kenessey's piano movements, with live piano accompaniment. And finally, the most personal work I have ever imagined: the second half of what we created at our 2022 season: What You Want. It is a woman's search for the self and a protest against the layers of imposed and expected identities we find ourselves living.  
Find the stillness in movement, and the movement in stillness with me this spring. I hope to share this with you during Ariel Rivka Dance's 2023 Annual Spring Season at the NYU Tisch Department of Dance (Jack Crystal Theater) from May 31 until June 2, 2023. Tickets are available now.
Warmly, 
Ariel