POSTCARDS: Nathan Hirschaut, a Juilliard Grad and Global Entrepreneur in Santa Cruz, Tells Us About His Dance Business, Hive Creates, and Their New Project "Seek"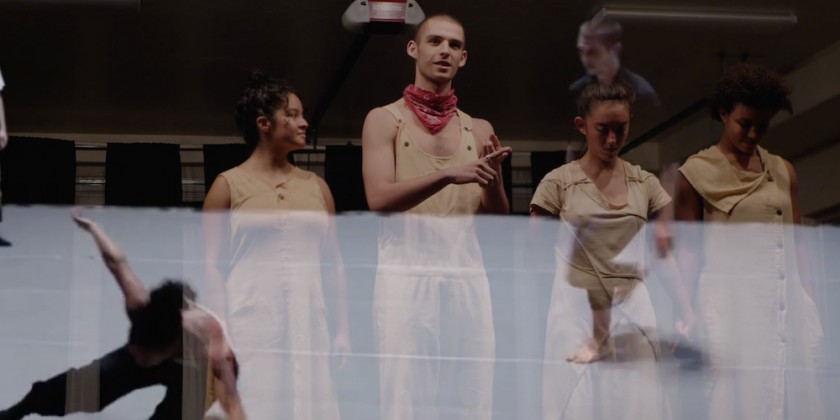 "Seek" Premieres January 31, 2021 Don't Miss It!
Tickets to "Seek" here
---
Hello, from sunny Santa Cruz, California, a small beach town with a lot of surfers and not a lot of rain!

I  graduated from the Juilliard school and moved back home to Santa Cruz to realize and develop several branches of my business called Hive Creates. Hive Creates is  an umbrella organization dedicated to supporting and activating  artists' full creative potential. Through mentorship, community, curriculum, and residencies, we provide artists with the platforms and support necessary to successfully forge their one-of-a-kind paths.
The first branch of our project is the Hive Creative Company, which focuses on producing interdisciplinary, raw,  and charged creative projects. We blend the poetry of art with the purpose of activism to create intentional messages that impact people's hearts.
Shot from Hive Creative Company's Seek; Photo Courtesy of Artist
The second branch of  the project is called Hive Mind, a  monthly virtual program that helps artists forge their unique paths.  We are preparing our curriculum for the program to launch this summer.  It has been an honor to see what has been produced with our community thus far.  There is nothing I love more than getting to be right by fellow artists'  as we journey into our careers.
Lastly,  Hive Schools is preparing for its second inaugural two-day virtual workshop "Forging Your Own Path." It's an immersive  event with creative leaders from all over the world focusing on the grassroots secrets of artmaking,  and covering the pragmatics and the poetics of coming into one's own creative voice. Our guiding question being,  "How do we make an artistic impact in the 21st century?"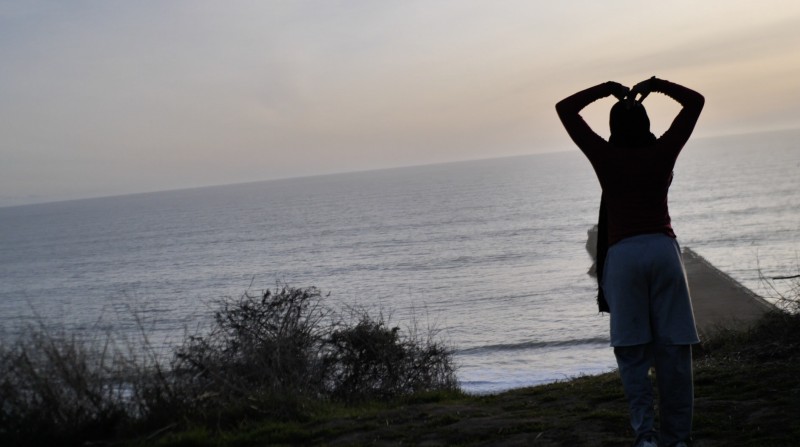 Shot from Hive Creative Company's Seek; Photo Courtesy of Artist
Right now, we are on set of  Seek, a new art film premiering January 31st! Seek fuses six short-story-like cinematic scenes that symbolically document my autobiographical journey towards understanding and purpose.
Inspired by the landmarks of initiation one must go through to come to self-trust, Seek is  modeled after non-verbal short animation films.  I was inspired by their rhythm, elegance, and whimsy.  I hope, when  watching this piece,  audience members might remember a part of themselves that they may have forgotten.
Shot from Hive Creative Company's Seek; Photo Courtesy of Artist
We are using new music composed by artist Assaf Shatil, movement performed by Zoe Hollinshead who was my classmate at Julliard, and film and editing by artist Alex Sargent. This is my first time directing a large professional collaboration, and I have learned so much  about translating my ideas through different languages and the importance of clarity-of-vision across all boards.
First and foremost, I want art to be accessible to all audiences,  I don't enjoy  pieces that are too abstract or artsy, where a layman cannot get something out of it.  It is  important that the art work creates  space for an audience member to feel.  I have done my job if someone leaves my work having experienced a new perspective.
---
Seek will premiere on 1/31/21 at 12 pm PDT, 3 pm EDT, and 9 pm CET and will be available for a 7-day replay,  As far as  we know  the work will not show again, so try not to miss it!
We are  also preparing another film, this one directed by artist Treyden Chiaravalloti, set to premiere on Earth Day, April 22nd.
To see my  work, stay updated through my  Instagram @nathanhirschaut and @hivecreativecompany
---
ABOUT NATHAN HIRSCHAUT and  HIVE CREATES
Nathan Hirschaut grew up in Santa Cruz, California, as a highly trained competitive dancer. He then graduated from The Juilliard School with a BFA in dance and now coaches, teachers, and creates with rising artists from around the world. Global entrepreneur, he founded Hive Creates, a company dedicated to making and assisting the creation of art that elevates global consciousness in 2018. He is also the founder and a primary producing artist for Hive Creative Company, a group of leading interdisciplinary artists making avant-garde and intersectional creative projects. Nathan continues to forge his way as an unconventional powerhouse through releasing his new book Spring of 2021; The Artist's Quest, a guide book for creative success.
Hive Creative Company, founded in Santa Cruz, California in 2018 by Nathan Hirschaut, is a group of committed interdisciplinary artists making work that elevates global consciousness. The company produces avant-garde shows, installations, films, and other multimedia creative projects that are dedicated to supporting the betterment of all sentient beings. Producing over six world premiere shows and installations in 2019, and working at the crossroads of creativity, activism, and consciousness, the company is known for its groundbreaking, radically raw, and heart-filling work
---
The Dance Enthusiast is delighted to hear from you. Share your story with our enthusiastic audiences and be part of the conversation. Send a digital POSTCARD to The Dance Enthusiast at info@dance-enthusiast.com. Include your text (not a press release) and three to five properly credited pictures, or links to short video. If you have any questions, let us know.
---
The Dance Enthusiast - News, Reviews, Interviews and an Open Invitation for YOU to join the Dance Conversation.