POSTCARDS: the cell theater Presents "The Final Veil," Inspired by Dancer Franceska Mann's Resistance During the Horrors of the Holocaust
With Choreography by Katherine Crockett and Cassandra Rosebeetle
The Final Veil is a 60-minute collaboration by composer JL Marlor and dancer/choreographer/director Cassandra Rosebeetle featuring choreography by Katherine Crockett (a Principal Dancer with the Martha Graham Dance Company for 21 years) and Rosebeetle. Through this show, we tell the remarkable and true story of Franceska Mann, a Polish-Jewish ballet dancer who demonstrated resistance and strength amid the horrors of the Holocaust.
When Mann was brought to Auschwitz, she and the other new arrivals were sent to the gas chambers and told to remove their clothing. According to eyewitnesses, Mann performed a distracting striptease, after which she managed to grab a gun, shoot, and fatally wound one SS Guard and injure a second, before her own subsequent death. As artists, we believe that this piece is a powerful example of the life of a woman who, in a time of crisis, was able to use her physical body as an act of resistance.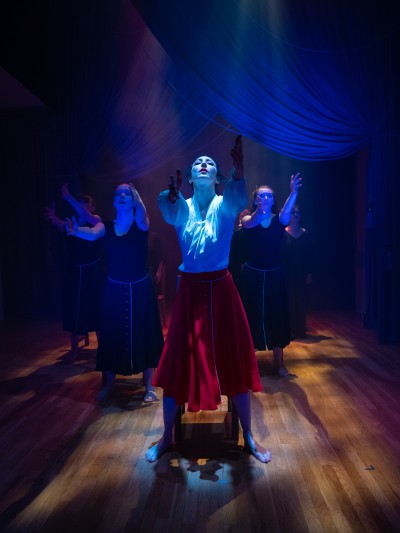 The Final Veil; photo by Frank Padrone

Choreographers Rosebeetle and Crockett use a blend of traditional Polish folk dance, ballet, modern, and theatrical dance, following in Mann's footsteps, culminating in a full striptease in complete silence. The Final Veil uses four dancers to tell Mann's remarkable story as well as incorporating four live singers into the movement. As the show builds musically, the most dramatic moment of the piece lies in Mann's final moments, a striptease in complete silence, which aims to confront our audience with this powerful act of defiance, ultimately subverting the audience gaze as they look directly on the Jewish body, literally stripped down.

The score uses a string quartet and four women singers to draw upon a rich history of Polish folk song and German cabaret music sewn together with contemporary classical music. The piece implements musical styles that Mann would have heard or would have been part of — for example, the first movement heavily draws on the underground Jazz culture of West Berlin in the 1930's where Mann would have performed, and in the second movement, we hear a 1930's era Yiddish folksong of protest and resistance alongside the rhythmic body percussion of a traditional Polish hand-clapping game.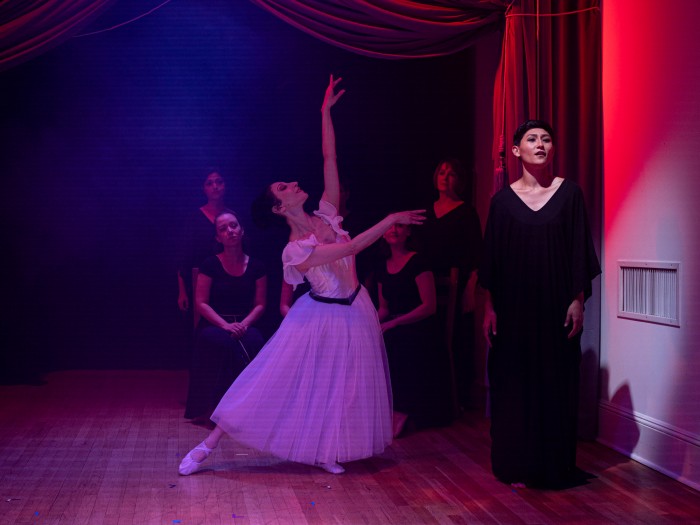 The Final Veil; photo by Frank Padrone

The most sobering facet of this project is that since we conceived of our collaboration there has been a dramatic rise in anti-Semitic hate crimes, including the deadliest attack on Jews in US history at the Tree of Life Synagogue shooting in 2018. Data from the Anti-Defamation League clearly shows the resurgence of violent white nationalism in our country, demonstrating a shocking comparison to the rise of Nazi Germany. We're inspired by Franceska Mann's act of bravery and in the midst of this devastating time in US history we hope to share her story and inspire others to take real action.

It is important to us not only to interpret Mann's sacrifices as artists, but also to approach her story with accuracy. While Mann is mentioned in many texts as well as court testimony, no biography of her exists and preserving her story is our objective. Our libretto is comprised of the direct words of Holocaust survivors and victims that composer Marlor and writer Kate Mulley have sourced through archivists at the Museum of Jewish Heritage and the United States Holocaust Memorial. Rosebeetle has meticulously researched Mann's life from her time as an acclaimed ballerina and modern dancer, to her work as a performer in the ghettos, and ultimately how and why she was brought to Auschwitz.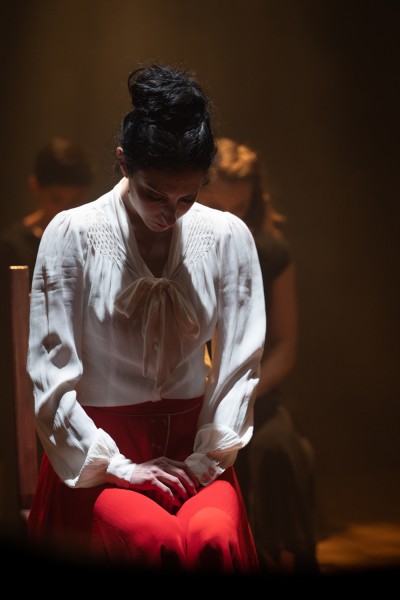 The Final Veil; photo by Frank Padrone

We are thrilled to be presenting the work at the cell theater in Chelsea. Run by two Jewish women, Founder Nancy Manocherian and Artistic Director Kira Simring, it is a perfect fit.
Performance Details:
The Final Veil
runs through July 31 at Nancy Manocherian's the cell theatre
338 W. 23rd Street,
New York, NY 10011
Tickets and info at
www.thecelltheatre.org
---
The Dance Enthusiast is delighted to hear from you. Share your story with our enthusiastic audiences and be part of the conversation. Send a digital POSTCARD to The Dance Enthusiast at info@dance-enthusiast.com. Include your text (not a press release) and three to five properly credited pictures, or links to short video. If you have any questions, let us know.
---
The Dance Enthusiast - News, Reviews, Interviews and an Open Invitation for YOU to join the Dance Conversation.