A Postcard from Rioult Dance NY
RIOULT in Europe
RIOULT Dance NY toured Europe from March 9th through April 1st 2014; the company performed in France at Theatre de l'Atrium in Chaville, Centre des Bords de Marne in Le Perreux-sur-Marne, Scenes Mitoyennes in Caudry, and Ferme du Manet in Montigny, and in Italy at Teatro Nuovo in Udine, and Teatro Comunale Luciano Pavaroti in Modena.
Artists from RIOULT Dance NY sent The Dance Enthusiast mementos of their time in France in the form of a POSTCARD. (Next time, we hope they take us with them!) —The Dance Enthusiast
---

Josiah Guitian, dancer with RIOULT: After getting turned away 2 years ago from the Musee Rodin for getting there too late, (even thought they were still open for another 30 min) I finally got to go in this year. Not two hours after arriving in Paris, I was having an amazing time.
 
Rodin's The Thinker
Day 2 - First rehearsal with the young French dancers... Marianna leading their warm-up!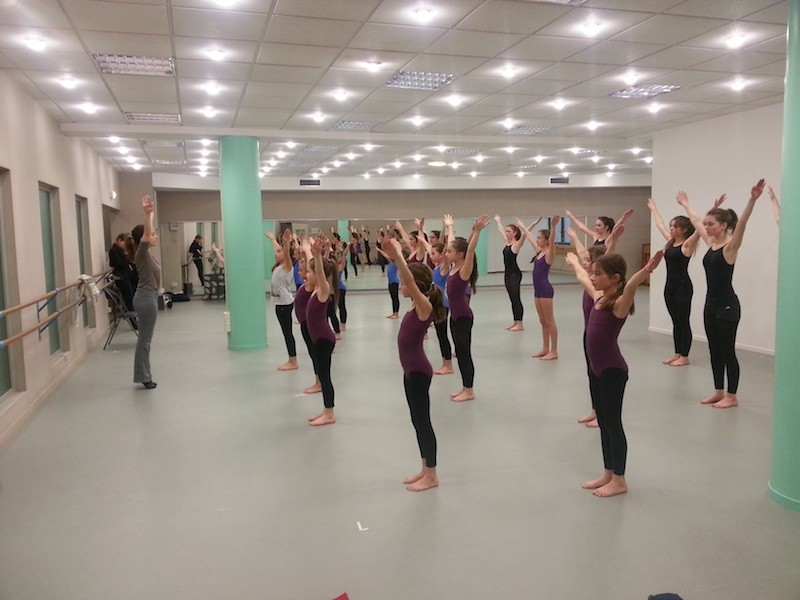 Day 3 - First rehearsal with the dancers on stage. They are rehearsing The Ant & The Grasshopper with RIOULT dancer Jere Hunt.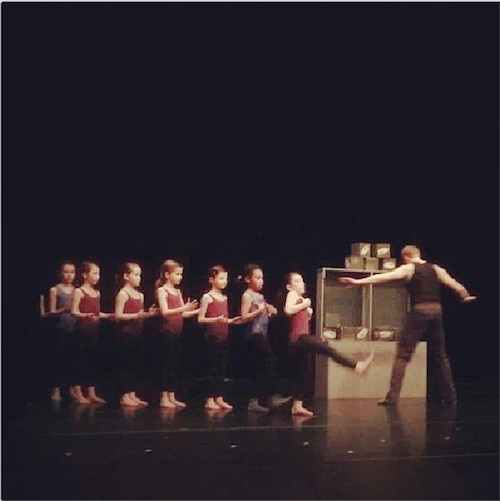 Day 4 - Joyce Herring, Associate Artistic Director of RIOULT, found the perfect bottle of wine for Charis, Jere and Michael at the Monoprix! Let us explain: Dancers Charis Haines, Jere Hunt and Michael Spencer Phillips will dance Martha Graham's El Penitente during our 20th Anniversary Season at The Joyce Theater June 17-22. That's why "Les Penitents" is just the perfect bottle of wine for them! — at Atrium de Chaville.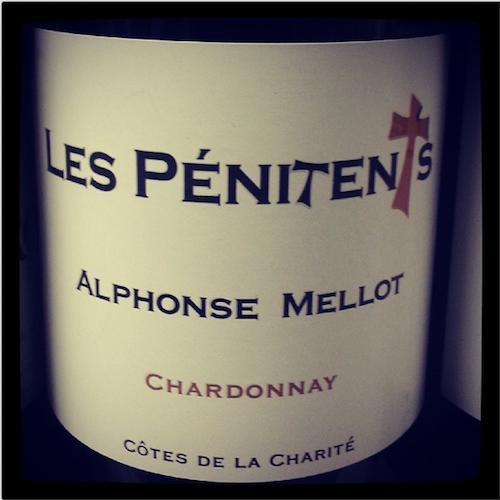 Jere Hunt: With my little helper ants after dress rehearsal! First performance this evening at 20:45!
 A tweet...so tweet!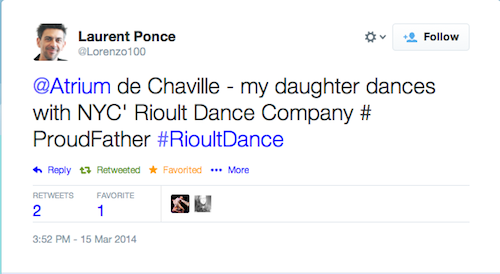 Jere Hunt: Last night's performance was wonderful! What a great way to start the tour. We had such a good time with all les petites danceuses - and congratulations to Anastasia and Marianna on an incredible job well done training the young dancers to perform with us! —    feeling grateful at Atrium de Chaville.
Day 7 - Au revoir Chaville! We had such a wonderful time...now it's off to Paris! 
Sara Seger: Enjoying the beautiful day with Catie Cooch!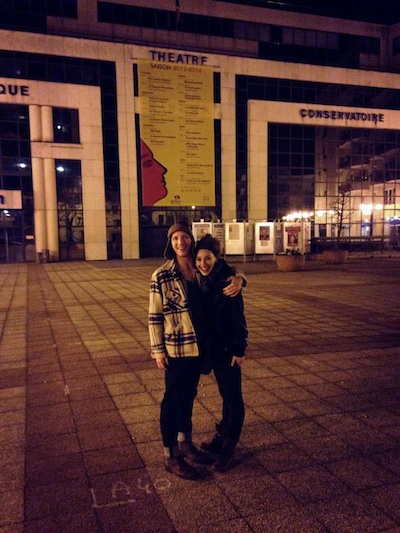 Dancers Holt Walborn and Sara E. Seger

Sara E. Seger: Back to work...Rehearsal onstage of City
Messages from the young dancers that performed Fables with the Company:
"So we're back to our normal Monday & Wednesday classes. We miss you so much, but that we also learned a lot thanks to this experience! We all hope to see you guys in two years for another project, right? Until then, enjoy Paris!"
—Camille Hullot
"I will always remember this amazing experience with all of you. I hope you'll enjoy Paris and Italy. See you maybe in two years! Can't wait!"
—Hannah Ponce

"Even though I didn't make my way through the 'auditions' the show was absolutely wonderful! The 'cours techniques' (technique classes) were very nice too and I think we all learned a lot from it. We are all looking forward to seeing the company once again in France. Thank you again, especially to our two 'coaches' (Marianna and Stacy)."
—Olivia Travers