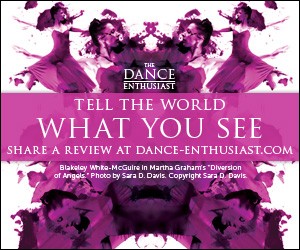 Related Features
Gloria McLean, President of the American Dance Guild Festival, Supports Diversity and Honors Garth Fagan, Martha Myers and The Thunderbird American Indian Dancers
Join American Dance Guild's 2017 Performance Festival At Ailey Citigroup Theater From Sep 7-10
We at The American Dance Guild have been extremely disturbed by the current chaotic political climate. Like so many Americans, following the November 2017 election, the Guild's board and committee members were more than distraught by the 'trump'-eting of narrow-mindedness, bigotry, ignorance and mean-spiritedness that came along with the new President in the name of "America". We said: Not Our America!
For our 60th-year celebration of the Guild, we strongly felt the need to assert OUR American values as an antidote to the cultural diminishment coming from the top. Bringing forward the rich mix of cultures and aesthetics that make up both American and world dance today seemed like a great place to start. 
Hands together for Diversity!
In that light, we decided on the theme "Celebrating Diversity" for this year's American Dance Guild's 2017 Performance Festival. It will be at Ailey Citigroup Theater from September 7-10. We are an artist-run, membership organization, and we hoped that dancers of "all stripes" would apply to the Festival, and they did. I think that the audience will find a wide range of aesthetic ideas on view. Thirty-four artists will be presenting.
We chose this year's Honorees to represent a cross-section of cultural influences. Garth Fagan is well known as the choreographer of The Lion King on Broadway, and his concert work also shows a wonderful abstraction and a blending of his own cultural Afro-Caribbean dance roots with modern dance and ballet. Garth is a legend in his own time.
Martha Myers is a beloved educator who nurtured and influenced a great many artists and colleagues through her indomitable and provocative creative spirit. For 40 years Martha taught at Connecticut College, and she served 25 plus years as the Dean of the American Dance Festival, where she traveled the world bringing new dance voices to the USA. Martha has also been a pioneer in Dance Medicine, through her research and writing. 
Photo © Thunderbird American Indian Dancers.
The theme of diversity in America also led us directly to inviting The Thunderbird American Indian Dancers to perform, helping us all to remember our roots in this land of ours. Louis Mofsie, the director, was a founding member in 1963 of this multi-ethnic group that has been preserving, sharing and expanding the indigenous American dances of the Hopi, Winnebago, Mohawk, San Blas tribes and more. This year is their 39th annual nationwide Powwow.
With the theme "Celebrating Diversity" the American Dance Guild Performance Festival hopes to inspire and unite people through the beauty of multiple aesthetics of dancing. The marvelous thing about dance is that we each have a body and it's pretty much the same, yet we find myriad ways to express the world through it.
Physical Postcard:

---
The Dance Enthusiast Encourages Artists, and their Friends and Representatives to Share Dance Stories and Create Conversation in a POSTCARD.
Consider sending a digital POSTCARD to The Dance Enthusiast.
Tell us what you are up to.
Include your text ( not a press release) and three to five properly credited pictures, then send to info@dance-enthusiast.com.
If you have any questions re content etc. let us know at the same email address as above.