Related Features
Contribute
Your support helps us cover dance in New York City and beyond! Donate now.
A Postcard from Karisma Jay, Founder and Artistic Director of AbunDance Academy of Dance, about "Sister Act, AbunDantly" at Kings Theatre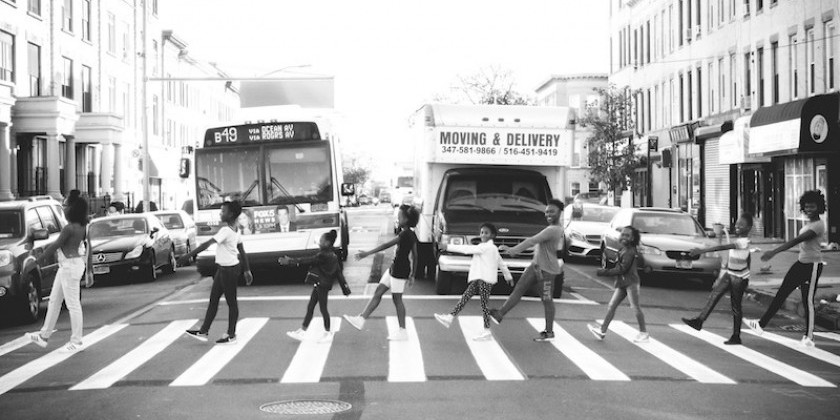 I can't believe it's been a year since my last postcard! I'm writing again from Brooklyn, New York, but a lot has changed since I last checked in.
My name is Karisma Jay and I'm a dancer, performing artist, dance teacher, and the founder/artistic director of Brooklyn-based non-profit arts organization AbunDance Academy of the Arts. I wanted to tell you a bit about our upcoming fundraising performance Sister Act, Abundantly, which is a theatrical dance performance based on the famed films "Sister Act" and "Sister Act 2," that we will perform June 25 at the grand Kings Theatre in Brooklyn. I knew I had to choose "Sister Act" for this year's theme because one day last summer the film came on TV, and I literally jumped out my chair and started singing all the words with fervor — it moved me. The story echoed what I'm all about: building community through art.
Our version of Sister Act will tell the story of a compassionate and successful Broadway star who returns to her hometown of Brooklyn to inject the arts into every corner of the borough. It will feature over 110 cast members from ages 3-83! I'll be playing Goldberg's character Deloris Van Cartier, and we will have a live band and choir with trained seniors from Brooklyn's Hazel Brooks and Teresa Moore Senior Center, in addition to our younger students. We want to show the audience that you are never too old or too young to participate in the world of performing arts.
This story about bringing the community together through art, is especially relevant to what the Academy is going through at the moment, as we need to work even harder to bring arts to our own community. AbunDance has to move locations after being priced out of our beautiful home of three-years in Lefferts Garden, Brooklyn. As we rehearse for our annual Kings Theatre performance, we are operating out of three, sometimes four different spaces. The cast rehearsals are separate from regular classes, and regular classes are separate from where I teach the seniors. We have our equipment in suitcases and bags. There are so many moving parts, and it really affects all of us. Having to pick up and move is difficult, especially when it's not confirmed where you're going.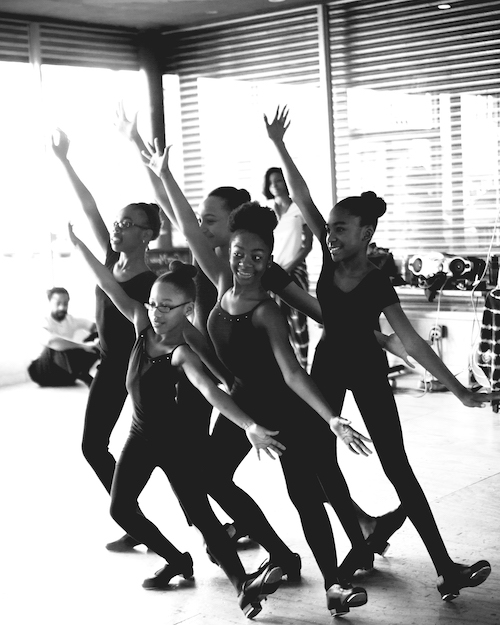 Photo: AbunDance Academy of the Arts
That beings said, we have received such incredible support from our community; from the students, parents, and people from the neighborhood. People will stop me in the street who don't know anyone enrolled in the school and have never taken classes, and they'll ask what they can do to help. With that kind of love and support, we will prevail. Just like our performance Sister Act, one person can be the conduit but it takes community to move mountains. We're working towards building an amazing new community space, and plan on also putting together neighborhood events like film screenings and intimate performances. You can check out our fundraising page here.
Even in these uncertain times, I know that AbunDance has a bright future. I named the school AbunDance, because I believe in the power of abundance, of going after goals. Everything about AbunDance has been abundant; we've tripled our grant support and we've gone from six senior students last year to 26 this year. At this point, AbunDance has taken on its own energy —  it's bigger than me. My initial goals were to help my student clients to transform. As long as we're doing that then AbunDance is serving its purpose. When I see the seniors so excited to be on stage and how happy they are to be included; my senior high school students getting into the colleges of their choice; and the acceptance letters for my students who've applied to prestigious performing arts school; then I know we're doing the right thing.
Photo: AbunDance Academy of the Arts
It all comes full circle.
I'll leave you with this great line that one of our teachers has the students repeat, "I am abundantly beautiful, I am abundantly intelligent, I am abundantly talented and I will use my talent to help others because when I help others I abundantly help myself."
For information about our June 25 fundraising performance Sister Act, AbunDantly you can visit the Kings Theatre website. 
For the most up-to-date information on AbunDance Academy of the Arts classes and programming, follow us on Twitter, Facebook and visit www.abundancearts.org.
---
The Dance Enthusiast Encourages Artists, their Friends and Representatives to Share Stories and Create Conversation by Sending Postcards. Find more Postcards here.
 
How to Send The Dance Enthusiast a POSTCARD.
We are delighted to get mail. Consider sending a digital POSTCARD to The Dance Enthusiast. Tell us what you are up to. Include your text ( not a press release) and three to five properly credited pictures, then send to info@dance-enthusiast.com. Or, send a video and a horizontally oriented photo along with your text.
Postcard Prompts -- What you might want to write about:
Show and Tell i.e. introduce us a to day in your rehearsal process with text video and/or photos
Where  have you traveled/toured and how has it changed you as an artist and as a person?
What exciting ideas are you exploring in the studio or outside of it?
Who is performing in your space and why are you thrilled about it?
Top 5 or 10 qualities that define you.
Need more ideas contact Christine Jowers at info@dance-enthusiast.com