Related Features
Contribute
Your support helps us cover dance in New York City and beyond! Donate now.
A Postcard From the Lovelies About Their Five Year Anniversary and Upcoming "Slice & Dice" Performance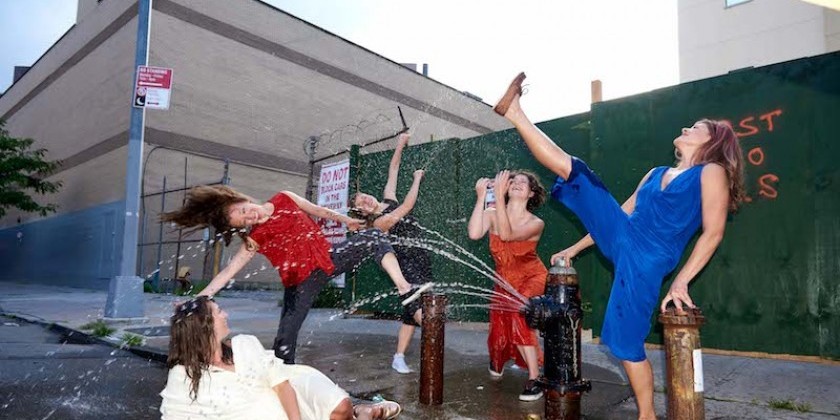 Hi Dance Enthusiast Readers,
We'd love to tell you more about The Lovelies! Five years ago, we found each other after a particularly inspiring session at MICI (Movement Intensive in Compositional Improvisation), a summer workshop series from compositional improvisation group The Architects. Having reached out to each other via texts and emails with the honorarium "Hey Lovelies", our casual moniker found itself on paper for our first gig. We as The Lovelies, made up of Lena Lauer, Keeley Walsh, Annie Duffy, Katie Vason, and Joanna Futral, felt that a group collaboration was the right move.
L to R: Katie Vason, Annie Duffy, Lena Lauer, Keeley Walsh, and Joanna Futral. Photo by Kate Enman
As we focused on compositional improvisation, we wanted to keep the framework of our ensemble as five equal parts.
From creative input to administrative work, everyone has had a say in how our group has evolved and grown.
We follow and believe in the power of embodied democracy that fuels the work that we strive to achieve.

L to R: Lena Lauer, Keeley Walsh, Annie Duffy, Katie Vason, and Joanna Futral. Photo by Kate Enman. 
As Americans, we know democracy is messy. Making choices together often involves hours of discourse, followed up with hours of learning in the doing in the rehearsal process. Sometimes we agree, sometimes we are left with things unresolved or undiscussed, but we always remain hopeful that empathy and negotiation can lead us to richer work. Passions of the environment and social issues regularly fuel inspiration for us, which is why we give to charitable organizations for our regular split bill performances, called Slice & Dice.
Upper Left CC: Katie Vason, Lena Lauer, Keeley Walsh, Annie Duffy, and Joanna Futral. Photo by Kate Enman.
Compositional improvisation is freeing, empowering, frustrating, and rewarding. Our work is ensemblic, with live musicians, to create dances in the moment. No structure nor otherwise previously agreed-upon content is determined in advance except usually the duration of the work. Compositional improvisation works to heighten awareness and use all aspects of space & time to recognize form as it emerges to make a piece. No dances are ever recreated twice, as the nature of the form allows for constant reinvestigation and discovery.
Top to Bottom: Joanna Futral, Keeley Walsh, Annie Duffy, Lena Lauer, and Katie Vason. Photo by Kate Enman.  
We'd love for you to learn more about us at our upcoming Slice & Dice performance, where we'll be celebrating five years of The Lovelies being The Lovelies! Five years of committing to a weekly practice of spontaneous dance making, performing dances that unfold in the moment — without any previous plan, preconceived ideas, structures, beginnings, middles or ends! AGA Collaborative, friends of ours, will be flying in to perform and we'll be presenting work by Jennifer Kayle, a founding Architect member, where we'll be dancing her set choreography. And of course, we'll be performing Compositional Improvisation with live musicians Kirin McElwain and Ben Brody as well!
Come to Joffrey Ballet School's 5th floor on Sunday, October 21 to celebrate! Doors at 5pm, performance starts at 5:30pm. Suggested donation of $10, partial proceeds go to the ACLU! Upon entering, we'll also take your commitment to vote in the upcoming elections!
Warm Wishes,
Co-Founders Annie Duffy, Joanna Futral, Lena Lauer, Katie Vason, and Keeley Walsh