Related Features
Contribute
Your support helps us cover dance in New York City and beyond! Donate now.
A Postcard from Periapsis Music and Dance's Artistic Director Jonathan Howard Katz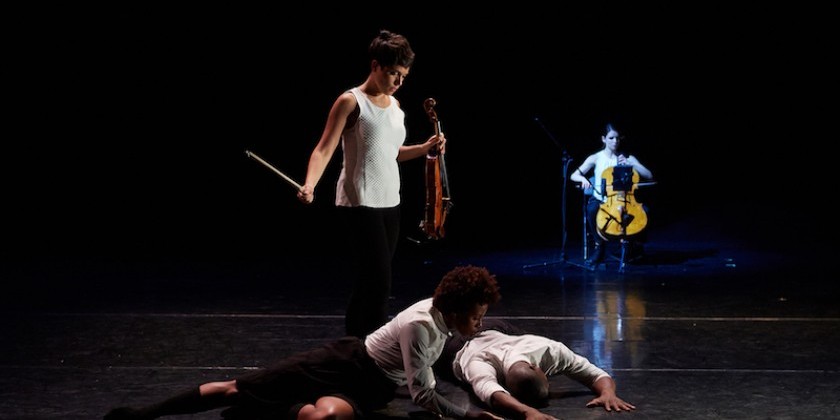 Getting To Know You
From Jonathan Howard Katz, artistic director of Periapsis Music and Dance:
My path into the dance world was unusual, for sure.
Most "classical" musicians, especially pianists, come to dance by playing for ballet classes, something I've still never done. My entry point was as a composer and artistic partner — I was producing a program of my own music after just having moved to NYC, and thought it would be fun to work with a dancer/choreographer I'd recently met, Leigh Schanfein.
We collaborated on two new pieces that I composed, and just a few months after that program I had the idea to form what became 
Periapsis Music and Dance
.
Sinking by choreographer Wendell Gray II and composer Anne Lanzilotti; Photo: Rachel Neville
I'll admit that when we created Periapsis my knowledge of the dance scene was very limited!  I spent much of those first few years simply absorbing: going to performances, meeting people, and learning what I could about what was out there, what may still be needed, and what sort of role Periapsis could play in the community.
Epoch by choreographer Erin Dillon and composer Jonathan Howard Katz;  Photo: Rachel Neville
We all know how grueling it is to get an arts non-profit started, especially in New York. Endless work for the most incremental of gains, all while fighting for people's attention in one of the most saturated arts cities in the world. Yet, these challenges really forced me to examine and hone our mission. What was missing in the dance community that we could provide?  What different perspectives might I be able to introduce as a musician? How do these things align with my own artistic goals? And (always) what am I missing?
Fortunately I had a number of experienced mentors, peers, and friends who could show me exactly what I didn't know and help this process along. Had we been an amazing success right away, I don't think our work would have been nearly as interesting, or our mission as focused, as what it is now:
PERIAPSIS MUSIC and DANCE:
Periapsis Music and Dance believes in the artists of today and in the body of work that they are creating. The extraordinary choreographers and composers of our time have the vision, voice, and skill to create collaborative works of intrinsic artistic value worthy of performance, study, and preservation. Our mission is to cultivate this new concert repertoire at the intersection of dance and music by actively contributing to it with our ensemble and by facilitating and encouraging such collaborations in the community.
Epoch by choreographer Erin Dillon and composer Jonathan Howard Katz;  Photo: Rachel Neville
We serve the dance and music communities in a number of ways. Choreographers can browse over 500 composers worldwide who are interested in dance through our free online Composer List.  We collaborated with The Joyce Theater and NYU Tisch to produce a composer/choreographer networking event that's already resulted in new collaborations, and similar events are in the works. 
On a larger scale, we've had three seasons of the Periapsis Open Series, a paid performance opportunity for choreographers to present their work involving musical collaborations, and two rounds of the Emerging Artist Residencies, in which composers and choreographers collaboratively develop new work on our company members. These programs are free for participants and open to application (also free).
 Resident choreographer Erin Dillon; Photo: Rachel Neville
And now our company work, which of course is the part of Periapsis that's closest to my heart. Nearly every work we've created has been a choreographer/composer collaboration, so what we're trying to encourage within the community is the same thing we're doing ourselves.
Our ensemble consists of both dancers and musicians.  The musicians have always been on stage, and we've used this as a channel for exploration. Sometimes the musicians are simply part of the visual and offer some ineffable contribution to the work's impact. And sometimes we're fully involved — I even did some lifting in our last show, and we also have a piece in which our violist is lifted while playing!
Artistic director Jonathan Howard Katz and resident choreographer Erin Dillon; Photo: Rachel Neville
We just premiered commissions by
Janis Brenner
and
Wendell Gray II
, and in 2016 we presented 
The Portrait Project
, a series of six small commissions:
Joshua Beamish
,
Seán Curran
,
Miro Magloire
,
Helen Simoneau
,
Kate Skarpetowska
, and
Manuel Vignoulle
. The list of guest composers in our repertoire is a little smaller, but equally impressive:
Richard Carrick
,
Mary Kouyoumdjian
,
Shawn Jaeger
,
Anne Leilehua Lanzilotti
,
Leah Asher
.
I'd like to give credit to the people most responsible for the growth of our ensemble itself, our resident choreographers since the third season, Erin Dillon and Hannah Weber. They've both fostered a focused but playful atmosphere in the studio, been willing to challenge themselves and the performers, been game to experiment, and have each imprinted their own distinctive (and detailed) artistic signature on the company.
she was not needing to be changing by choreographer Janis Brenner and composer Leah Asher; Photo: Rachel Neville
Finally, I'd like to mention one other aspect that necessarily comes up when bringing together musicians and dancers, that the economics of the two worlds are tangibly different. Not that the music world is luxurious by any means, but there is a basic consensus that your art is also your livelihood. So some of the perils of the freelancer — "exposure" gigs, token pay, unpaid rehearsals — are much less common than in the dance world. Having both excellent dancers and musicians on the payroll and paying them at the same rate (which is necessarily on the high end for freelance dance) gives me the opportunity to address this issue in some small way. It certainly hasn't been easy to maintain this — in fact, it's been our largest expense — but at least it lets me feel like we're part of the solution and not part of the problem! And being willing to talk about it in the open, I think, is a good thing.
For more information, videos, photos, mailing list, support, services, and all good things, please visit our website: https://periapsismusicanddance.org/ You can also check out a nice documentary overview of our first five seasons here. More recent videos, including our Jacob's Pillow performance and 2018 repertoire, are on our website!
---