Related Features
Contribute
Your support helps us cover dance in New York City and beyond! Donate now.
Get Off the Couch, You've Been Cast!: A Postcard from the Shakedown Dance Collective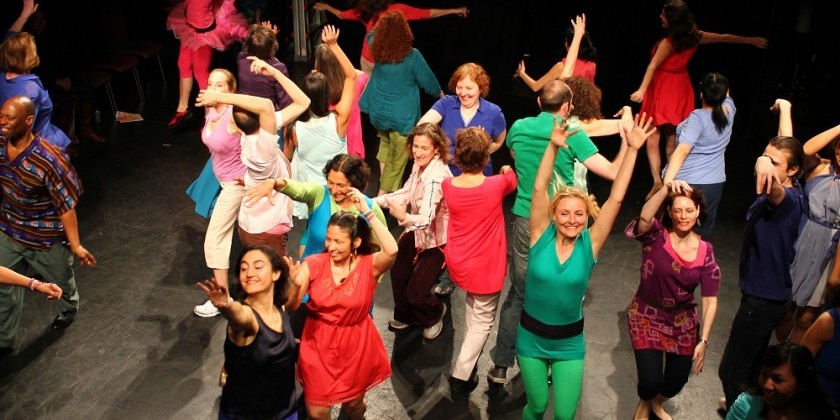 As They Prepare for a New Season of All-Access Dance
You've Been Cast!
Perform for stage and screen, laugh, dance, exercise and meet new people this year with the Shakedown Dance Collective, a performance group designed for people of all shapes, sizes, ages and experience levels (that's you). On Monday, September 8th, we begin our new season that already includes performances with New York Transit Museum, New York City Dance Parade and more!
Click on The Shakedown's website for more information.
---
Shakedown Dance Collective Dares you to Dance - with us
The Dance Enthusiast catches up with Jamie Benson and Deborah Lohse of The Shakedown Dance Collective : Where did you start to dance? What did you study? Did you like it?

Jamie Benson: Dance happened to me in a small-town Oregon high school as part of the Hi-Steppers and Krew dance team. We dropped die-hard studio jazz and funk routines all over the NW and I loved it, choreographed for it, ate it for lunch. Then, I went to Cornish College of the Arts in Seattle to get down and dirty on the floor studying modern forms.
Deborah Lohse: I started dancing in Northern California in a parks and rec ballet class when I was five-years-old. My parents signed me up because I was a total klutz. I loved it.
TDE: Why the drive to get everyone off the couch?
JB: Dance stirs up potential for positive change in people's lives- combating depression, making bodies more fit, more resilient, bringing people together socially, and giving us a way to vent in a from-the-guts sort of way.
DL: Shakedown is the ideal place that all of us want to reach as dancers. A supportive community where you can be yourself, try new things, laugh a lot and make art. I have been lucky to have this experience dancing with Monica Bill Barnes and Doug Elkins. Everyone should have the opportunity to discover it.
---
TDE: Usually people study dance and are very much about themselves...their technique..their voice but you want to dance with everyone and regardless of ability? Am I right about that?
JB: You're absolutely right about that. Dance communities, especially in Modern dance, tend to be pretty insular with dancers mainly dancing for dancers. The Shakedown provides an all-access-pass for ANYONE to fall head first into the benefits of dance. In class, we challenge members to explore all dance styles, resulting in a new more knowledgeable audience for dance presenters.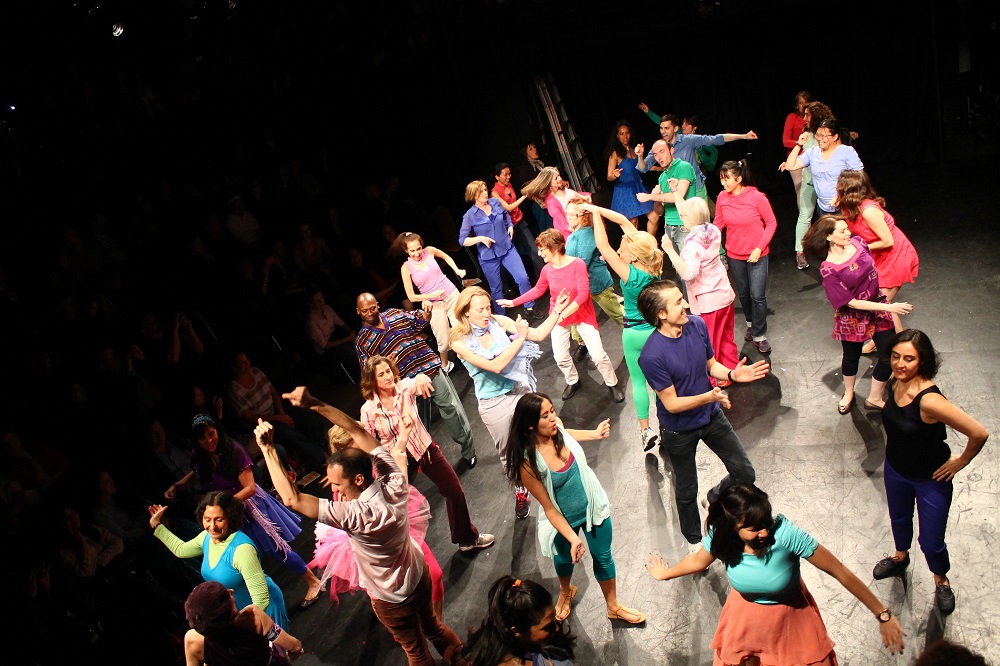 Photo: Josef Pinlac
TDE: How did the two of you meet?
JB:
Deborah Lohse
 and I met and initially bonded over our mutual dance-love-affair with Mary Ann Wall, founder of the formidably funny Red Wall Dance Theater. It became more of a thing when we worked together in Sylvain Emard's massive performance event "Le Grand Continental" as part of the 2012 River to River Festival.
We ( work together now by) meeting in the studio before a new performance series starts and suss out and choreograph the next piece we're performing. We run the weekly class and rehearsal sessions together and take a sort of divide and conquer approach to multiple production tasks. She's a keeper.
DL: Having a partner in this venture is awesome. We each bring to the table varied backgrounds and strengths that truly compliment one another and we laugh a lot.
TDE: And what about Andrae?

JB: My sweetheart, as well as international man of fashion and costuming, Andrae Gonzalo dances with us and consults on performance attire.
DL: Andrae almost seems like a plant in the class as he truly represents risk taking, laughing at your self, asking questions and supporting his fellow dancers. He also makes sure we look good when we hit the stage, screen or street.
---
Roberta Loves Shakedown/We Love Roberta/You will too

TDE: What do you love most about doing this?
 
JB: The chemical alchemy experienced is completely infectious. Dance produces Oxytocin and Dopamine, associated with the gratification one feels during sex or a great meal. You literally reward yourself in the act of doing it. That seems to come as a surprise sometimes to members less experienced with the phenomenon. It continues to make me smile, reminding me why I chose to pursue dance professionally. As dancers, we all need that reminder often.
DL: I love getting to share my passion and expertise with a slice of NYC humanity that I would have never met under any other circumstances. I also love introducing Shakedown dancers to arts organizations in the larger community through collaborative and performance experiences
TDE: Why is shaking down  important?
 
JB: It debunks the myth that dance class is just for kids and professional dancers. It brings a varied community together through the common denominator of dance.
DL:
Shakedown is a perspective shift. It is a reminder that dance is for everyone, it has the power to transform and bring people together and that it is a needed source of joy in this confusing and sometimes difficult world.
---
The Shakedown Dance Collective at Dance Parade
TDE:  Have you had any particualr victories in getting people to move?
JB: We've helped dancers get moving again after having accidents and surgery. I even have some back issues that are unnoticeable after a few gyrations with the Shakedown. Bodies in motion stay in motion, as they say.
DL: The well told story among a handful of our group members is of wanting to be a dancer when they were younger and being thwarted by parent's ideals and rules. It almost feels subversive this weekly practice of getting together to dance and be able to provide a space and stage for this instinct and compulsion to dance that was felt so long ago.
TDE: What would you say to somebody who is shy about moving?
JB: Give it a try with us for 10 minutes. You will not be shy anymore. #FunFirst is the approach. When you're dancing and laughing (which we do a lot of), you don't have the time or energy to be timid.
DL: When you are welcomed into the Shakedown family you are a superstar from the beginning. There is no room for doubt and insecurities of being judged. We are too busy having fun and celebrating each other.