POSTCARDS: "Solace," Garnet Henderson's Dance Made in and for Inwood Hill Park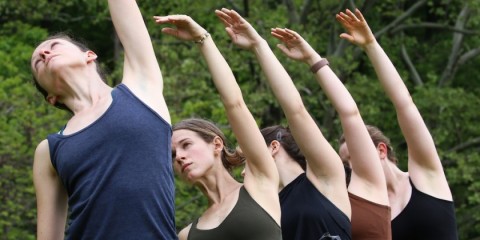 Bringing Dance Out of the Theater and into the Community
SOLACE is happening on Saturday, June 18, 2022 at 2pm  & Sunday, June 26, 2022 2pm
Inwood Hill Park: Enter near 218th St and Indian Road, or meet the group anywhere in the performance area shown here
---
I live down the street from a hospital. It's a small community hospital, one that doesn't typically get a lot of emergency traffic. But in the early days of the pandemic, like every hospital in the city, it was full of COVID patients, and there was another temporary field hospital set up next door. The soundtrack of those spring months in my neighborhood was a constant scream of sirens. It was terrifying. I live alone and was afraid of getting sick with no one to care for me. I wondered if I would end up in one of those ambulances—or if I'd even make it that far, with no one else there to call for help.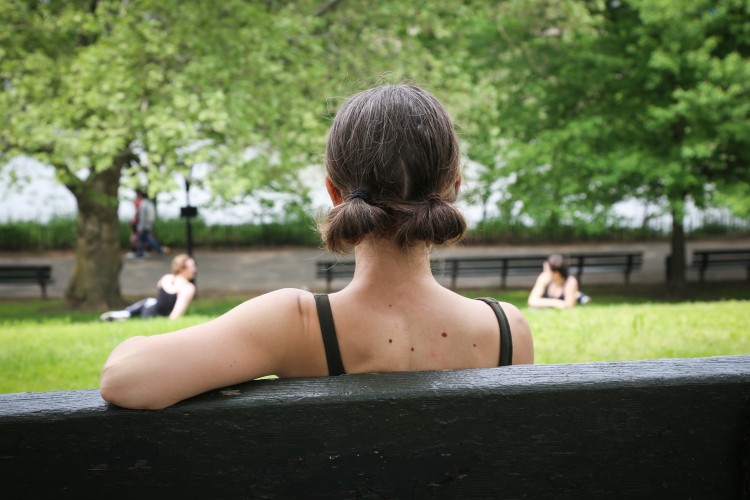 Garnet Henderson's SOLACE in Inwood Hill Park; photo courtesy of the choreographer
My refuge during this time was the outdoors, specifically Inwood Hill Park. Home to the last natural forest and salt marsh in Manhattan, Inwood Hill Park is big enough, and wild enough, to get a little lost in. But the other beautiful thing about it is that it's such a treasured community hub; you might turn down a narrow path you've never walked before, and walk alone for a while, but eventually, you'll always find a neighbor. I always loved this park, but suddenly I had time to explore all the paths I'd wanted to hike and never had before. Gradually, I memorized the web of trails. I cherished the moments of quiet and peace I found alone, deep in the trees where I could only hear the breeze and the birdsong. And I also cherished the opportunity to connect with neighbors and friends in a way that felt safe. The park was my lifeline.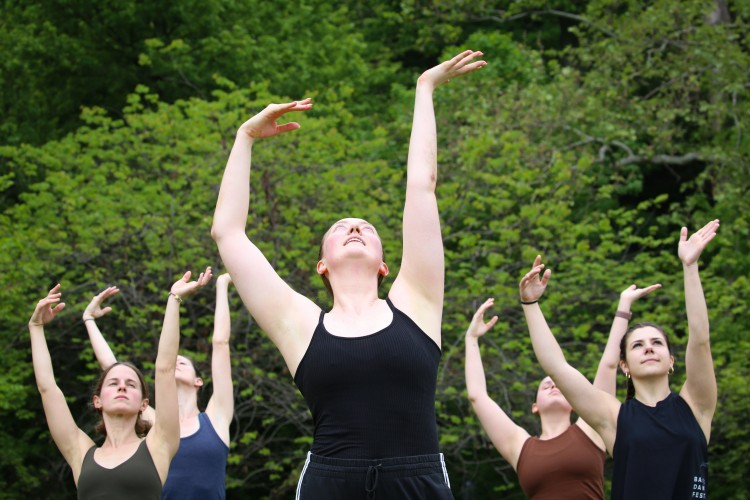 Garnet Henderson's SOLACE in Inwood Hill Park; Photo Courtesy of the Choreographer
On many of my long walks, I also danced. Dance spaces across the city were still shut down, and I was missing my usual studio time. Outdoors, I found a freedom and expansiveness in my movement that I don't always feel. I also found moments of joy when that sensation was hard to come by. So when I began thinking about making my first full-length work, I knew I wanted to capture that feeling of expansiveness, and celebrate the park that has helped me survive the pandemic. I normally find it difficult to choose titles, but for this work a title came to me instantly: SOLACE.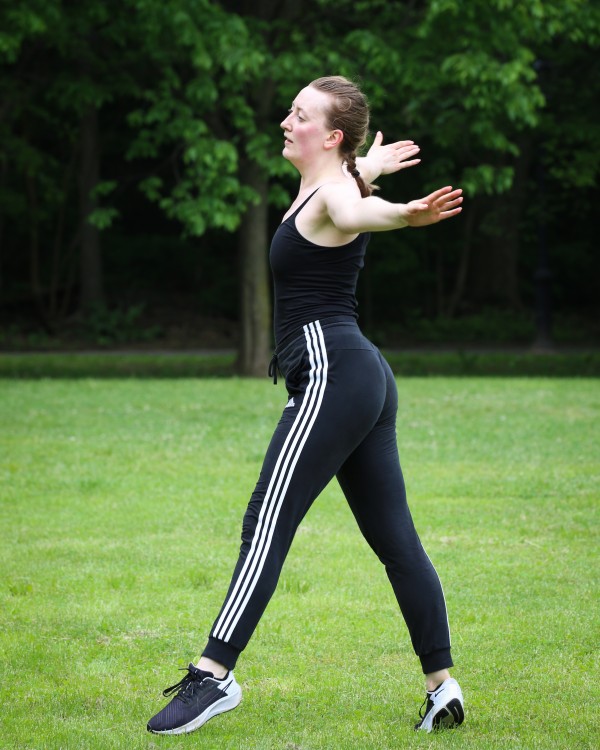 Garnet Henderson's SOLACE in Inwood Hill Park; Photo Courtesy of the Choreographer
SOLACE was truly made in and for Inwood Hill Park; we've had every rehearsal there except for one, when a rainy day forced us inside. This means that every rehearsal has essentially been an open rehearsal. We've danced around soccer games, dodged bicyclists, guarded our snacks from squirrels, and watched the park turn from barren brown to lush spring green. This is exactly what I wanted: to bring dance out of the theater and into the community. I don't want to make dances that are only seen by other dancers. I want to dance for my friends and neighbors.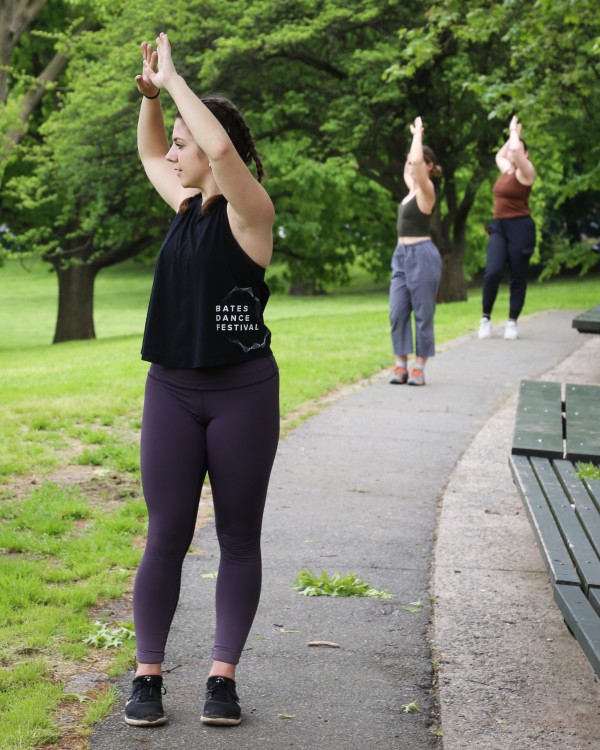 Garnet Henderson's SOLACE in Inwood Hill Park; Photo Courtesy of the Choreographer
SOLACE is performed without music. We dance, instead, to the soundscape of the park, whatever that happens to be when we are there. We dance around whatever else is happening, and whoever else is enjoying the park. The dance is never exactly the same twice.
This is the first time I've made a dance other than a solo since 2019. It's the largest cast I've worked with in many years, thanks in large part to the UMEZ Mertz Gilmore Seed Fund for Dance. I'm lucky to be joined by dancers Vanessa Knouse, Melanie Munoz, Jessica Ziegler, and Kelsey Gibbs. I appreciate their willingness to be spontaneous and adaptable, and their patience with me as I remember how to be a choreographer after what feels like a long interruption.
---
The Dance Enthusiast is delighted to hear from you. Share your story with our enthusiastic audiences and be part of the conversation. Send a digital POSTCARD to The Dance Enthusiast at info@dance-enthusiast.com. Include your text (not a press release) and three to five properly credited pictures, or links to short video. If you have any questions, let us know.
---
The Dance Enthusiast - News, Reviews, Interviews and an Open Invitation for YOU to join the Dance Conversation.