POSTCARDS: Tap City, the NYC Tap Festival, Now in its 22nd Year, Returns LIVE July 4-10th for the First Time since the Pandemic!
New York City Becomes Tap City for a week in July! Don't Miss It!
For the Tap City Schedule, Click the American Tap Dance Foundation
Hi, I'm Tony Waag, Artistic/Executive Director of the American Tap Dance Foundation. All I can say is the last two years have been a roller coaster! At the start of the pandemic, I went from absolute fright when I got really sick with Covid. Then, I came to the realization that I also benefited from the experience by having the opportunity to slow down, reflect, reorganize, and now reemerge with new information, new energy and new ideas.
I just couldn't produce a live version of July's Tap City Festival without first addressing what happened to us all since March 2020, the start of the pandemic. And it continues to affect us! Our future is VERY unclear at the moment. I'm just hoping an audience will be there because WE ARE DOING THIS! We are ready and we are looking forward to it.
Tony Waag,  Photo:  Amanda Gentile
I'm excited to move back to the "in-person" version of Tap City, and super excited about Tap into Your Story, a new choreographic work incorporating dancers' individual experiences with the disruption and isolation of the pandemic. With five days of dancing, discussion, and discovery, our Tap City residencies will question, "How did we fare through the Covid period? What was our unique experience? How did this event affect you? What were the positive effects perhaps due to Covid's isolation and restrictions? How do you feel now? Today?" The ATDF team will work to explore and extract material from dancer's personal journeys and stories.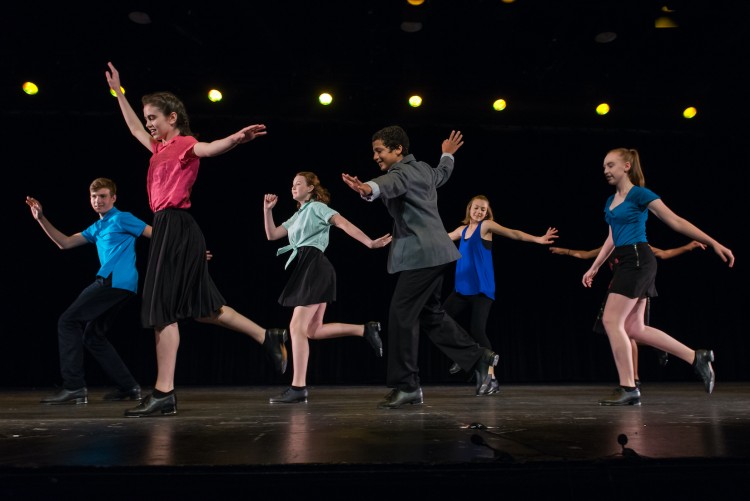 Tap Future;  Photo Vitaliy Piltser
I'm thrilled to be collaborating with four different contributing choreographers for Tap into Your Story (Jared Alexander, Felipe Galganni, Dexter Jones & Kaleena Miller), a psychotherapist (Mary Dove), a poet (Evan Burton) and our Jazz Band as we cooperatively create this new work in progress. Mary is logging dancer experiences and Evan is creating a narrative poem that will be recited over the performances (like a rap). The finished work will be a comment on the last two and a half years being confined to Zoom and being isolated and dealing with Covid. (I'm also excited to share MY OWN story in the Tap into Your Story performance.) The finished work will be shown at Tap City's Tap Future concert on Friday, July 8 at Symphony Space.  
Tap City Youth Ensemble; Photo; Courtesy ATDF.
The excitement in our studios has been and continues to be palpable. The Tap City Youth Ensemble was back in the house, and performed at a sold out Tap City Youth Concert  on May 28  at Symphony Space. Our American Tap Dance Center "Open Houses" happened in June generating much excitement. Now ATDF teachers are preparing for their Tap City master classes and residencies, and we're busy setting Tap City's Rhythm in Motion performance on Saturday, July 9 (also at Symphony Space). The Rhythm in Motion concert will premiere boundary breaking takes on tap by NYC's finest tappers & choreographers.
Tap it Out in Times Square :Photo,Amanda Gentile
After more than two years of virtual and hybrid events, it feels great to bring back Tap City live. In addition to Tap Future and Rhythm in Motion, Tap City, the NYC Tap Festival also includes the "Copasetic" Boat Ride (July 6), the ATDF Tap Dance Awards (July 8) and "Tap It Out," Tap City's live, outdoor public tap dance event in the middle of Times Square (July 10). There's a lot going on. FOR ONE WEEK IN JULY, NYC BECOMES TAP CITY! Wish us luck.
Find out more at TAP CITY, THE NYC TAP FESTIVAL.
---
The Dance Enthusiast is delighted to hear from you. Share your story with our enthusiastic audiences and be part of the conversation. Send a digital POSTCARD to The Dance Enthusiast at info@dance-enthusiast.com. Include your text (not a press release) and three to five properly credited pictures, or links to short video. If you have any questions, let us know.
---
The Dance Enthusiast - News, Reviews, Interviews and an Open Invitation for YOU to join the Dance Conversation.