The Martha Graham Company Creates a Flash Mob in Milan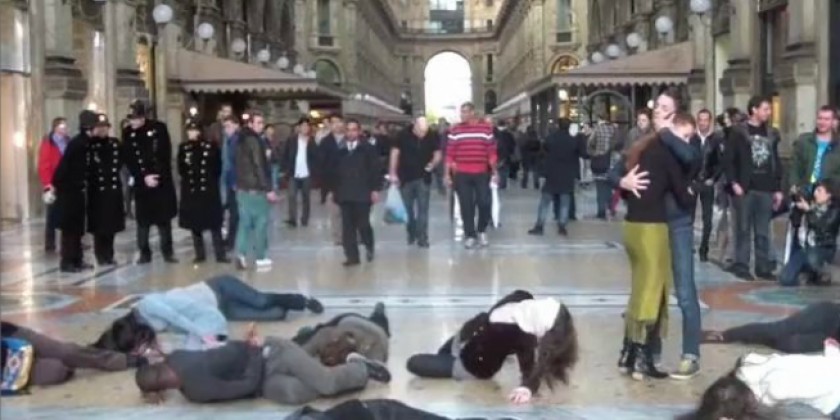 Larry Keigwin's "Lamentation Variation" Causes a Stir in Italy
Blakely White McGuire sends a Postcard to The Dance Enthusiast
---

It was our only day in Milano, Italy. In the midst of the Italian financial crisis, a bank had taken over the theater in which we were scheduled to perform; subsequently our shows were canceled. But after nearly three months of rigorous rehearsals, international touring and performances, several of our Martha Graham Dance Company members felt strongly that we still wanted to make an offering of our dance.
The Martha Graham Company in Milano,Italia- Performing a Lamentation Variation Flash Mob


Led by mastermind Carrie Ellmore-Tallitsch, we surprised the chic citizens of Milano with a flash-mob in the city's elegant Galleria, just adjacent to the Duomo. The dancers chose to perform Larry Kegwin's Lamentation Variation set to the music of Fredric Chopin, for the greatest impact in the light-filled space of glass and steel archways. As we galvanized toward our starting destination, my heart pounded loudly in my chest and I could feel the intensity building within the group. The shoppers, enjoying their lunchtime espressos nearby, took notice and drew quiet to inspect our movements. As we began I felt an immediate release of tension.

A crowd began to surround us and I thought what a gift it was to be able to change an environment and the possible trajectory of someone's day by dancing. The sounds swirling around the Galleria swallowed our music but our awareness spiked as we dancers determined to stay in sync - music or no music.

We danced to our communal, embodied impulse and fulfilled the choreography. In one particular moment during the back arch, I saw from the corner of my upside down eye that Masha Maduxx was enduring rapid fire questioning from one of the Italian Police Officers who had arrived on the scene. In her true dancer mien, Masha stayed focused, intense and silent while she continued dancing. I admired her commitment to the dance in that moment - she knew the police would wait and they did. At the end as we dancers dispersed Carrie held up a sign saying, "The Martha Graham Dance Company loves Italy". For her, this was the whole point of our guerilla performance.

We offered our dance to the people as a demonstration of unity and universality - and certainly left them with a good story to tell.