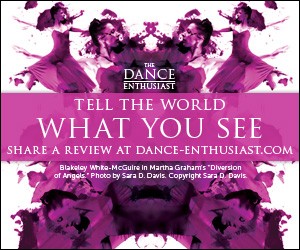 Related Features
Tour de Purpose:: With Raja Feather Kelly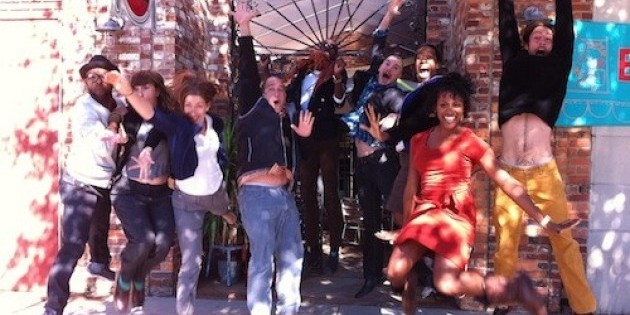 The Moments when. . . or the Artivist - Raja's Letter to Occupy Wall Street.
Tour de Purpose:: The Moments when. . . or the Artivist
by Raja Feather Kelly for The Dance Enthusiast
---
We have been on tour now for 13 days. The 11 of us that make up David Dorfman Dance have performed our show
Prophets of Funk
in front of 4 super warm and enthusiastic audiences
.
I sleep about 6 hours a night, sometimes 7 on the day before a show. With 4 days left of the tour, I am in need of 1 very intense massage. The numbers above are accurate and also add up to the 46 days Occupy Wall Street has been active. This is a very difficult and sizeable reality to ignore.
Photo Courtesy of David Dorfman Dance : Tim Edwards, Kendra Portier, Whitney Tucker, David Dorfman,Raja Kelly, Karl Rogers, Meghan Bowden,Renuka Hines,and Luke Gutsgell 

What I find difficult about being an artist is understanding if what I do can make a difference. As I thought about writing this post, I wanted to compare the efforts of the thousands of people who began Occupy Wall Street and the thousands of people who have danced with and for David Dorfman in the past year alone. I couldn't find many differences between the larger intentions of either party.
 
Based on definition alone, activism and protests are demonstrations in various forms that object and/or express intentional interest in bringing about change. While Occupy Wall Street protests social and economic inequality, David Dorfman Dance is demonstrating a time, through music and dance, when integration and equality were at the foreground of a collective exchange.
 
While our show has not one distinct narrative, what moves it from point A through Z is our relationship with our audiences. We allow the music to speak for itself with it's riling ideas of being at the bottom of the food chain, understanding oneself and owning that entity, and seeing the world how it was made to be (free). We add our own twists, turns and interpretations. Our hope is that, in the end, we have persuaded the society with us that evening to take a stand and join our company in enjoying life dancing.
 
On the first day of the tour, I walked into tech rehearsal right from the car, which picked me up from the plane station. I watched the company from backstage and felt so proud
for what I was a part of.  
Listening to David during the question and answer after each show reminds me of the large vision I believe the work David Dorfman Dance is dedicated to. Prophets of Funk is the 3rd work in a trilogy of dance performance with a goal to exemplify what I see as a consistent variable, or simply put: giving voice to the socioeconomic struggle for equality through dance.
 
---

Dear Occupy Wall Street,
      Thank you for making a difference. I am a dancer for David Dorfman Dance; a 26-year old radically humanistic post-modern touring dance company based in NYC. We are currently on tour through the Southeast- our last stop- just out of D.C, in Rockville, MD. Through music, dance, our humanity and the respect for social, political and economic equality we are sharing a vision of parity, integration, and change. Like/with you we are asking for persons to Stand up for what they believe in and what we all deserve- for us this experience is ridden in the physical metaphors that the joy dancing allows us to design and demonstrate. I spend a lot of time and resources cultivating the tool (my body) I have to be a voice for the people and for a leader like David Dorfman. I want to share with you a very integral moment I experienced recently that has allowed me to persevere as an artivist or artester (Art Activist/Art protester). A woman named Gene, an older woman, took a class with our company and having lived through the 60's expressed her interest and support in activism now. She was very enthusiastic about how David Dorfman Dance uses the art of dance performance to contribute. Gene reminded our company, as have the efforts of OWS, that "with a group of people together, we can do anything" –Gene/Hartsville, SC
Then I found this picture that the Adbusters used to promote the start date of the Occupation.
---
The Dance Enthusiast is delighted to hear from you. Share your story with our enthusiastic audiences and be part of the conversation. Send a digital POSTCARD to The Dance Enthusiast at info@dance-enthusiast.com. Include your text (not a press release) and three to five properly credited pictures, or links to short video. If you have any questions, let us know.
---
The Dance Enthusiast - News, Reviews, Interviews and an Open Invitation for YOU to join the Dance Conversation.