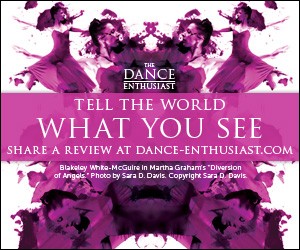 Related Features
Where is Here?
"Where is Here? — Choreographing Beyond the Stage with Marjani Fortè
A Postcard from A. Nia Austin-Edwards - Director of  PURPOSE Productions and Project Manager of Marjani Fortè's Newest Work.
March 18th, 2013
---

Marjani Fortè calls being Here... one of the "most important projects she might take on in her lifetime." Premiering at Danspace Project March 21st- 23rd, being Here… "is a look at mental illness and addiction, and it's intersection with systemic injustice. It is told through the story of one mind on a journey towards recovery."
Marjani Fortè's being Here... in rehearsal (left to right): Autumn Scoggan, Tendayi Kuumba, Samantha Spies, Rebecca Bliss, and Alice Sheppard
; Photo © Wah-Ming Chang

As someone who has only witnessed mental illness peripherally, Fortè has embraced this project with great care, concern, and investment in hopes of not only "creat(ing) bridges of understanding and empathy" through performance, but also pushing her work past the stage to engage with the community affected by mental illness. Community engagement is a principal goal of her work: "understanding how reality is being corroborated and how it is neglected or denied."

Fortè wants to know more about what it's like exist in the kind of reality that is not corroborated, not accepted, and might even be harmful. She questions how the cost of healthcare affects the treatment one receives; and explores the stigmas around mental health that affect the frequency of diagnosis and the likelihood of self-medication and addiction. She wonders "how to find power in a system designed to disempower," where racist practices are embedded and the system that is designed to create healing, space, and growth, only seems to be perpetuating the problem."You have a lot of people out there providing services for people, but nobody's asking how ( those mentally ill people) ended up there," she says.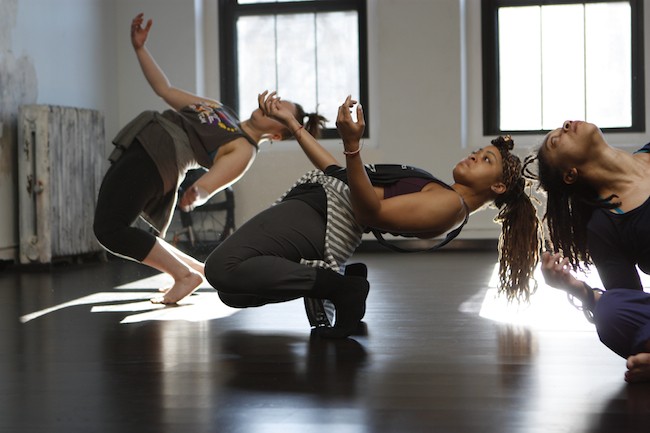 Marjani Fortè's being Here... in rehearsal (left to right): Autumn Scoggan, Tendayi Kuumba, and Samantha Spies; Photo © Wah-Ming Chang

Fortè reminds us,"I come from a lineage of artists ( who care) about activism and advocacy. As a black woman, I don't have the privilege of not talking about the things that affect me and have affected my people over generations. I am compassionately moved by freedom movements and the wake of injustice. I have to talk. And you know what [the elders] say, 'If you gon' talk about it, be about it.' My biggest microphone is my choreography."
For Tickets to being Here... at Danspace Project and for tickets to the opening Night Reception
Tickets to
being Here...
at Danspace Project -March 21st-23rd,
here
Tickets to
being Here...
Opening Night and Post -Show reception,
here
---
The Dance Enthusiast is delighted to hear from you. Share your story with our enthusiastic audiences and be part of the conversation. Send a digital POSTCARD to The Dance Enthusiast at info@dance-enthusiast.com. Include your text (not a press release) and three to five properly credited pictures, or links to short video. If you have any questions, let us know.
---
The Dance Enthusiast - News, Reviews, Interviews and an Open Invitation for YOU to join the Dance Conversation.