Postcard: Dancing "Hula Hoop Girl" Miss Mo'Jangles Meets Director, Cameron Crowe, in "Roadies"
Or, How A Hula Hope Changed My Life
"My life was changed by a hula hoop" is a sentence I never thought I would say, but after four years of being a hoop dancer, I can barely remember what life was like before hooping. I used to work solely as a camera assistant for the TV/Film industry in Los Angeles. My exercise was running around on set, and my social life was partying. I never dreamed that a plastic circle was about to change everything.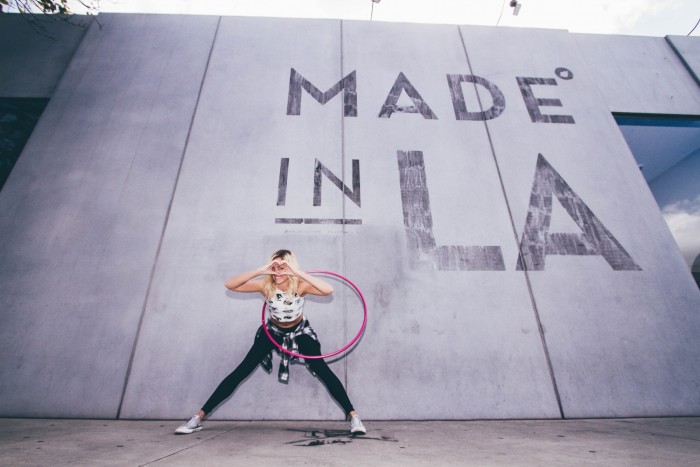 Morgan Jenkins aka Miss Mo'Jangles. Image courtesy of the artist.

I saw my first LED hoop dancer at a club in LA. I was mesmerized by the grace and power of this girl, who used the hoop as a tool to enhance her dance. After one lesson with her, I was addicted to hooping. I moved all of my furniture into my kitchen to make space to practice. I wasn't partying, so that I could be up early hooping. I spent my time on set daydreaming about the weekends, where I could be on Youtube, learning new tricks. Not only did I love hooping, but I was good at it. It made me happier than anything, brought me into a beautiful community of hoopers, and I realized over time… it gave me something to LOVE about myself.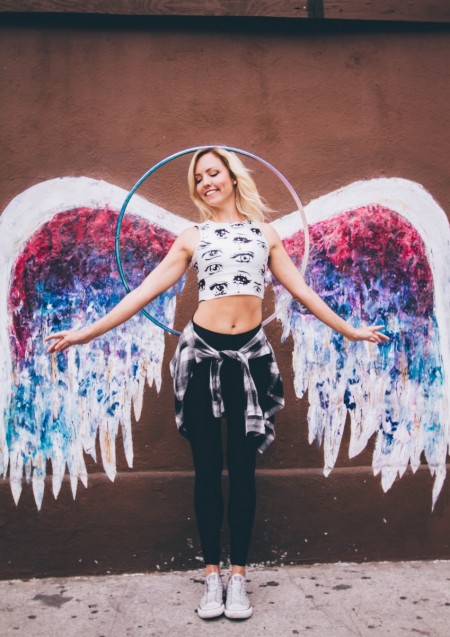 Morgan Jenkins aka Miss Mo'Jangles. Photo credit: www.amymariephotos.com.
Over the years, I have taken my practice to a professional level, performing on stages around the globe, and teaching at international hoop conventions. As a hooper, I want as many people as possible to get inside a hoop, in hopes that they will feel the inspiration the hoop brought to me. Being in LA and having all of my contacts in film and TV has helped me push hooping into the mainstream by being featured in TV Shows (The Mindy Project, Workaholics) and music videos (Galantis, Vintage Trouble, Pharrell Williams, Bakermat, Calvin Harris). My greatest opportunity to show the general public what a hoop can do has come in the form of my first real acting role in Cameron Crowe's TV show, "Roadies".
Morgan Jenkins stars as the "Hula Hoop Girl" in Cameron Crowe's new TV series "Roadies". Photo credit: www.JimmyBazan.comand.

Now here's a backstory: Cameron Crowe's "Almost Famous" is my favorite movie. When I heard that Cameron had seen my Youtube videos and had created a role based on me in his new show, I couldn't believe it. I still had to audition, but I got the part. Working on the front side of the camera was a amazing experience, and even more amazing when my old bosses from the camera department were there to film my scenes! Talk about a full circle moment! My role is, "Hula Hoop Girl" and I act in scenes with Luke Wilson and Marc Maron. Some highlights from set were getting my own trailer, using my LED Phoenix hoops to help light the scene, and having Cameron Crowe tell me I was "poetic". "It's all happening" is a well known quote from "Almost Famous", and it's how I have felt every step of my hoop journey. My episode of "Roadies" is set to air on July 31st on Showtime. I hope that the "Hula Hoop Girl" in the show inspires someone who has never seen hooping to pick up a hoop.
Morgan Jenkins teaching at the Hoop Dream Retreat Bali 2016. Photo by Ash Li. Courtesy of the Hula Hoop Institute.

What's next for me? I'll be teaching at the Hoop Dream Retreat Malaysia 2017 and working in LA with my Hoopography brand. You can catch me hooping sassy with my hoop troupe, the Hooptown Hotties, and spinning up new routines and video content on my Youtube page, and Instagram @missmojangles. I'm happy to say that with hooping it's not about the destination, but the hoop journey, and mine has only just begun!

xx Morgan