POSTCARDS: Tina Croll On Presenting "Balkan Bacchanal" to Live Music by Zlatne Uste Balkan Brass Band
Catch Tina Croll + Company at the 41st Anniversary of the Battery Dance Festival on Thursday, August 18
I started collaborating with Zlatne Uste Balkan Brass Band in 2000. They perform traditional music from Serbian, Macedonian, Bulgarian, and Romany (Gypsy) traditions. Many of the melodies they play reflect the influences of Greek, Turkish, Arabic, Persian, and Indian music.
Together we produced Balkan Dreams, a new dance work which premiered at Danspace Project in 2002. We were thrilled when the program was well received. Now zoom ahead to 2022 and we're on the cusp of presenting "Balkan Bacchanal," an expansion of that original work, set to premiere to live music on Thursday, August 18 at the 41st Anniversary of the Battery Park Dance Festival.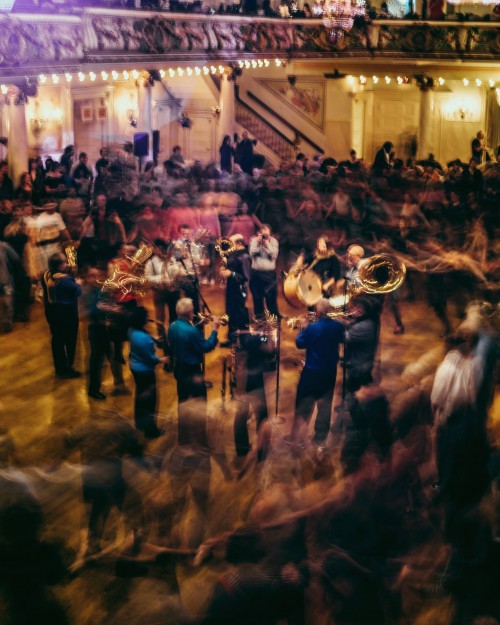 Zlatne Uste Balkan Brass Band; photo by Sasha Arutyunova
In Balkan Bacchanal I've explored the intricate rhythms and moods found in music from Bulgaria, Macedonia, and Romania. I've created a blend of folk and contemporary styles with unexpected twists of rhythm, space, and time. Balkan Bacchanal is a work in seven parts, with modern dance and traditional Balkan folk dance presented separately and in combination.
At the Battery Dance Festival, the dancers will perform to live music as Zlatne Uste Balkan Brass plays traditional Balkan folk music. In one of the seven variations — Petrunino — the band's folk dancers and my dancers will perform together. In a piece called Floričica Olteneasca, band members will dance to the sounds of the Drymba, an instrument inherent to the Ukraine. We are delighted that Ukrainian Folk Orchestra Director Andriy Milavsky will appear with Zlatne Uste in a tribute to his nation.
Tina Croll; photo by Tom Caravaglia
A little about my obsession with Balkan folk dancing. I first learned about Balkan folk dancing from my friend Lucy Kostelanetz. She took me to a folk-dance night at Earl Hall at Columbia University, where they had folk dancing once a week. Marty Koenig, the folk dance master, would teach a few new dances at each session and then everyone would dance together. I was blown away by the music. I couldn't believe how much I loved it, and that there were dances integrally connected to each piece of music!
In those days, in the 1960's and 70's, folk dancing was very popular. There were hundreds of people who were excellent folk dancers. Folk dancing was a gathering place for political activists and people from every walk of life. In this folk dancing, you would dance in a line or a circle.
There were circles within circles. In the innermost circle was Marty Koenig's dance company, the very best dancers. Around them was the next circle, excellent dancers, who would literally throw you out of the circle if you couldn't do the dance perfectly. And then around them was the third circle — the not-too good, not too bad, still-learning folk dancers. And finally, the very outer circle, which included me and a few others, all trying to learn anything we could by watching and following those in front of us. 
I loved it! I would dance from the moment I arrived until the folk-dance night concluded four to six hours later. I danced barefoot (my modern dance background), and I always ended up with blood blisters on the bottom of my feet. Most people wore shoes! Occasionally I was allowed to dance in the second circle with excellent dancers. Dancing together, perfectly in tune with the rhythm and with each other, was thrilling!
Photo © Hungarian House of New York - New York-i Magyar Ház
I left New York for a while but came back in 1992 and found a place that was selling folk dance music. I asked the owner, "Is there still any folk dancing in New York?" and he said, "There might be something happening at Hungarian House." So, I passed by Hungarian House a few times thinking well it's just me and the Hungarians I don't know, so I finally did enter, and Michael Ginsburg, a master teacher of folk dancing in the US, was teaching. There was folk dancing every Sunday and I soon learned that Michael was also the head of Zlatne Uste Balkan Brass Band. I'd already heard their music and even used a tiny bit of it in a piece I choreographed at Dance Theater Workshop!
Zlatne Uste and I collaborated for several years starting in 2000. Our first performance was at Danspace Project on a shared program with Pat Catterson. We expanded the piece to a full evening at Danspace in 2002 with the piece called Balkan Dreams. I had eight modern dancers, 10 folk dancers, and 18 musicians, including Zlatne Uste and two other groups, Izgori and Goli Teli.  We performed my choreography as well as several traditional dances for the folk dancers. It was a huge success. "Stunning permutations of heel-and-toe, twist, kick, and stamp." (Deborah Jowitt - The Village Voice). People would join us at the end of the performance and dance with us while Zlatne Uste played. Now we're about to present a new version called Balkan Bacchanal, an expansion of that original work.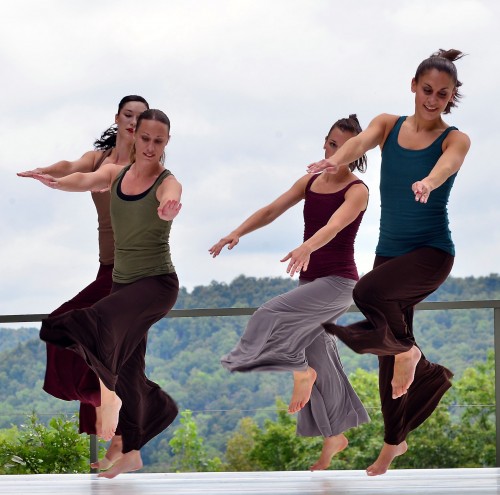 Tina Croll + Company at Jacob's Pillow; photo by Tisa Della Volpe
I've had a great time working with my nine Tina Croll + Company dancers and the nine musicians from Zlatne Uste for this upcoming Battery Dance Festival. The production is a unique combination of modern dance and folk dance, with musical arrangements not normally seen. 
I hope you will come to this beautiful open-air venue on August 18 and discover if you, too, have a passion for folk dance. I think you just might!
---
The Dance Enthusiast Shares news from the dance world and creates conversation.
For more Dance News pieces, click here.
If you have important news to share, please send announcements or press release to info@dance-enthusiast.com!
---
The Dance Enthusiast - News, Reviews, Interviews and an Open Invitation for YOU to join the Dance Conversation.