Related Features
Contribute
Your support helps us cover dance in New York City and beyond! Donate now.
Meet the 2018 Bessie Nominees: Part One with Outstanding Performer Julian Barnett in Kota Yamazaki's "Darkness Odyssey Part 2:1 or Hallucination"
As summer comes to an end, the dance scene conversely heats up. Performance season for many companies begins while dance fans brace themselves for the highly-anticipated New York City's Dance and Performance Awards, The Bessies. Taking place this year on October 8 at NYU's Skirball Center for the Performing Arts, the 34th Annual Bessie Awards celebrates the work of 43 nominees in five different categories: Outstanding Production, Outstanding Revived Work, Outstanding Performer, Outstanding Music Composition or Sound Design and Outstanding Visual Design.
In the coming weeks, The Dance Enthusiast will offer interviews with choreographic collaborators: composers, designers, and performers. Choreographers indeed make dances, but what else (and who else) does it take to create a comprehensive artistic experience worthy of an illustrious New York Dance and Performance Award?
For a full list of Bessie nominees and ticket information, go to https://bessies.org/
---
Meet Julian Barnett, 2018 Bessie Nominee for Outstanding Performer for his role in Kota Yamazaki's Darkness Odyssey Pt 2:1
Julian Barnett is a multicultural artist who creates performances that examine the social-political possibilities for transformation and empathy, through the lenses of dance, philosophy, musicology, science, and the supernatural. Born in Tokyo, Japan and raised in Northern California, he primarily lives in New York and works internationally. His performances have been commissioned and presented by Danspace Project, PS 122 (NY), Hubbard Street (Chicago), Tangente (Montreal), Kampnagel (Hamburg), Dansehallerne (Copenhagen), La Briqueterie - CDC Val-de-Marne (Paris), Dansateliers (Rotterdam), and the i-Dance Festival (Hong Kong), amongst others.  In 2015, Barnett was a US/Japan Creative Artist Fellow, where he studied Butoh at the Kazuo Ohno Studio in Yokohama. As a performer, Barnett's collaborations continue to influence his work and he has had the privilege of working with Jeanine Durning, Steve Paxton, Wally Cardona, Benoit Lachambre, Johannes Wieland, Lar Lubovitch, Daria Fain, Kota Yamazaki, Doug Elkins, Larry Keigwin, Kevin Wynn, and others. As an educator, Barnett continues to share his practices as a lecturer and guest artist at Princeton, NYU Tisch, Juilliard, SUNY Purchase, CalArts, and more.
Julian Barnett in his and Jocelyn Tobias' 2014 work Blue Marble. Photo: Anja Beutler
Cecly Placenti for The Dance Enthusiast: When and how did your artistic journey begin?
Julian Barnett: My journey began many, many moons ago on a playground actually, where dance was introduced to me through improvisation, community, and hip hop. I grew up near Oakland, California, but was forced to go to a new school because my parents were separated and going through hard times. At this new school, kids would use recess time to dance and practice. I was hooked from the start and it felt like the most symbiotic thing in my life. With all that was going in my family dynamic, it felt like the first time I was being 'heard'. It was a true outlet for me.
I love that dance was a healing practice for you. What has been the biggest challenge in your artistic journey? What was your proudest moment?
JB: I suppose it's important to mention that I have been incredibly privileged in my life and artistic journey as a cis-gendered, white-presenting male dancer (although I am half-Japanese). That said, one of the main struggles I continue to encounter is the ability to transcend past the hand-to-mouth, paycheck-to-paycheck dynamic of a freelance, project-based artist. Now that I teach in academia more regularly, some of those challenges have been addressed, yet new challenges emerge like how to remain engaged and active in the performance sector. Some of my proudest moments have been in this academic context, where I advocate for younger and marginalized artists daily and see real socio-political changes that go beyond the studio or classroom. 
Describe your creative process (perhaps in 10 words or less)?
JB: Empathy, Transformation, Subjectivity/Relationality, Music/Sound, Language, Philosophy, Desire, Catharsis, and Disorientation.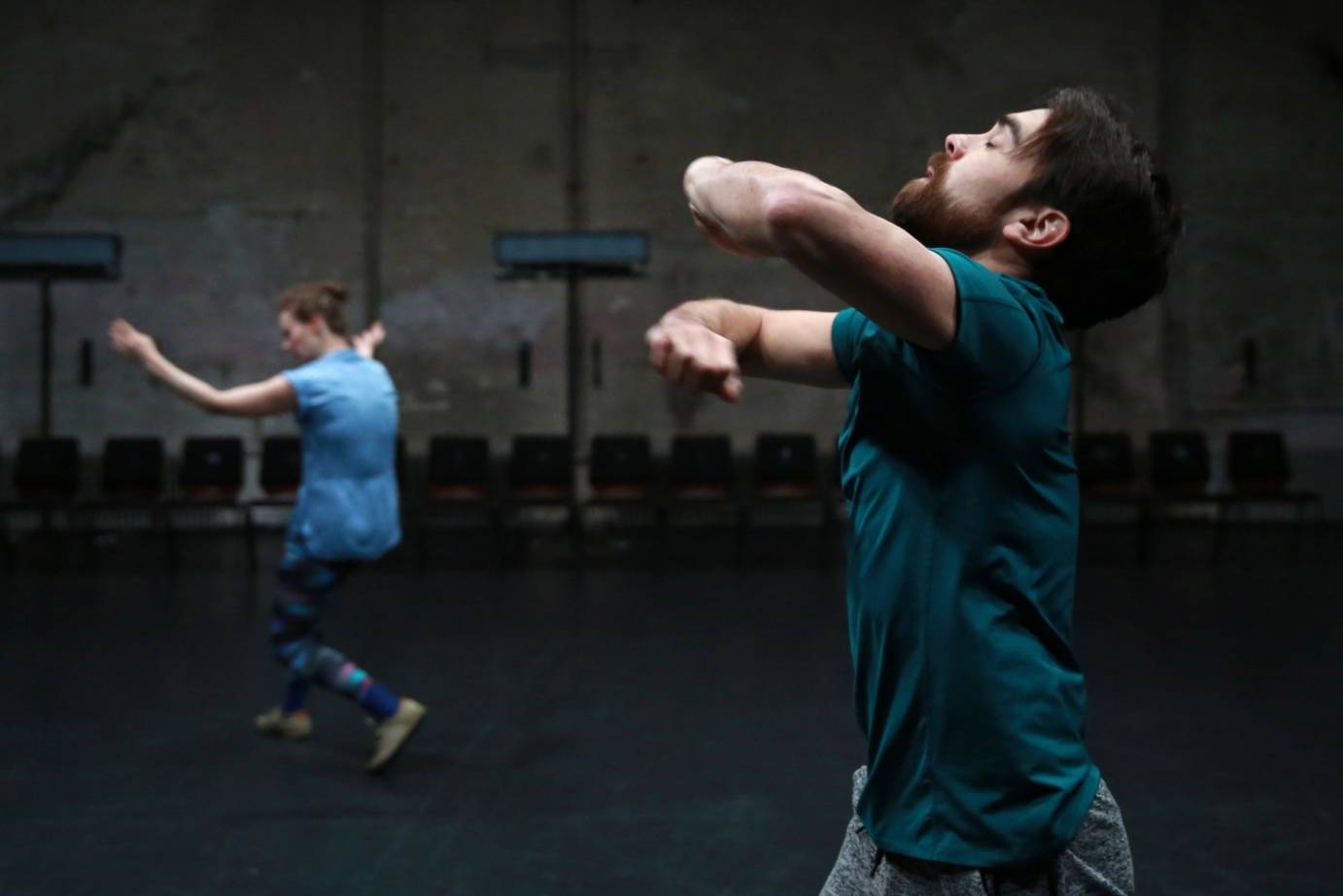 Julian Barnett in his and Jocelyn Tobias' 2014 work Blue Marble. Photo: Anja Beutler
What do you do when you are not creating? What activities or things inspire you to fill your creative well?
JB: I write and play music. I had a band in high school and have maintained my relationship to the guitar, piano, and singing since then. I've always sung in my performance work, and I am constantly interested in exploring the potential to blur the borders between dancer/musician in unconventional ways.
I also enjoy hiking in the mountains. Attending music, dance, and theater performances. Being a foodie. And experiencing other cultures (and food!) through travel. These are always deeply inspiring.
What continually inspires you creatively?
JB: Ooh, this is slippery and changes all the time. For a good while it was (and still is) Moses Sumney, a singer-songwriter. I'm devastated by the recent passing of Mac Miller and Anthony Bourdain. Bjork has always been an idol of mine as well as Meg Stuart and Pina Bausch. Working with Wally Cardona and Jeanine Durning were foundational experiences that still provoke me forward. And my partner Jocelyn Tobias, she always has a beautiful way of tickling inspiration out of the cracks and fragments of loose thoughts. I also love Octavia Butler, science-fiction in general, and the films of Jean-Pierre Jeunet, Kurosawa, Almodóvar, and Iñárritu.
Julian Barnett in Kota Yamazaki's Darkness Odyssey Part 2; Photo: Christopher Duggan
How did you come to work with Kota Yamazaki on this particular project?
JB: I first interacted with Kota back in 2010, when he was seeking a performer for a piece he was creating for Dance New Amsterdam (now Gibney Dance Center). I wasn't able to do it, but we stayed in contact and continued to see each other at performances, events, etc. In 2014, I presented my duet, Blue Marble, with performer and co-creator Jocelyn Tobias at Danspace Project and Kota attended. Around the same time, I received the US/Japan Creative Artist Fellowship, which funded three months of artistic research in Japan. Kota was organizing his Whenever Wherever Festival in Tokyo and invited us to present Blue Marble. 

During this time, I began to understand Kota's work more deeply. I experienced the first iteration of his Darkness Odyssey trilogy, Part 1, and was able to exchange more broadly with both Kota and Mina, his partner and artistic support. Because of the US/Japan Creative Artist Fellowship, I was simultaneously studying at the Kazuo Ohno Studio in Yokohama, garnering insight into this particular lineage of Butoh. So when I arrived back in New York, Kota invited me to replace an injured performer he needed for a performance tour. It was nerve wracking, but I learned the hour and half piece in a week. After that, he asked me to be involved in his new work, Darkness Odyssey Part 2, which I was thrilled to experience from the beginning.
What's next for you?
JB: I'm developing a new solo (my first one since 2011). It's a performance that attempts to interrogate my hybridized perspective of Butoh, alongside other elements, such as dis-idenitifcation, vibration, and memory as a fluctuating field that creates a layered lineage and presence. It'll happen at Gibney Dance Center, December 6-8. I share the evening with the incredible Mina Nishimura.
---
The Dance Enthusiast Asks Questions and Creates Conversation.
For more of The Dance Enthusiast Asks, click here.
Share your #AudienceReview of the festival or others for a chance to win a prize.