Related Features
Contribute
Your support helps us cover dance in New York City and beyond! Donate now.
THE DANCE ENTHUSIAST ASKS: Aaron P. Dworkin, Poetjournalist-In-Residence with Complexions Contemporary Ballet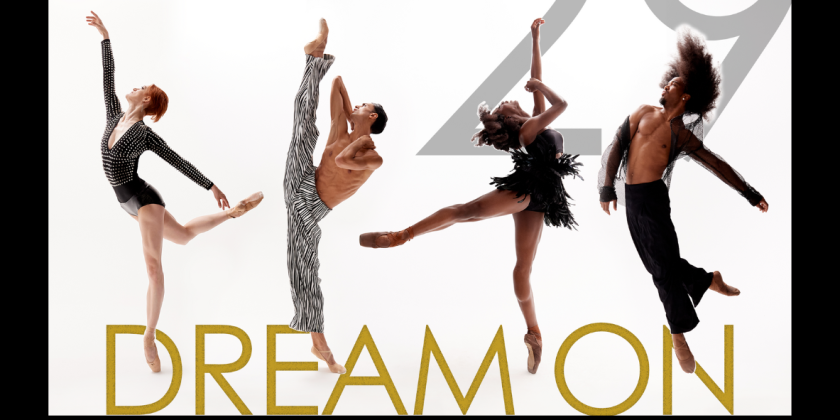 Complexions Latest Artistic Collaboration Extends Artistic Possibilities
Complexions Contemporary Ballet's 29th Anniversary Season: Dream On
The Joyce Theater
November 14* - November 26, 2023
*November 14, 2023: Opening Night Benefit to Honor Artistic Advisor Sarita Allen
---
Complexions Contemporary Ballet, known world-over for thrilling physicality, dynamic artistry, and the sheer beauty of their multi-hued performers, will as of next week also be known as the first contemporary ballet company (or dance company of any sort) to have a "poetjournalist"-in-residence. The addition of this new collaborative position, (borrowing a quote  from the UK's The Guardian) continues the company's important work of "forging a path for what ballet can be instead of what it has historically been."
Back in 1994, when diversity and inclusion were concepts barely evident in many ballet companies, Complexion's founding artistic directors, Dwight Rhoden and Desmond Richardson,put those ideals front and center at their new company — not only recognizing skin color as diversity, but culture, gender, styles-of-movement etc. The two artists embrace opening up, not confining their art.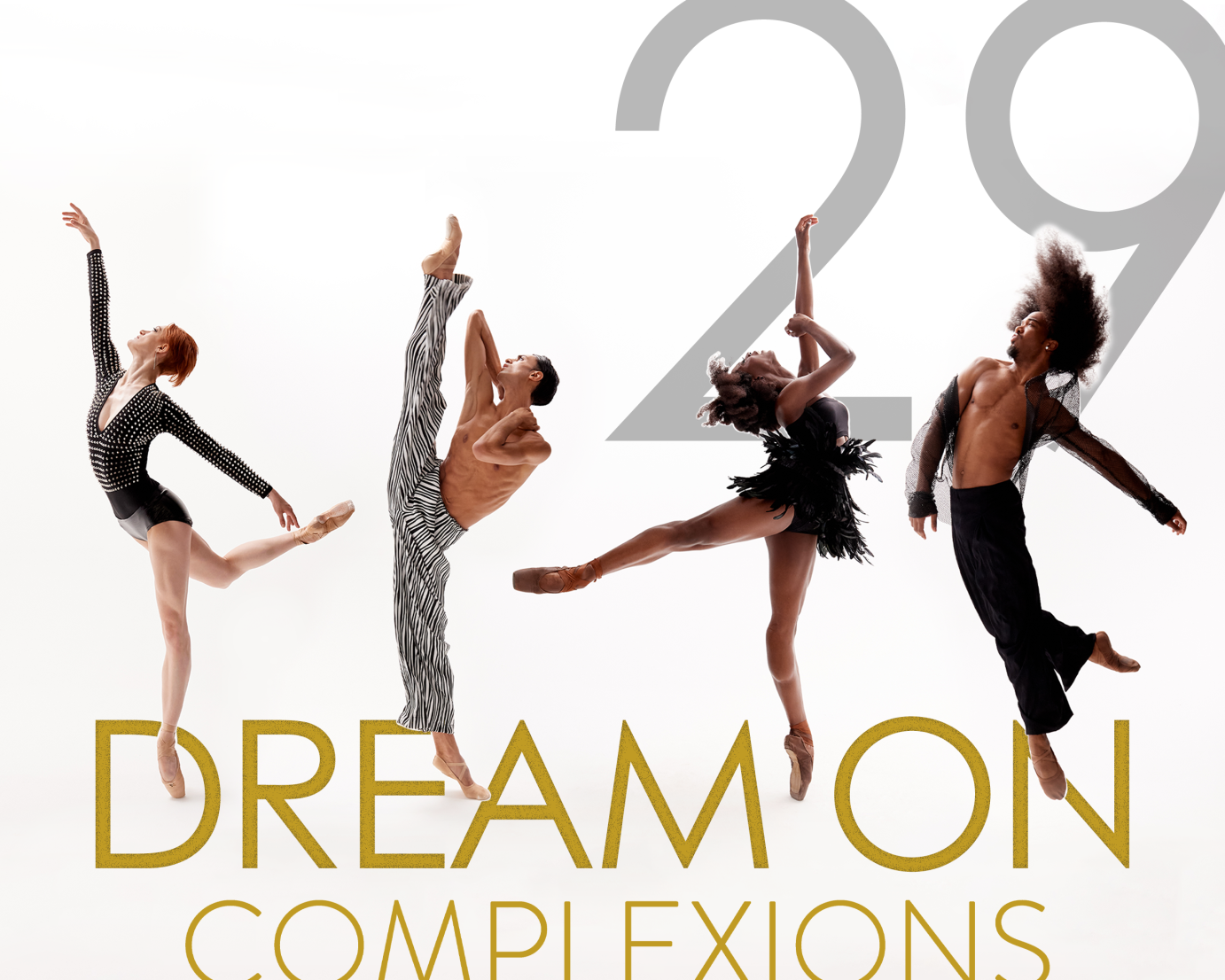 Complexions Contemporary Ballet poster. Photo: Rachel Neville
As they say now, "The world is becoming more like Complexions..."  This makes me wonder if not too far in the future, poetjournalists, or even non-poetic ones, could become regular features of dance company life and programming. On November 14th, the opening night of Complexions Contemporary Ballet's "Dream On" 29th Anniversary Season, Aaron P. Dworkin, the poetjournalist himself (he actually coined the term) will make his Complexions debut.
Like Richardson and Rhoden, Dworkin embraces unconfined spaces and expansive thinking. A multi-hyphenate talent, he is a spoken-word poet, violinist, composer, author, visual artist, Emmy-Award winning filmmaker, podcast host, and cultural leader, bringing diversity to classical music through the acclaimed Sphinx Organization, which he founded and initially ran. Dworkin, a MacArthur fellow, teaches Arts Leadership & Entrepreneurship at the University of Michigan's School of Music,Theatre & Dance. Perhaps it's on his days off that he finds the time to serve on The National Arts Council and President Biden's Arts Policy Committee.
Aaron P. Dworkin. Photo by Shawn Lee
His book "the entrepreneurial artist," a must-read for for anyone involved in creative work, contains a collection of engaging, informative pieces about renowned artists and the life lessons which shaped their successes. Dances' own Bill T. Jones is featured (along with the likes of  Midori, William Shakespeare, Wynton Marsalis, and Jeff Daniels). Dworkin's belief that great artists are entrepreneurial creatures signifies that all artists, emerging or otherwise, can learn from the greats to create their own path to artistic fulfillment.  It is  both liberating and empowering.
I hope you enjoy my conversation with the poetjournalist, Aaron P. Dworkin, as much as I did.
---
Christine Jowers for The Dance Enthusiast: I can't tell you how exciting it was to see the words poet, journalist, and in-residence put together in the Complexion's press release. So few people bother to address dance in writing, and writing can be a rather lonely experience. I wanted to meet a kindred spirit and to ask about your relationship to dance and the concept of poetjournalism? How did it all  come about?
Aaron P. Dworkin: Dance is such a critical discipline in our artistic ecosystem… I love it and and even though I am not trained, I originally did study ballet at a very early age in New York. I had my little Capezio bag and was diligent, but it did not last very long. I was training as a violinist then. When I was at the University of Michigan working on my degrees, one of the first things I did was form a [music] quartet with dancers. We assigned each dancer to each member of the quartet and then worked with a choreographer and I just loved this integration with dance.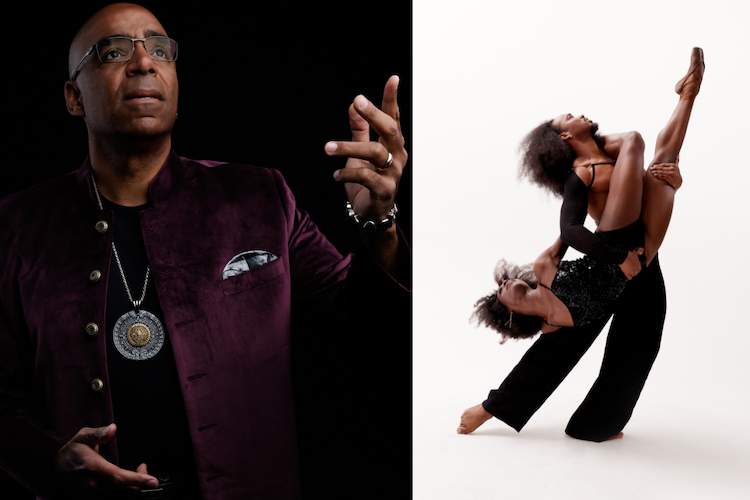 Aaron P. Dworkin (left) and April Watson with Joe Gonzalez (right) of Complexions Contemporary Ballet. Photo: Rachel Neville
All of that said, of course, I've been a spoken-word artist for pretty much my whole life. And that's manifested in a number of different ways. For a number of years, I created these words and performed them with orchestras. Then a few years ago, I knew I wanted to do another collection of poetry. I didn't want to write poetry only to have a few hundred people in the academy read it, potentially either thinking good things or criticizing it from an academic perspective. I wanted to have my poetry reach people.
I began thinking in my social entrepreneurial head, because that's a lot of the work that I've done, and it dawned on me — what about partnerships? (Dworkin has partnered as a poetjournalist, with Ovation TV,  The Charles Wright Museum of African American History, and others )
Then I thought about photo journalists and how they capture moments that you would just read in a story, and how their pictures capture a sense that adds to the story. I wanted to use my poetry as journalism. I want to be a poetjournalist. It was literally an epiphany!
So you just invented the word, and a field! How did the work with Complexions come about?
I was like, oh well, I'm sure that [a poetjournalist] exists, so I googled it and discovered, wait… it's not a thing. That made me even more interested. Then I asked myself, "What do I really mean?" That helped me frame my own creativity…
Basically what I'm doing is taking a news story or other event and presenting it in poetic form. Utilizing elements of emotion, opinion, and creative illustration. Of course, I got really excited because I love being in a creative space where no one has been yet.
Aaron P. Dworkin's cover for his Program Arts Engines
I had the opportunity to meet and get to know Dwight, who was actually on my show, Arts Engines. I instantly fell in love. I mean, he's just extraordinary and an extraordinary artist. I've always known of Complexions, it's  a visceral experience being in the presence of their artistic work. I felt there were things about their work, the way they express, what they evoke, that I could capture in this medium… So, I reached out to Dwight about a creative exploration. He was like, "Oh my gosh, I love this idea." And that led to this unfolding and, of course, now I've already written my first full poem for them that I'll share on opening night at the Joyce. I have also drafted some poetic components which I think the company might end up incorporating into some of the dance work itself — all of which I'm really excited about.
What does it involve working with a company like Complexions, and how do you first approach your partnerships?
There's kind of a standard overall, I hate to call it a format because it makes it sound more rigid than it is. The process, whether my partner be Complexions, or the Wright Museum, or now I am doing something for the Bicentennial of the city of Ann Arbor, is [they say] "We'd like a work that reflects X or is about X." For example, for this first poem for Complexions, Dwight shared with me that they would like a poem that is going to capture their season and who they are.
When I saw Complexions perform in Detroit, I took notes of certain things that I was hoping to be able to illustrate. I went into research mode, research of my own observations, experiences, etc. Then Dwight shared a number of works, names, and the titles of those works, and I incorporated some of that. I asked, "What words matter to you? What words do you feel reflect what you want to architect for this season?"
April Watson of Complexions Contemporary Ballet. Photo: Rachel Neville
I'm trying to get inside his passion, his intent, so that I can channel that through this medium. All of that information are building blocks. The overall sense of the Complexions season is "Dream On". What I was hoping to do, and hopefully it was successful, is to architect this story, in which the audience member is compelled to dream on and and that Complexions is the tool through which they get to do that.
Is it difficult? What is the challenge of being a poetjournalist, are you ever just confronted with, "I don't know what to do."
Overall, I would say that I don't find it challenging because I just love it passionately. I love it and love all parts of it. What I would say is that there is a pivotal point that often takes more time. After all of the research, and when I have the framing, I have all of these components, I usually have a list of words and phrases and things. Before I begin the compiling stage and construction stage, there is a necessity to find "the feel."
What I mean by that is that some poems, their structure is going to be more rigid. Some,for example, the several that I did for the Wright Museum, had a strong component of call-and-response. It just reverberates the culture. This piece [for Complexions] is more stately.
The development or the determination of "the feel" often is not easy or simple. If it doesn't "feel," I can't move forward. That has to be right. The process almost never happens on the same day of construction,  I need to sleep on that and wake up going, "Yeah yeah, that's where I want to go." I need that space and time, and it doesn't come quickly.
Then construction, there's so much work in it. Constructing and compiling, figuring out meter or articulation, sometimes syllables or rhyme, word replacements… As I'm going through all of these things, a lot of functional work is taking place. When I'm done with that, and I have the raw poem, which is almost always horrible, I go back to the rewrites and that's also just involved. But, it's the work.
In your book of poems, The PoetJournalist, in the poem PoetJournalist, there are some lines that hit me as a dance writer. "I assist memory to feel moments lost; I am the emotion of every story missed; I am the words the newsprint failed to list."  You know that dance is hard worked for, and that it evaporates the minute it's performed. If you are not there "live", you miss the full experience. This is why I stand up to write, not so much to be a critic or a judge, but to feel the artists and sense what they're trying to communicate. There IS so much that's missing, which, as you say, is not in the newsprint. And I think poetry can go there. This idea of a poet, a poet journalist, reminds me of the importance for dance organizations to have somebody like you in residence, to look back, to refer, and reflect, not only for their audiences, but for themselves.
Absolutely. Both this ability to capture these things in a bit of a different language, but also almost in an archiving, right?  And the ability to to take what is otherwise this temporary moment and in some way engrave it, and leave it for someone to continue to reflect on and experience.
Alberto Andrade of Complexions Contemporary Ballet. Photo: Rachel Neville
Can you share a bit, of your poetry before opening night, as much as you are comfortable?
So for example, my observations and visualizations, thinking about the level of work that they [the dancers] put in, and also the visibility of  musculature that defines Complexions in so many ways. That led to this part of a stanza:
"Ballet born in the crucible of possibility, an ethic of work carved from the muscle of sinewy talent"
Then there are other parts where they actually have titles of works like love, fear, and loss. So I try to capture that :"fragments of stories retold woven into an opulent tapestry of love, fear and loss."
Can I think of another example? Well, coming back to "dreaming on" for me, being the audience member, I'm putting myself into that space:"They continue to dance, redefining grace, unleashing a deluge of beauty and a world yearning for redemption. I hear the whisper of eternity in a dance that emanates my human spirit, a dance that is Complexions, Complexions dreams on."
That's beautiful, Aaron.
I'm hoping to evoke all of that, but it's all embedded in them, right?  In Dwight and Desmond, and in what they've shared with me about what fuels their creations.
---
The Dance Enthusiast Asks questions and creates conversation.
For more of The Dance Enthusiast Asks, click here.
---
The Dance Enthusiast - News, Reviews, Interviews and an Open Invitation for YOU to join the Dance Conversation.