Related Features
Contribute
Your support helps us cover dance in New York City and beyond! Donate now.
Alison Clancy Makes Dance History at the Metropolitan Opera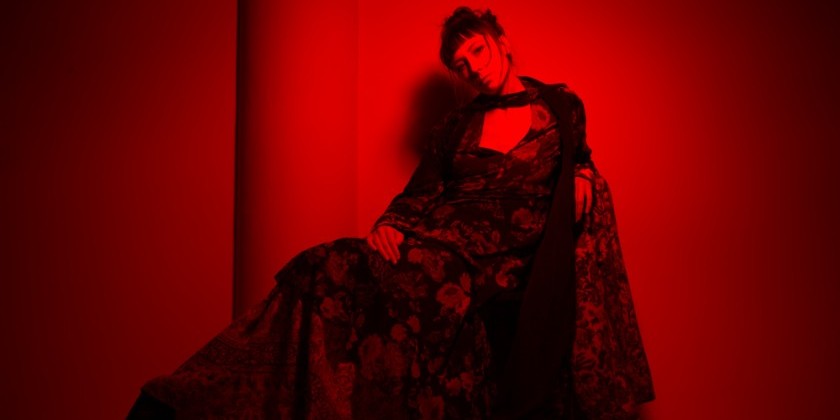 Solo Dance Choreographed by Carolyn Choa Opens New Production of "Der Fliegende Holländer"

Der Fliegende Holländer
March 2 - 27, 2020
Live in cinemas on March 14 
---
By the time you read this, Alison Clancy will have already made her solo debut in the premiere of the Metropolitan Opera's new production of Richard Wagner's Der Fliegende Holländer (The Flying Dutchman).  A ten-year-veteran dancer at the Met, Clancy is a featured dance soloist, opening the opera — a rare and highly visible spot for a dancer. Three cheers!
While not an opera diva, Clancy,  is a singer and composer who has led several bands, starred in many original music videos (which she also creates visual art for) and just recently finished production of a solo album called Psycho Tyko. You may have seen her dancing downtown with Zvi Gotheiner's company ZVIDANCE or watched her choreography live at Dixon Place or projected on a tall building in collaboration with the pioneering Light Harvest Studio. 
In this opera, choreographed by Carolyn Choa — known for her stellar work in the operas Parsifal and Madame Butterfly, as well as the films The English Patient and The Talented Mr. Riply — Clancy portrays Senta, Der Fliegende's... lead female figure, introducing the audience to the psychological and spiritual aspect of the character who doesn't traditionally make an appearance until Act II.  
This multi-talented woman, who rigorously takes ballet class six times a week, OK, maybe four ballet classes and two yoga sessions of late, decided to give herself a break last Saturday, in preparation for her Monday, March 2nd, premiere. I lucked out and got to spend an enjoyable afternoon listening to Clancy's take on "Senta," opera, dance, power naps, and the necessity of headphones. 
---
Christine Jowers, for The Dance Enthusiast: It's unusual for a dancer to be center stage at the opera. But here you are. Can you tell us a bit about your exciting role?
Alison Clancy: This all happened so fast. I just auditioned for this piece during the last week of January. Auditioned on a Tuesday, got called back on a Wednesday, had a five-hour rehearsal on Thursday and Friday. I did not even see the whole opera until a day ago. I only met the singer version of Senta [ Anja Kampe] and heard her for the first time a few days ago. 
Alison Clancy as Senta; Photo by Andrew T. Foster 
This Holländer, it seems, comes from Senta's perspective. Carolyn  has explained that she sees Senta as the most spiritually evolved person in her community. She lives in a fishing village of weavers but is a poetic dreamer wishing for a bigger life — a mystical character. She is the only figure in the opera dressed in red in the piece, everyone else wears dark colors.
In my opening scene as Senta, I stare at a portrait of Holländer. In most productions it's a small picture that Senta has grown up looking at, dreaming of, and thinking, "I'm going to be the one who can release him, from this curse." [See synopsis of Der Fliegende Holländer here] In this production, the entire border of the Met stage is a picture frame. Before the program opens you see a huge image of Holländer's eye on the curtain. When the curtain rises, you see Senta (me) standing staring at this huge eye. 
Alison Clancy as Senta; photo by Ken Howard
I summon up a lightning storm from the ether and a ghost ship emerges, a celestial ship. Rather than thinking of Holländer sailing the seas, in this production, he sails the universe. It's not that he's been traveling for years, he's been traveling for all time. And Senta is universal love. Her universal approach to love gives her the magic that can change and can save Holländer from his curse. 
Senta doesn't come out until the second act of the opera, my solo is there so that the audience will be invested in the character's psyche even before the singer playing Senta appears.
The Dance Enthusiast: I know dancing "Senta" is a special part for you. Who else have you been in your 10 years of dancing at the Met Opera?
AC: In the opera Norma, Norma is a Celtic priestess and I was her back-up witch. In Les Contes d'Hoffmann (Tales of Hoffman) I was in a circus freak show that comes out to entertain, part of the mad doctor's ensemble of freaks and geeks. I've done a lot of ballroom and waltzing party scenes in various operas. They're different, but the person who is center stage is the singer, and the dancers are creating a world that the singers live in, which is amazing.
To be in such close vicinity to these artists is a crazy privilege. I watch how they are finding their power, playing with and stretching their roles. I really try, even if my job is just to sit, to fully give and fully receive this in as clear of a way as I can. 
Alison Clancy as Senta; Photo Ken Howard, Met Opera
The Dance Enthusiast: Have you had a favorite part?
AC:  One of my favorite roles has been in Turandot. I sit with my back facing the audience directly in front of "Turandot" for 40 minutes.  I am so close I can see everything. I can literally look in the singer's mouth and see their tonsils moving. My job is to sit and look while they sing. It's the kind of thing where if you're checked out, it could be excruciating, but if you're open, it can be quite powerful. You have the best seat in the world to witness the best diva in the world. 
I got to see Anna Netrebko sing "Turandot" on New Year's Eve. I've heard that role sung by at least half-a-dozen major artists, and I heard that music in a completely new way and felt it totally differently — goosebumps all over. 
There's magic happening at the opera if you are available to it.  I've taken the tiniest parts and the biggest parts there because there's something about the energy that's cultivated in that building that is extremely powerful to me.
Alison Clancy as Senta;Photo Ken Howard, Met Opera
The Dance Enthusiast: How did you originally connect to the Met and how are you cast?
AC: For my very first job ever, I was lucky to have a private audition with Martha Clarke. She asked me to do this waltz sequence and partner with a guy named Andrew Robinson. When I got hired as an understudy for that show, Andrew, who I remember thinking was cool and a great dancer, wasn't around, he was dancing at the Met. 
That was my first awareness that there was dance at the Met. Now it's funny, so many years later, Andrew, this person from my very first audition, is my boss. I work with Carolyn every day but he is the  deputy dance director. 
All the dancers at the Met are hired through auditions. It's union so they have to have auditions that are structured specifically. Depending on how many people they need, they may have a union call and/or an open call. The first show I was hired for, Les Contes d'Hoffmann, was  open call.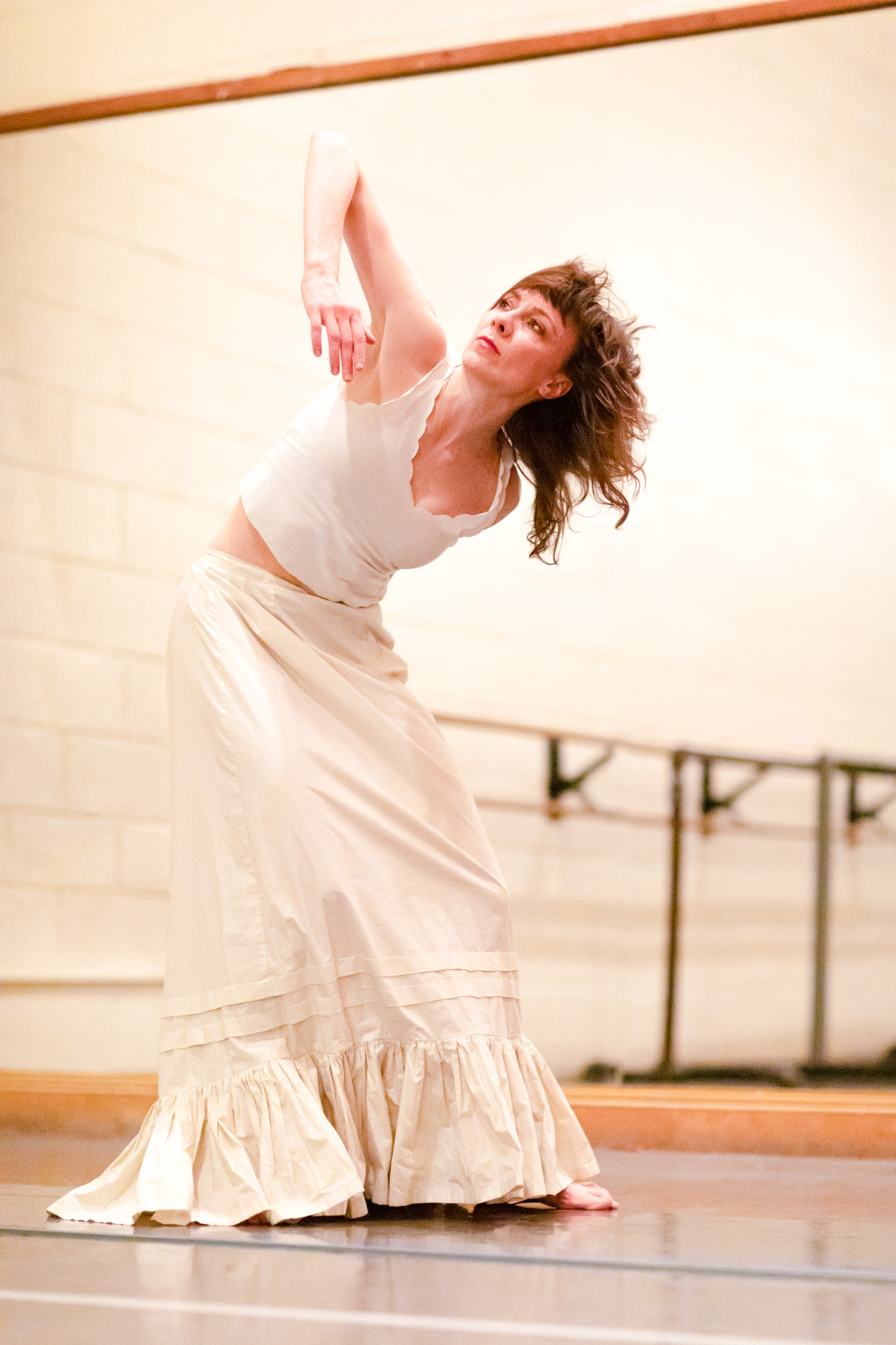 Alison Clancy in rehearsal for Senta; Photo by Andrew T. Foster
Every part I've danced I've gotten through auditioning. It's not like once you're in, you're in. Each show brings in a new creative team and the team is allowed to hold auditions and cast whom they'd like. It's a continual, intense process and I have been fortunate. Usually, you are with 200 women auditioning for one or two spots.
The Dance Enthusiast: How do you manage the intense pressure?
AC: It's gotten to the point that oftentimes when I'm in an audition now — it's weird to say— but I can tell within the first few minutes if I am going to get cast. 
The Dance Enthusiast: How's that?
AC: Just energy between people. They [the creative team] walk in the room and you see them do "the scan," you know what I mean, the quick scan. You either feel like, oh we're vibrating or oh, we're not. Sometimes I'm wrong, but I've been doing this along time. It's like chemistry, deciding who you want to spend time with, who are you interested in.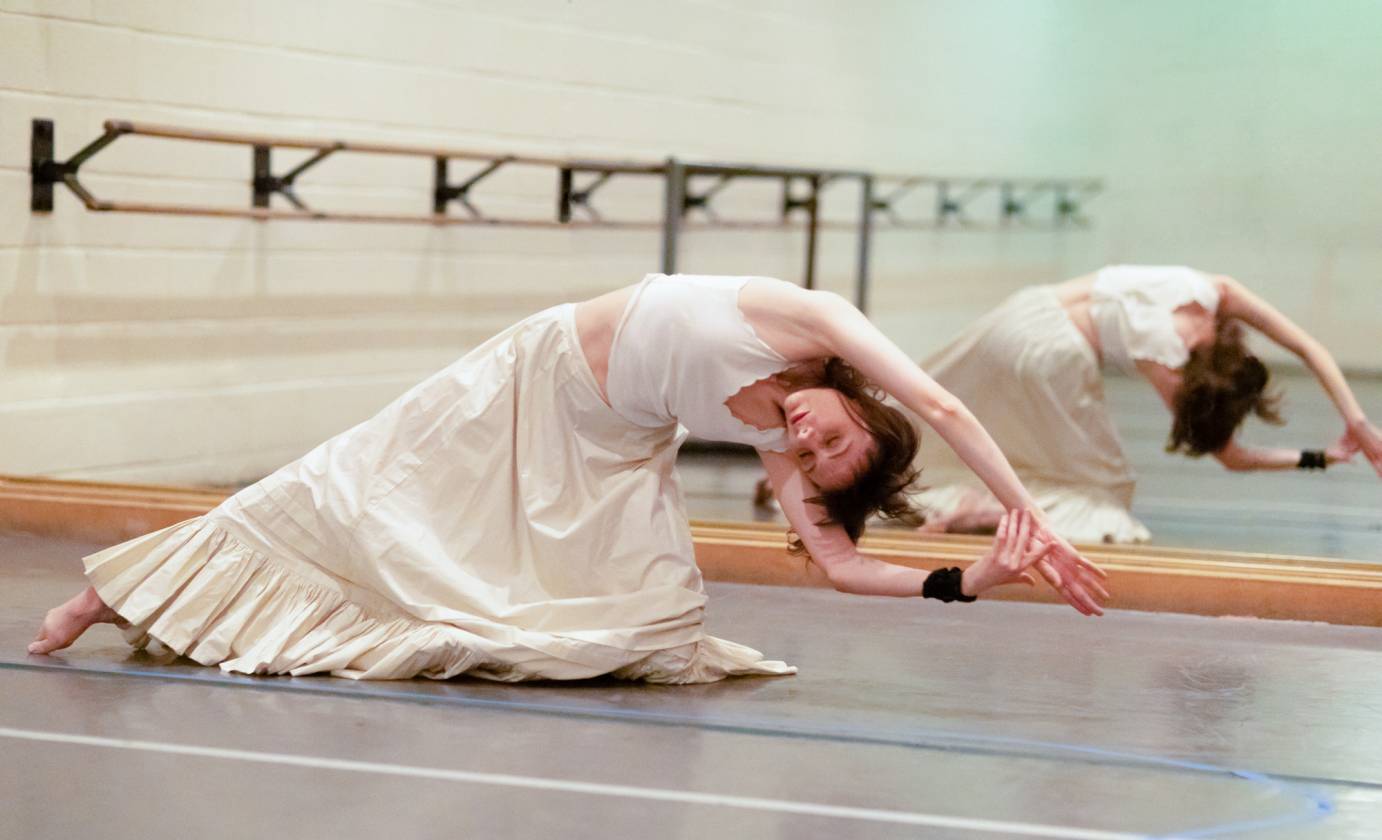 Alison Clancy in rehearsal for Senta; Photo by Andrew T. Foster
Oftentimes also, if I really like them, am genuinely interested, and think they're really cool, they're 10x more likely to hire me. If I sense that they seem arrogant, then they're not.
The Dance Enthusiast: What is your plan when you see that the energy isn't going to work? What do you do, go to the back of the room?
AC: I go to the back of the room anyway, because auditions are really intense and I'm so tall and long. I try to find whatever space I can, so I can figure out movement without hitting people. 
The Dance Enthusiast: What was the energy like with Carolyn Choa? How did you get chosen to be "Senta"?
AC: I performed in Parsifal which used the same directing team that is here with Der Fliegende Holländer; however I didn't perform the first year with Carolyn. I was cast two years later. I had done her movement and choreography, but I'd never met her. 
Alison Clancy in rehearsal for Senta; Photo by Andrew T. Foster
Oftentimes, before this, when people asked, I would say hands down Parsifal was one of my favorite productions. The music is transcendent, the production, fantastic, and the movement quality —the way it all came together was the most intense experience.  Slow-motion movement, durational, very subtle energetic improvisations for 30 to 40 minutes done to super-sweeping, mediative music. It put you into an altered state. I always feel like I'm having a real experience up there, but that was the deepest.
I admired Carolyn's work not only on Parsifal but she also choreographed Madame Butterfly which was stunning. She has a defined poetry to her movement and works with subtle energy in her choreography in a way that you don't often experience with big opera productions.  
People run things a bit more like "do this here", and "do that there" and "do this one now." She says to  "feel this" and "trust that even though you're in a big opera house having this feeling that will be enough to have it translate."
She's magical. 
The Dance Enthusiast: Are you nervous about this role?
AC: I am and I'm not. There many structural factors that I am dealing with, the main one being that the stage is super, super steep. It's like I'm dancing on a cliff with uneven surfaces, and the uneven surfaces are covered with painted canvas so I can't see them. I'm feeling with my feet to know if I can or can't step. Then, I'm wearing a long skirt, and have a crazy long wig, there are  3D projections that are distracting so I can't really see or spot. You're on the Met stage. It's a lot of pressure, but a big part of the reason I'm not nervous is because of Carolyn's creative process. She's been so communicative and trusting of me as an artist.
Alison Clancy as Senta; Photo by Andrew T. Foster,  Met Opera
What's been of most importance to Carolyn is that I become Senta. When you know that's your priority above everything else, you don't have the option of being nervous.
The Dance Enthusiast: Besides your live performances, you will be simulcast in HD and then seen on PBS or special performances of Der Fliegende Holländer, Are you going to watch yourself?
AC: That is surreal, I will probably never watch though.  I love performing for film, but working with dance for camera is a different art form. With watching a live performance on film,  there's always a rub between the experience and what I see. When I watch I get a little nauseous. If I had a really amazing experience and it doesn't look how it felt, it's disappointing and so I prefer not to watch.
The Dance Enthusiast: You perform your own music live and in film with visual designs that you create, you dance in the concert world and the on opera stage, and we didn't even get to talk about your work with Light Harvest Studio, choreographing in motion capture for huge projection mapping light shows— what do you prefer, and how do you relate to the various audiences?
AC: I love them all for different reasons. I have a complex personality and express different parts of myself in different situations. In this piece with Carolyn, it's so amazing to not be in charge and to be in an energetic state, that's a huge gift. 
With my music, it's great to create my own aesthetic in a way that's very specific. In working with projection mapping projects it's great to collaborate with talented people and exchange ideas back and forth. I'm comfortable being in charge and totally not being in charge and it's a nice balance to get to go back and forth.  
In the opera, I'm kind of anonymous. My name is not on the program I don't see the audience members. My job is to support the singers. Dancing for Zvi or my own work, it's more one to one with me and audience. It all starts to become a blur because I perform so much. 
Alison Clancy in rehearsal for Senta; Photo by Andrew T. Foster
Often times people ask how did the show go and I say, which one?  I played guitar for a fashion show last night, I was dancing with Zvi on Saturday and I'm in the opera tomorrow.  I would love to not have it be so busy but none of these projects pay enough to be able to do just one. Doing lots of different things is also a necessity. All the work is  amazing, but it doesn't pay well. 
The Dance Enthusiast: Is there something you need in your life every day in order to get your work done and feel good?
I have to have headphones.  I'm sensitive to sound. There is so much stimulation, so much to be juggling and thinking about all the time that often I'll wear giant headphones with no music playing, or I'll listen to meditation tapes.  If I leave my house without my headphones my day is off.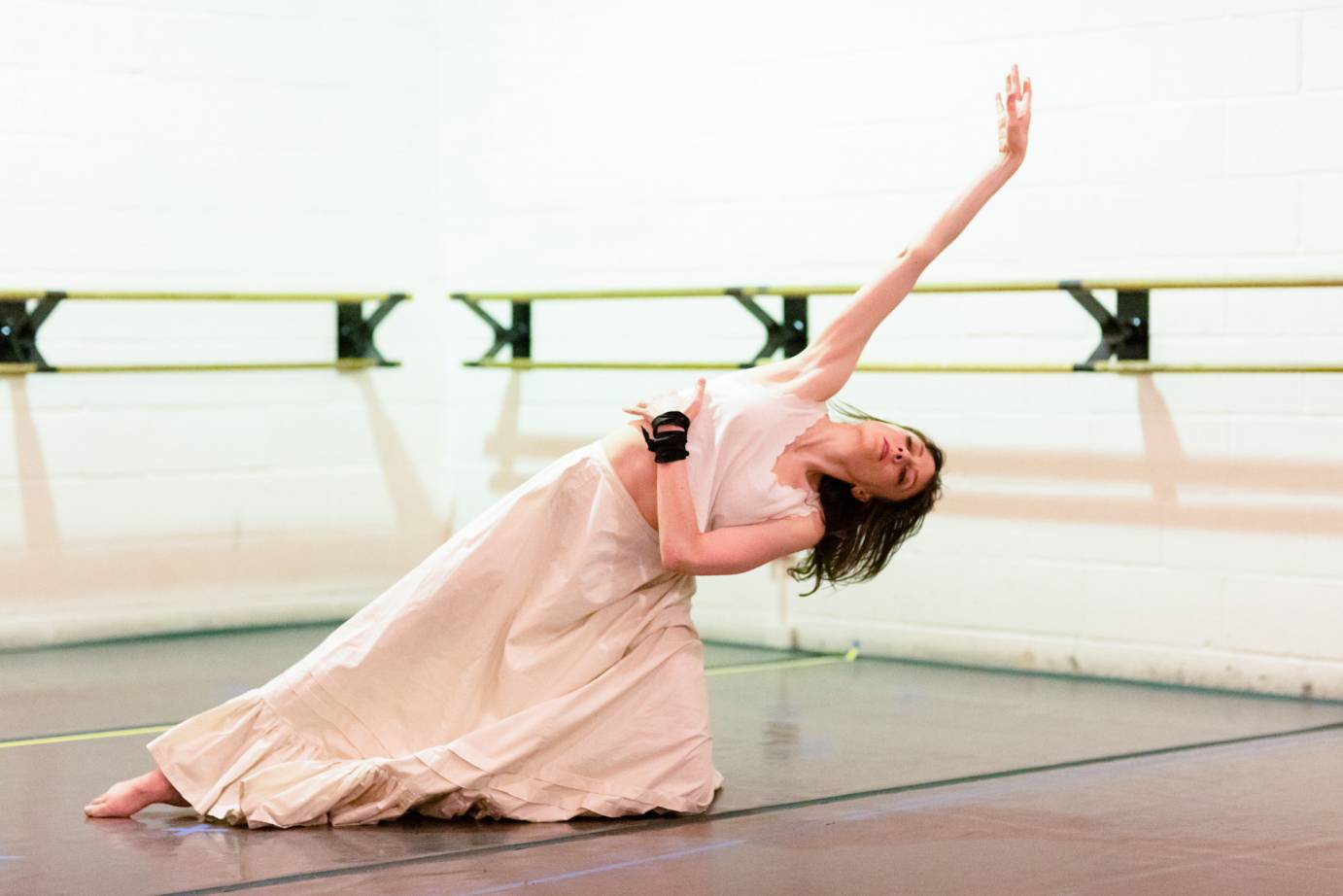 Alison Clancy in rehearsal for Senta; Photo by Andrew T. Foster
The Dance Enthusiast: I've not been an opera enthusiast, but after speaking with you, I am excited to go to the opera.
AC: I was not an opera person before I started working there, but it's everything.  You have these amazing singers, you have the orchestra, you have people reinterpreting classic roles. There are many levels to it. It can be really slow, but in today's world with so much stimulation it's nice to slow down and watch a scene where someone takes twelve minutes to say, " I love you," or twelve minutes to say, "Let me marry your daughter." 
There's something about the duration of it that I find calming. I also have no shame about falling asleep in operas or dance performances, taking power naps. It's not because I'm not interested. You can fall asleep for five minutes, the music washes over you, and that becomes part of your dream. I recently saw Anne Teresa de Keersmaeker's concert to Bach's Cello Suites, it was long, but also incredibly beautiful. I had an incredible five-minute power nap. 
If a show can help me calm down and sleep for a few minutes, then that's a good show. 
---
The Dance Enthusiast Asks questions and creates conversation.
For more of The Dance Enthusiast Asks, click here.
---
The Dance Enthusiast - News, Reviews, Interviews and an Open Invitation for YOU to join the Dance Conversation.