Related Features
Contribute
Your support helps us cover dance in New York City and beyond! Donate now.
Artists Activated: Gianna Reisen, New York City Ballet's Youngest Choreographer Ever, A Historic Moment at an Uncertain Time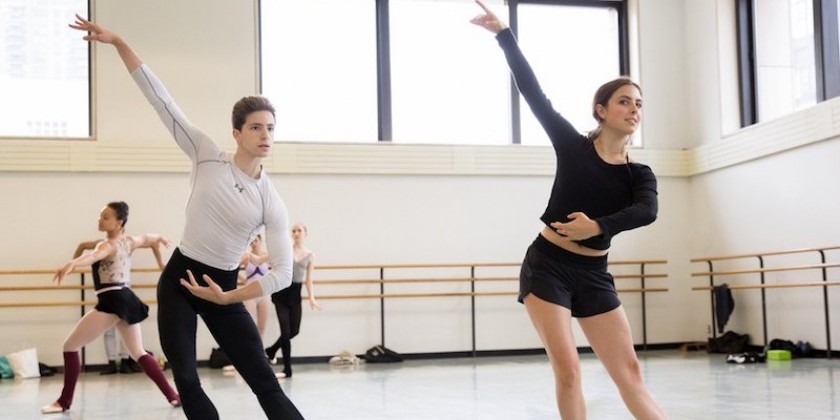 Now Dancing with the Dresden Semperoper Ballet, Gianna Talks Choreography, Relatable Leadership, and Keeping It Classical
18-year-old Gianna Reisen has reached professional milestones that take some artists years to achieve. The School of American Ballet School graduate, now an apprentice with Dresden Semperoper Ballet, was asked to choreograph on New York City Ballet for its 2017 fall Gala — making her the youngest dance maker  in the company's history. Her ballet Composer's Holiday, featuring 12 dancers, looked anything but novice. Cascading tableaus and morphing formations punctuated with witty gestures, gave the ballet a youthful yet sophisticated interplay.
Only six months have passed since the gala, yet it feels like a lifetime ago. In December, Peter Martins, ballet master since 1983, was accused of abuse and harassment by former company members and students and soon retired in light of the allegations. As the company grapples with the outcome of the investigation (an outside inquiry concluded that the accusations made against Martins cannot be corroborated), it can be easy to overlook Reisen's historic milestone. Yet, it's talented and devoted young artists like her who will help propel the company forward in its next chapter. 
I caught up with Gianna after a long day of rehearsals to talk about her whirlwind of a year, and how she sees herself within the greater ballet landscape.
Gianna Reisen; Photo: Ian Whalen 
---
Trina Mannino for The Dance Enthusiast: Can you talk about how your work with one of your first teachers Lisa Danias shaped your choreographic eye?
Gianna Reisen: When I was 14 or 15, Lisa asked me to come into the studio to help teach the students her choreography. She was making small ballets for benefit performances [raising money for causes such as Oasis: Women and Children's Shelter and YCS: Youth Consultation Services]. I went in with the idea that I would only show Lisa's steps and help demonstrate what she wanted to get across, but it ended being a process in which we exchanged ideas. I would spit out new combinations that Lisa found creative. She told me that I had a good sense of musicality and could string steps together well.
How did you navigate the pressure of making your first ballet for a major company while collaborating with Virgil Abloh the high-profile, celebrity designer?
Gianna Reisen: When I was first asked to participate, [former artistic director] Peter Martins asked, "Will this be too much on your plate?" He said . . . that I could also choreograph in the winter season so I wouldn't have the added component of working with a designer. But I really wanted to do it.
I received a list of designers, and I chose Virgil. He stood out for his involvement in youth culture, and as I'm very young, I thought it would be an interesting collaboration. He's the kind of guy who experiments . . . but also values simplicity, which I really liked. He had so many good ideas, but was open to my input. . . When we put our heads together, I think we came up with something beautiful.
New York City Ballet in Gianna Reisen's Composer's Holiday; Photo: Paul Kolnik
Did you realize what type of impact you, a young woman, were making choreographing for one of the leading companies in the world?
Gianna Reisen: . . . When Peter Martins selected me he mentioned that he chose me because he thought I was great choreographer, not because I was a woman. But, there is certainly a lack of female choreographers! I was so grateful to be part of this historic movement. I definitely knew it was a big deal.
The #metoo movement was running parallel to your making this work. Do you feel a responsibility as a young female artist to bring about change within the field?
Gianna Reisen: Yes, I think if you have an opportunity like mine, you should use your voice to the best of your ability. Regarding the #metoo movement and the cases going on in the ballet world, I cannot speak to those issues specifically as I've never had an experience [with harassment] like that.
Gianna Reisen; Photo: Dean Barucija
What do you want to see for the future of ballet?
Gianna Reisen: I want to break boundaries in choreography and find new ways of moving, but I'd also like to stay within the realm of classical ballet. In my opinion, the ballet world is moving away from that and is becoming more modern. I'm experiencing that a lot here in Europe. I want classical ballet to survive.
What are some of the notable differences between ballet in the states and where you're currently dancing in Western Europe?
Gianna Reisen: . . . European companies have more of a modern and contemporary style than those in America. That's not to say that American companies that don't this as well, but . . .
Dancers rehearsing Gianna Reisen's work; Photo: Rosalie O'Connor 
How do you keep your choreographic ideas percolating while you're in a demanding performance schedule?
Gianna Reisen: By watching. Choreographers are constantly making new works on Dresden. For example, David Dawson is creating a new Four Seasons. I love to sit and watch his process. Right now, Dresden is offering a small choreographic opportunity where company members can work with a few dancers to make a little ballet for the end of the season. I like to participate in those kinds of things to keep me going through the chaos of performing. It can be a lot to balance, but it keeps me sane in a way [laughs]. To stay inspired, I need to be dancing too.
This season on The Dance Enthusiast, we are talking about activated artists and what it takes to activate space (i.e. work, home, or your community). I am wondering how you activate space?
Gianna Reisen: I like to take every day experiences and include them in my work. I think human moments make ballets more relatable. In Composer's Holiday, for example, there's a lot of handshaking and hugging — I think those moments really help guide the ballet . . . I like to share my life through choreography. I want to be a leader but also someone people can relate to. I think that's important for a room full of creative people to function.
---
The Dance Enthusiast Asks Questions and Creates Conversation.
For more of The Dance Enthusiast Asks, click here.
This Season We are Talking to Artists about Activating Space.
Activate Your Space in the Dance World by Sharing Your Insight on Performance in an #AudienceReview.