Related Features
Contribute
Your support helps us cover dance in New York City and beyond! Donate now.
Artists Activated: Preparing for Their 35th Anniversary Season, Flamenco Vivo Carlota Santana's Estefania Ramirez and Elisabet Torras Discuss Bravery and Working with Belen Maya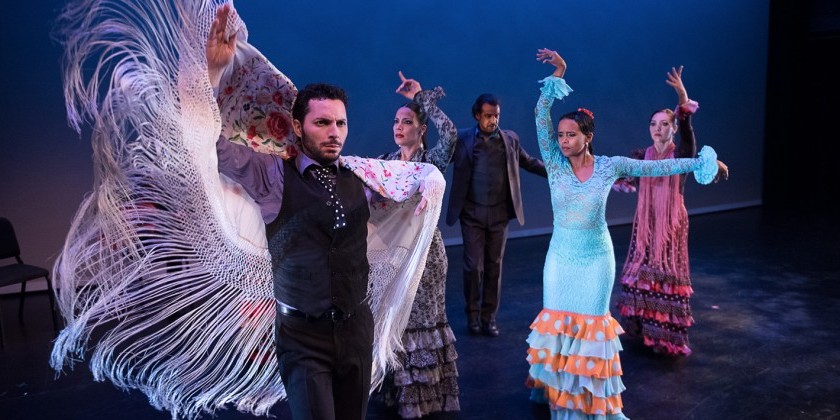 Mujeres Valientes
Flamenco Vivo Carlota Santana's 35th Anniversary Season | The New York Premiere of Mujeres Valientes
Tuesday, May 15–Saturday, May 20, 2018
BAM Fisher, 321 Ashland Place, Brooklyn, NY
TICKETS
---
For its anniversary season, Flamenco Vivo commissioned flamenco legend Belén Maya to create a new work for the company. Mujeres Valientes  explores the fundamental power and courage of two trailblazing women: 17th-century Mexican poet and philosopher Sor Juana Inés de la Cruz, and 19th-century activist and revolutionary Manuela Sáenz. 
The Dance Enthusiast spoke to Estefania Ramirez and Elisabet Torras, who respectively play the role of philosopher and revolutionary about what it's like to embody these two women and working with a living legend.
---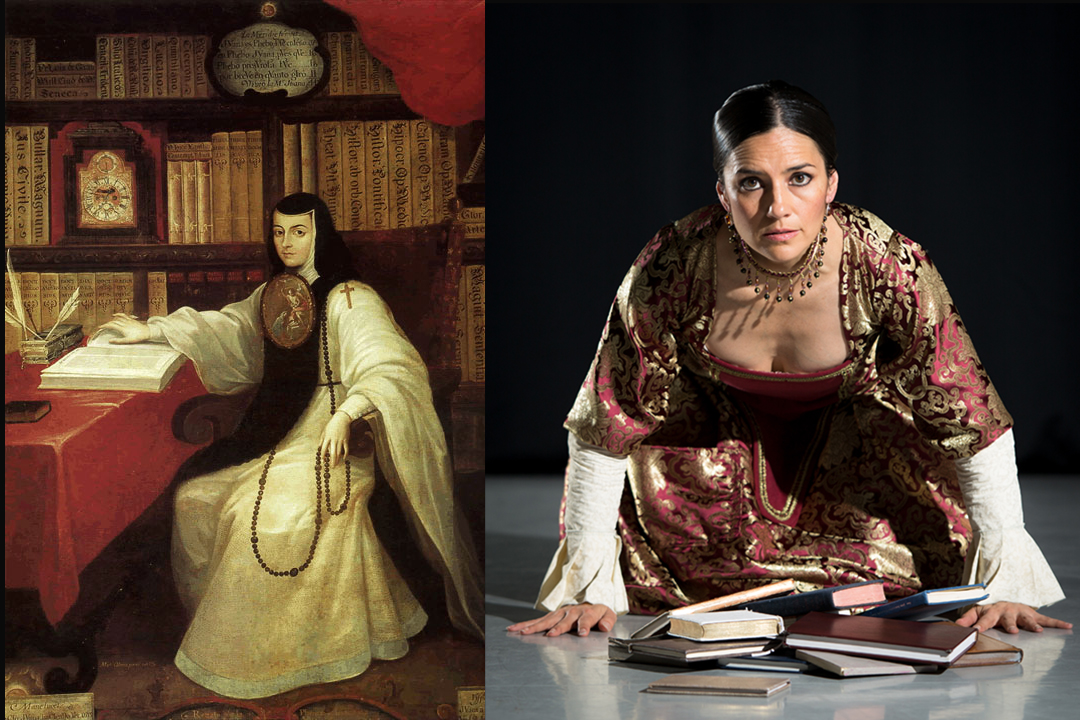 Painting of Sor Juana Inés de la Cruz, an early figure in Latin America's first feminist manifesto, by Miguel Cabrera. // Portrait of
Estefania Ramirez by Ben McKeown.
On Stepping Into Big Shoes
Elisabet Torras: When I learned that I was going to play Manuela I started to conduct research on her. I read her biography and several articles and watched a movie and documentaries about both Manuela and Simón Bolívar [her husband].
I have been engaged in 6 to 7 hours of training a day, not including research and time spent studying rehearsal videos. It has taken a lot of time and effort in and outside of the studio to do justice to the fabulous choreography.
My character and I have very strong personalities and deeply believe in defending our rights. We are also very affectionate but don't let the man in our lives define us. It was very satisfying to play Manuela "La Liberatadora" and a great opportunity to give a voice to a woman who defied the stereotypes of her times.
Estefania Ramirez: I was offered the role of Sor Juana Inés de la Cruz after working with Carlota Santana Flamenco Vivo for many years. Although I mainly work as a specialist in flamenco dance, I have a rounded preparation of other dance styles within my training that have facilitated the execution and interpretation of this role.
The days leading up to Mujeres Valientes are filled with heavy rehearsals focusing on the fine tuning of gestures, and perfecting various choreographic techniques in order to truly can make my character come alive in each scene.
I'm not sure if I share any similarities with Sor Juana Inés, but I've created a character whom I hope best represents the great, enlightened and intelligent figure she was.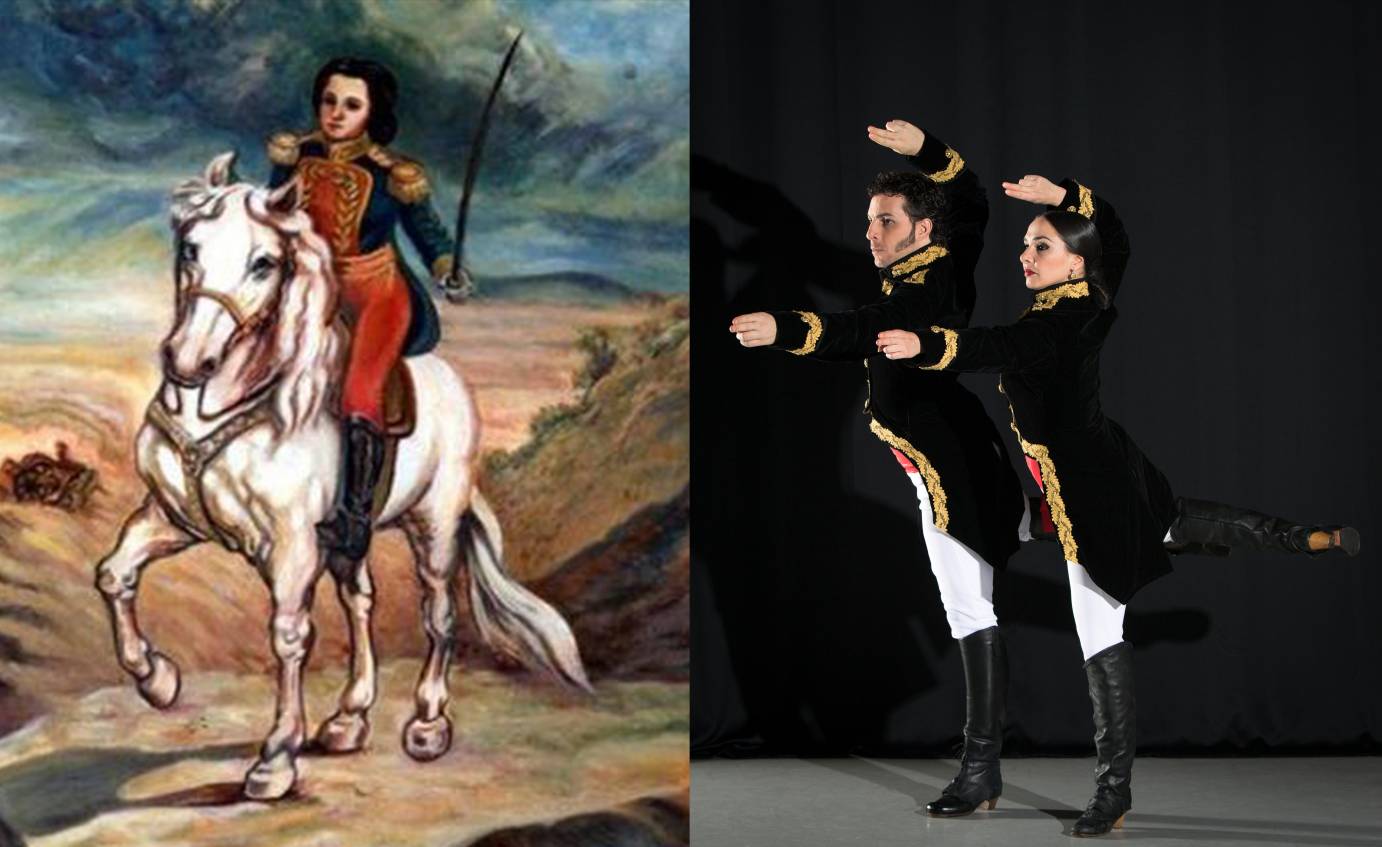 Old illustration of Manuela Sáenz. // Photo of Elisabet Torras and Isaac Tovar by Ben McKeown.
On Working with Belén Maya
Estefania Ramirez: Working with Belen Maya was a great challenge and an immense privilege. Her knowledge of dance — not simply Flamenco and Spanish dance but all styles of movement — is above and beyond. Gaining exposure to her musicality, unique choreographic stylization and vision of Sor Juana Inés de la Cruz has been such an enriching experience as a dancer, that it is very difficult to express my true feelings in words.
Elisabet Torras: It was a dream come true. The first time I studied with her was 25-years ago in a week-long seminar in the dance conservatory of Barcelona and after that a few more workshops here in NY. I've always been a fan of her work but she exceeded my expectations. Rehearsals with her were very challenging and she directed a lot of attention on developing the role of the character in fine detail. The schedule was very well organized with intense warm ups of multi- styles followed by one-on-one choreographic confection and staging of La Coronela. After our individual sessions she gave me time to internalize the movements so that I could really make them my own.
On Being Brave
Elisabet Torras: A couple of years, I broke my hand on stage due to a costume malfunction. Two of my fingers became caught in my skirt and were pulled in the wrong direction during some partner choreography. Not only did I push the piece through till the end, but also performed the next dance in excruciating pain. The audience never knew. The show must go on!
Estefania Ramirez: Every day I have to be brave. I am a mother, a wife, an artist, a dance educator, and a business woman. I show courage every day to defend each of these roles, and continuously face all sorts of situations where I have no other way but to make it through the day.
Fun Facts on Sor Juana Inés de la Cruz and Manuela Sáenz
Three Reasons Why Sor Juana Inés de la Cruz (November 12, 1648 – April 17, 1695) was a Bad-Ass
Estefania Ramirez: She was self-taught; she learned how to read and write Latin by the age of three; and she disguised herself as a male student to enter university in Mexico City
Some interesting nicknames Sor Juana acquired posthumously:
The Tenth Muse
The Phoenix of America
The Mexican Phoenix
Manuela Sáenz (December 27, 1797 – November 23, 1856) Crashed A Party Once!
Elisabet Torras: She made a big scene when she interrupted a very formal court party attended by soldiers. She crashed the party completely drunk and dressed as a man. That was her planned to distract everyone and to boycott the assassination of Simón [her husband Simón Bólivar]. He was furious at her, as he didn't believe he was in any sort of danger
Flamenco Vivo Carlota Santana in "Pa' Triana Voy." Choreography by José Maldonado. Pictured L to R: Pedro Medina (guitar), Leslie Roybal, Eliza Gonzalez (behind Laura), Laura Peralta, Antonio Hidalgo, Elisabet Torras. Photo by Christopher Duggan.
---
The Dance Enthusiast Covers The Stories Behind Dance Performance, Speaking with Artists and Creating Conversation
For more Behind-the-Scenes Q+As, click on our The Dance Enthusiast Asks section.