The Dance Enthusiast Asks Award-Winning Ballerina Shoko Tamai about Ninja Ballet's Upcoming Season at The Secret Theatre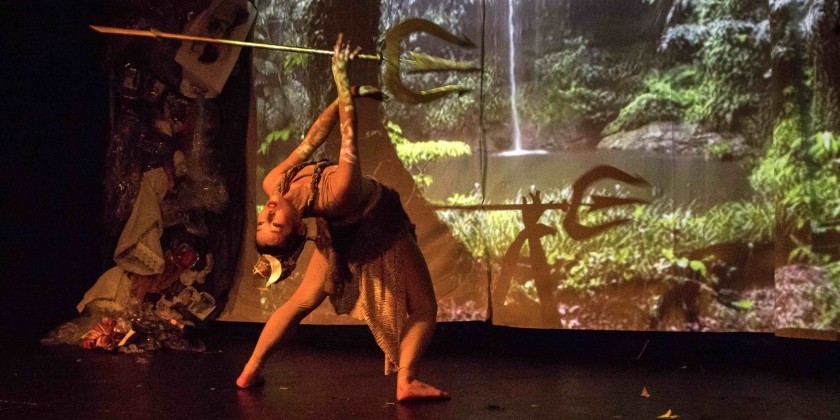 Blending Classical Ballet And Martial Arts
Thursday, June 28 through Sunday, July 1, 2018
The Secret Theatre, 4402 23rd Street, Long Island City, NY
Dancers: Rezy Pardito, Nellie Licul, Kirsten Reynolds, Pan Yu and Edward Reyes
Choreographers: Shoko Tamai (dance); martial arts expert Tony Ortiz (fighting sequences)
TICKETS: https://www.brownpapertickets.com/event/3394261
Ballerina, choreographer and artistic director Shoko Tamai has performed at the Royal Opera House in London, Lincoln Center, and Jacob's Pillow. A recipient of the Solo Seal award from the Royal Academy of Dance in London, Tamai was a finalist in the World Ballet Competition, and has performed with Dance Theater of Harlem and Cirque du Soleil at its inception in addition to training martial arts under Jamie HJ Guan from the Beijing Opera.
Tamai is returning with her company of five dancers and martial artists for the 2018 Season of NINJA BALLET. The company will present five performances that includes the world premiere of MA set to live music. 
---
Sammi Lim for The Dance Enthusiast: Ohayo, Shoko! Whereabouts in the Land of the Rising Sun were you born? And which came first— martial arts or ballet?
Shoko Tamai: I am from Yamashi-Ken, the home of Mount Fuji. I began learning classical ballet there at the age of two, and continued my ballet studies until the age of thirteen. For 365 days a year, I took a long train ride over the mountains to attend Yumi-Classical Ballet Studio at Kofu-Shi.
My first time on stage was at the age of two, dancing as a 'baby flower' in a production at the Tokyo Ballet. At the age of three, I worked at Disneyland in Tokyo, as the conductor of a baby marching band, riding a unicycle circling Cinderella's castle!  I moved to London at the age of fourteen, and pursued my studies at the Central School of Ballet.
Prior to moving to the UK, while still living in Yamashi-Ken, I also learned music and composition. So to answer your question, ballet came first!
Shoko Tamai. Photo credit: Emily Lambert.
The Dance Enthusiast: How were you seduced by martial arts then?
Shoko Tamai: Martial arts is a relatively new discovery for me. Meeting Jamie HJ Guan, a famed martial arts instructor with the Beijing Opera, led to my becoming entranced by martial arts in all its forms. I wound up studying with him for two years.
The Dance Enthusiast: Martial arts are as varied as dances come; which one(s) do you specialize in?
Shoko Tamai: I really wanted to understand martial arts and its culture, so I explored Shaolin with the Beijing Opera before moving on to Eskrima/Kali, Silat, Karate, the basics of Ninjutsu/Kenjutsu, and other styles originating in China, the Philippines, Malaysia and Indonesia. I also studied European Fencing techniques in the UK, as well as Korean and Japanese martial art styles.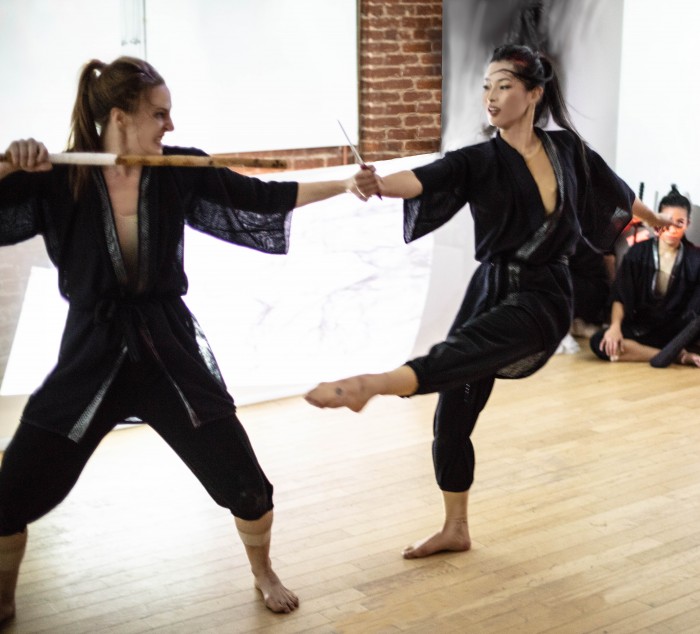 NINJA BALLERINA. Photo credit: Thomas Wilson.
The Dance Enthusiast: Two choreographers — one for dance and another for martial arts — make up your creative team. What's it like going head to head with Tony Ortiz?
Shoko Tamai: Martial arts expert Tony Ortiz and I spend about six hours in the studio every day, blending Eastern methods of dancing and fighting with those of Western cultures. Generally, I choreograph lower body movement and steps, while Tony choreographs upper body movement and weaponry techniques.
When we combine ballet and martial arts, we focus on our 'oneness' and movement first. We get a feel of being circular and planetary. Classical ballet always demands a 180-degree turnout whereas the martial arts incorporate 360 degrees of expression, making us feel almost at one with the earth. It's like we are circling with universal energy.
The Dance Enthusiast: "MA," the Japanese word for negative space, is the theme and the title of your new evening-length work. How best to explain the concept to a Western audience?
Shoko Tamai: Ma (間), the Japanese word for negative space, is a place where time slows, where falling in love begins, where you and time become one. It is a space that is timeless, weightless, soundless and almost colorless. 
Some rough English translations for the word Ma (間) include "gap," "space," "pause" or "the space between two structural parts." The spatial concept is experienced progressively through intervals of spatial designation. In Japanese, Ma also suggests an "interval." It is best described as a consciousness of place, not in the sense of an enclosed three-dimensional entity, but rather the simultaneous awareness of form and non-form deriving from an intensification of vision.
Ma is not something that is created by compositional elements; it takes place in the imagination of the human who experiences these elements. Therefore, ma can be defined as an experiential place.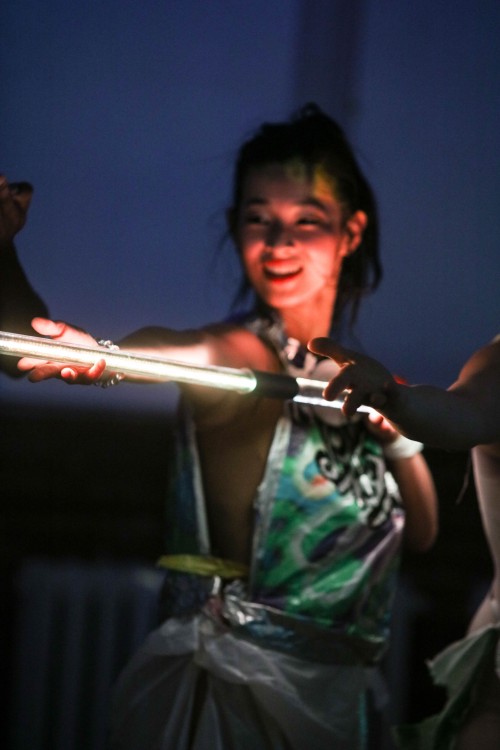 Shoko Tamai. Photo credit: Thomas Wilson.
The Dance Enthusiast: It's hard to explain, but I think everyone has experienced "ma" at least once in their life. In your world premiere, the concept of "ma" meets the ancient Mayan legend of Zopilote, a Vulture God who feasts on newborns. How did this mélange come about?
Shoko Tamai: Believe it or not, it came to me in a dream, while traveling and performing in Tulum, Mexico. I slowly began writing down a storyline during a week-long stay in Bacalar, Mexico.
The Dance Enthusiast: Are you ever concerned about channeling Orientalism in your work?
Shoko Tamai: To me, art has always been a means of expression. I create dance, music, visual art and projection based on my vision, not thinking about other's feelings or its place in the world. I always go deep within myself to find the answers. I don't know if my art has anything to do with Orientalism. But since I am half Korean and half Japanese, dance has always been a bridge between my families and my two countries.  My mother and father would happily sit together in the audience while I was performing. This gave me a sense of peace, and made me realize how dance and performance had the power to bring people together, and to help promote peace. I created a dance company to break cultural boundaries, and to connect people of different cultures and different nationalities. That is my inspiration to keep dancing.
Someone once told me, "We all used to dance, play music together, draw and paint together." The more imperfect the world becomes, the more reason we have to dance, to make music and to create art. I want to bring those universal memories back again, the time of a golden age when people of all ages danced together day and night, laughing and living a full and balanced life.
The Dance Enthusiast: What other tidbits can you share about your universal dance company?
Shoko Tamai: We show classical ballet, contemporary dance, African dance, Tibetan dance, Salsa, Indonesian, Mayan, and even an Oriental fan dance! We use weapons [like] Ninja Swords, Spears, "Bo," "Nunchaku," "Broadsword," "Pinuti," "dubble sticks," "Shuriken," "Barong knife" and more. Whether you're a dance lover, a martial arts fan, or have never been exposed to such movement before, you are definitely in for something very exciting! We also have a daytime performance for children so that people of all ages can enjoy our show. I think we're truly original!
The Dance Enthusiast: For the contemporary artist, growing a social media following is almost a requirement. Do you give much thought to social media?
Shoko Tamai: Yes, I do. It's a great way to connect with one's audience, and with fans who have been following us for a long time. However, being with a creative team from morning until night, directing, choreographing, overseeing costume design and music composition, visual arts, lighting and stage design . . . it's hard for me to go online and spend much time on social media. I catch up while traveling on flights and on trains, and sometimes in my bathtub! That's about it! I shall try to connect more!
---
The Dance Enthusiast Asks Questions and Creates Conversation.
For more of The Dance Enthusiast Asks, click here.
Share your #AudienceReview of this dance performance or others to win monthly prizes!