Dance/ Visual Art Fusion: The Dance Enthusiast Asks Visual Artist/Dancer Barbi Leifert
About Painting, Dancing, and Documenting Dance History
Sammi Lim for The Dance Enthusiast: Word goes round that dance runs in your blood. Who got the ball rolling in your family?

Painter, Dancer, Choreographer and Writer, Barbi Leifert: My grandmother and mother were wonderful dancers, although with no formal training. My grandmother sent my mother's younger sister to dance school. Aunt Carole, who was 8 years older than me, was my babysitter and dance mentor; she taught me the Lindy hop before I could run. I followed in her footsteps to attend dancing school along with some cousins. We danced Swan Lake, Sleeping Beauty, Jack Cole-style jazz, Ziegfeld Folly tap routines, ballroom and acrobatics.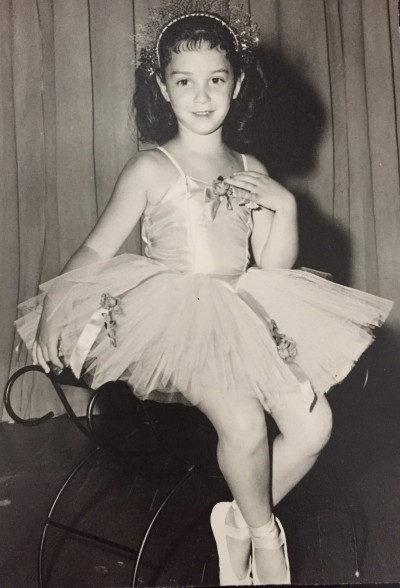 A young Barbi in her ballet garb.
TDE: You were a dancing Jack of all trades – studying dance in NYC, training under Melissa Hayden, writing about dance for various publications... But what I find most interesting is your stint creating the

Manhattan Dance School Directory. Why did you deem it an important initiative?


 
BF: The Manhattan Dance School Directory came about when dance in New York was on fire - with Baryshnikov defecting and an abundance of dance companies emerging, New York City was called the "Dance Capital of the World." The principals and soloists of the New York City Ballet and American Ballet Theatre were celebrities. Marianne Liebert, editor of Manhattan East, a small Upper East Side newspaper, worked for Marcel Dekker Inc. a book publishing company. She conceived of a series of dance books and I came up with the idea of the Manhattan Dance School Directory. There were approximately 84 dance schools in Manhattan.
I took class at a lot of the schools as I was very interested in learning different dance techniques and styles. I studied Graham, Cunningham,  Paul Sanasardo, Lester Horton, jazz and ballet with numerous teachers. I had my favorites, but there were so many great teachers and choreographers. You would go to class and dancers from the major companies would be taking class right beside you.
The book is now a chronicle that captures a very exciting time in New York dance history. Many of those schools closed down in the next 10 years because of the rising rents in the 1980's. Some of those teachers moved to Steps and Broadway Dance Center.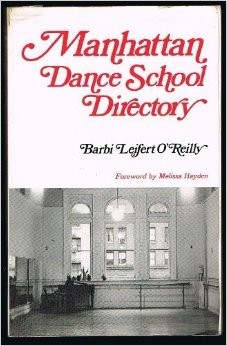 The Manhattan Dance School Directory (1978)
TDE: That's pretty incredible. You should feel proud of yourself for documenting a part of dance history.
Do you feel like painting dance is also a means of documentation?
BF: My paintings capture a moment in time: how we humans dance in the year 2015. This is very different from how we danced 100 years ago and will be different 100 years from now. I have this quote on my website from Henri Matisse that says,  "Drawing is like making an expressive gesture with the advantage of permanence."  I have intended to capture the most expressive gestures of all and have them be permanent.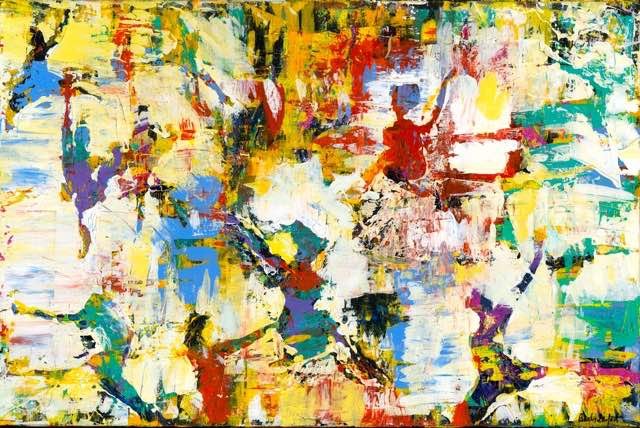 Kaleidoscopic Dance by Barbi Leifert.
TDE: Your "Dance Palatte" series marries
movement and painting to extraordinary effect. Have you explored both art forms in reverse? Such as creating a dance inspired by a painting?
BF: I could definitely create dance inspired by my paintings now that you mention it. I think that's a great idea - the dance and the painting existing at the same time in my subconscious, because before I began the "Dancer's Palette" series, I had dreams of elaborate, colorful and theatrical choreography being staged in full costume.


So the dance - yes, it's already there… I just need to hold auditions and teach it.
TDE: Seeing varies for every artist, so I'm curious... When do you know to stop painting?

BF: I stop painting  an artwork when I have a sense of harmony of color ,composition ,focal point and intensity. When I look at it and cannot see anything that bothers me or jumps out or feels out of place.

And I like it.

Then I am finished with that artwork.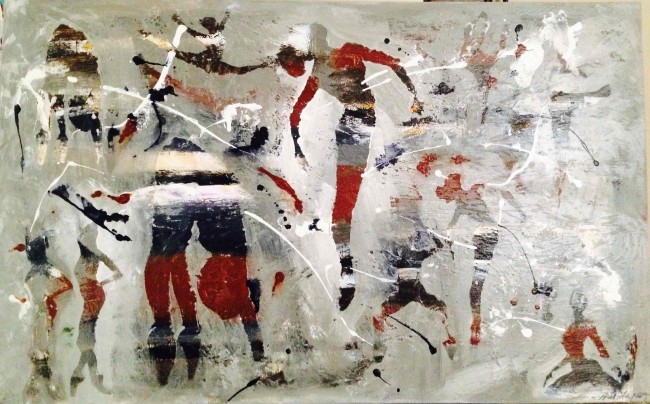 Motion On The Mist by Barbi Leifert.
TDE: How apt that your month-long art exhibition in NYC will open with a live dance performance. Who is choreographing the piece?
BF: I will have wonderful dancers on the opening night of the show. The choreography will be a collaboration between me and the dancers. I worked with thedancers, Alex Kassidis and Sentell Mcdonald, at my last New York exhibition, during which time they choreographed a ballet piece to John Legend's "All of Me." They will perform that and also something contemporary, which  I created.
More about the Artist Barbie Leifert Bringing Dance and Visual Art Together 
Official website: http://barbileifert.com/
Contact: Barbi@barbileifert.com
Look out for Barbi's solo art show at Lanyon 36 Gallery on 365 West 36th Street, NYC in the Fall of 2015. Opening ceremony: September 24.

The Manhattan Dance School Directory (1978) can still be acquired on Amazon.
AND
More about The Dance Enthusiast's June 30th  Enthusiastic Event / Bringing Dance and Visual Art Together
The Dance Enthusiast Celebrates Dance-Art-Fusion with a Family Party featuring  Hip Hop artist Chrybaby Cozie, The Brooklyn Ballet, and Visual Artists Wei Jai and Hu Bing...Meet, Watch, Dance and Play with these Artists  Click here for more info