Dance/Improv/Fusion: TDE Asks Nyama McCarthy-Brown About Merging Motherhood With Movement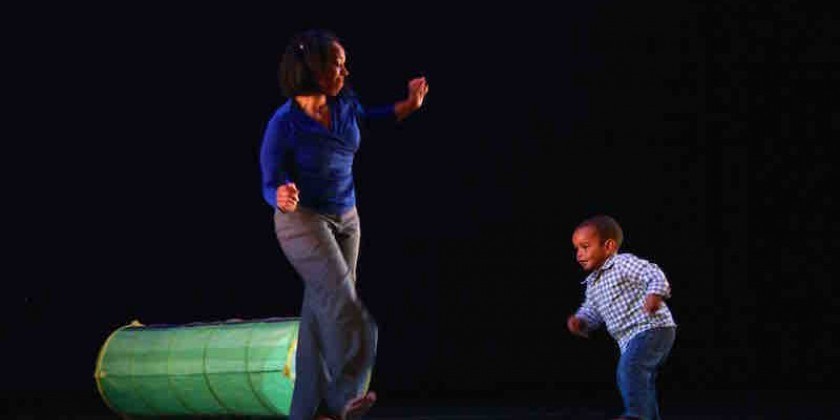 In conjunction with Bent Knee's new work "Shaping" at the Amalgamate Artist Series
About Nyama McCarthy-Brown:
Like many dance enthusiasts, Nyama McCarthy-Brown wears many hats; the dance artist, scholar and professor of Contemporary Dance at Indiana University also mans Bent Knee, a dance collective that addresses socio-political material in the hopes of sparking dialogues about race, class, and gender.

More about Amalgamate Artist Series: http://www.amalgamatedance.com/amalgamate-artist-series.html

Performance Details:
When: April 18th 2015, 6pm
Where: DANY Studios: 305 W 38th St, New York, NY 10018
Tickets: $12
Performers: Nyama McCarthy-Brown, Kasim McCarthy-Brown, Kemal Nance.
More info HERE.
---

Sammi Lim for The Dance Enthusiast: Tell me about your dance collective Bent Knee. Catchy name! Is there a story behind it?

Nyama McCarthy-Brown: The collective is new, just getting off the ground in 2014. I am working with a number of dance artists to create socially relevant work. The name Bent Knee is a nod to the Congolese proverb, "Dance with bended knees, lest you be taken for a corpse." It also relates to a similar saying, "gimme da knee bone bent," which has been used to describe many African-derived dances. Although my dancing is Western informed, it embraces African dance aesthetics as well. We wanted a name that was earthy, grounded, and could so connect to all the "bent knees" out there in the world.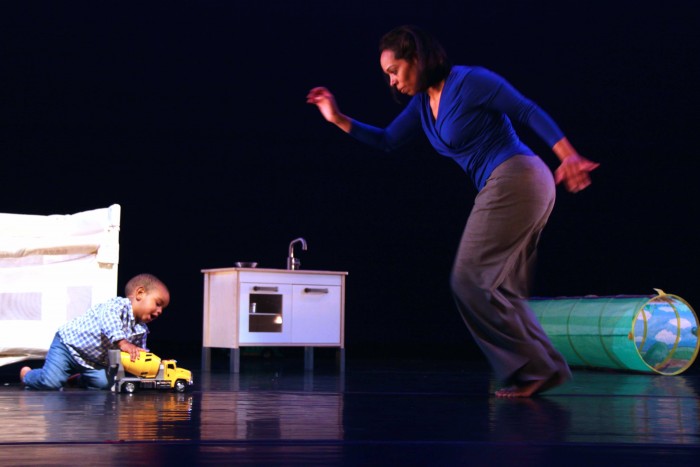 TDE: I love it. How old is Kasim and what's he like?

NMCB: Kasim is almost three. He is an energetic little boy who loves to talk, play with trains, and dance. Kasim is learning to negotiate his wants and to share.
 
TDE: Is this your son's first exposure to the spotlight or has he performed with or without you prior?

NMCB: Kasim and I have been performing together for almost a year and a half. We have created five of versions of this work. I saw a mother and son piece done with a toddler years ago and knew that I wanted to create one like it someday. As a single parent, I usually have to take him with me wherever I go, so its nice that my artistic work centers around what is most important to me. At this point Kasim loves to dance on stage. He gets very excited and its hard to hold him back until its our turn.
TDE: I love the idea of a mother and her toddler son appearing on stage together, but to be honest, it also sounds chancy!

NMCB: I must say, it does not work with every child. There have been times when it did not work with Kasim, and at times I get stressed out by the uncertainty of it all. There have been times when Kasim did not give the "performance" I hoped for. For example, one time he saw a friend in the audience and would not let that interaction go. I pulled him away several times and each time he got his feet on the floor, he went right back over to his friend. On another occasion, we performed in a museum and in the middle of the piece he discovered that running and touching a painting would get my attention. We spent several minutes in a cat and mouse game of "touch," "don't touch." It has worked well in many ways too.
I would definitely say the work is chancy. However, that is what makes it exciting. I think it resonates with parents in particular, as they appreciate the real life struggles of parenting. But beyond that it's about relationships. We all interact with others and have ideas about how we want to relate to the people in our lives. But ultimately, we cannot control others. No matter how the theme of this work shifts, the foundation is this evolving mother-son relationship that the audience gets to experience in the moment. They too know that it is not a traditional performance by the authenticity of my interactions with Kasim. I work to stay in the moment with him. My dancing is choreographed, but I release the choreography whenever Kasim and I are conversing in the space.

TDE: You described Shaping as "a socially relevant work about a mother raising a black, male child." I'm sure much of the dance's context would change if I were to switch out either adjective.

NMCB: At the moment, the piece is about parenting a black, male, child. This is an issue close to my heart for many reasons. This coming performance is special because Kasim and I will be working with another dance artist, Kemal Nance. Kemal is a seasoned performer who embodies the future of this child. Their interactions are quite interesting and always unpredictable.
I have also enjoyed the work when it explored being a working mom and getting the kids out of the house. Or how a child learns about spirituality. I hope to continue to develop the work until Kasim decides he no longer is interested. It is my goal to perform with him every year or every other year. Each time we perform, we change out text and the his props to reflect his growth. There was a crib and diaper bag on stage during our first performance. Last time we danced, I brought his trains. For the first time, he showed no interest in the toys on stage and choose to dance for most of the time. At the end of the piece, he was so comfortable on stage that I had to scoop him up to get him off. We will see what he decides to do next time.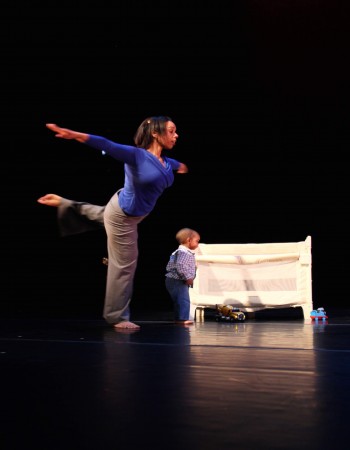 TDE: I laud you for wearing your heart on your sleeve. Will this be your first time participating in the Amalgamate Artist Series?
NMCB: I am excited to participate in the Amalgamate Artists Series for the first time. It is a wonderful company that has done a great deal to support the development of emerging dance artists.