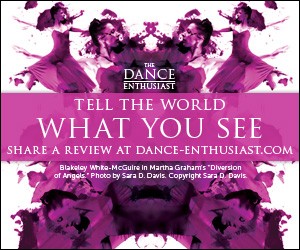 Related Features
Bessies Nominees Tim Etchells and Ant Hampton Chats with The Dance Enthusiast (Part 5)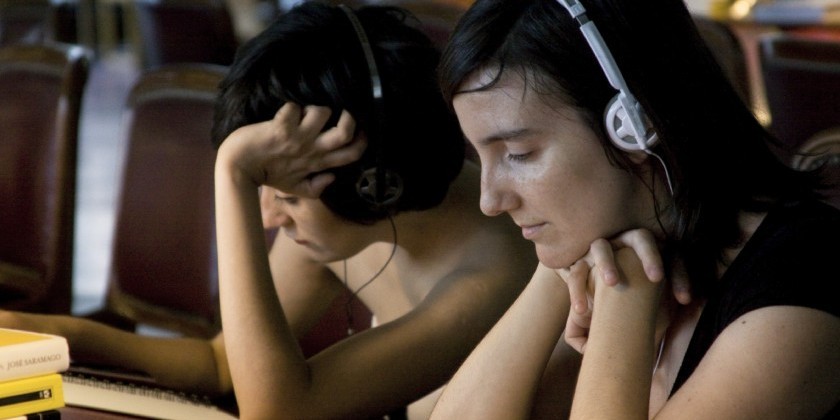 A History of The Bessies : The Evolution of The Dance and Performance Awards
Established in 1983 by David R. White and originally produced by Dance Theater Workshop, The Bessies, named after the dance educator and mentor Bessie Schonberg, were geared mainly toward experimental, non-commercial work and were in dire need of a makeover." These were the words of Gia Kourlas in her 2010 New York Times Article "Bessies Are Back After a Hiatus, Primed for a Major Makeover." See Article Here

The Bessies have a rich history of honoring the best and brightest in the field of dance. In the three years since its return under the direction of Lucy Sexton and in collaboration with Dance/NYC, The Bessies has announced new venues, new committees, and new categories all with the goal of "making the world care about dance."

It is what Elizabeth Streb was quoted saying in 2010: "I want to have the entire United States care about this field...The award ceremonies have to reach another set of ears and eyes." See Article Here It is what Kourlas questioned in 2012: "But I also get the sense that Ms. Sexton's struggle is about something more profound than handing out awards. How do you make the world care about dance?" See Article Here It is that fierce caring about dance that brings each body, finely adorned, to a seat to witness and honor the best of dance each year.

Whether or not we agree on category names or selection committee members, we recognize the achievement of a Bessie award. The expansion of this achievement has also allowed us to question what makes a dance. Growing committees and ever developing categories investigate the collaborative elements and invigorate the multiplicity of the art form.

In the coming weeks, The Dance Enthusiast will offer you interviews with choreographic collaborators: composers, designers, and performers. Choreographers indeed make dances, but what else (and who else) does it take to create a comprehensive artistic experience worthy of an illustrious New York Dance and Performance Award?
---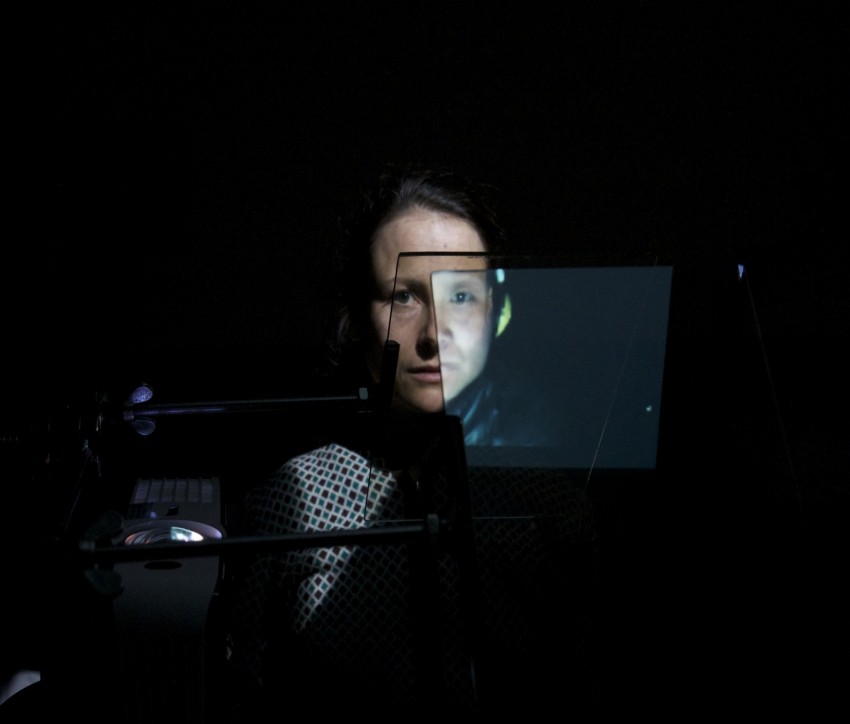 "Lest We See Where We Are". Photo courtesy of Tim Etchells and Ant Hampton.
Meet Tim Etchells (OUTSTANDING MUSIC COMPOSITION/SOUND DESIGN nominee for The Quiet Volume Created by Ant Hampton and Tim Etchells at Performance Space 122 and PEN World Voices Festival) (1962)
Etchells is an artist and a writer based in the UK whose work shifts between performance, visual art and fiction. He has worked in a wide variety of contexts, notably as the leader of the world-renowned performance group Forced Entertainment. In recent years he has exhibited widely in the context of visual arts, participating in biennales Manifesta 7 (2008) in Rovereto, Italy, Art Sheffield 2008, Goteborg Bienale (2009), October Salon Belgrade (2010), Aichi Trienale, Japan 2010, with Vlatka Horvat and Manifesta 9 (Parallel Projects) 2012. He has had solo shows at Gasworks and Sketch (London), Bunkier Sztuki (Krakow), Galerije JakopiAAAAA (Ljubljana) and Künstlerhaus Bremen. Etchells' first novel The Broken World was published by Heinemann in 2008 and his monograph on contemporary performance and Forced Entertainment, Certain Fragments (Routledge 1999) is widely acclaimed. He is currently Professor of Performance at Lancaster University. Recent publications include Vacuum Days (Storythings, 2012), While You Are With Us Here Tonight (LADA, 2013).
Meet Ant Hampton (OUTSTANDING MUSIC COMPOSITION/SOUND DESIGN nominee for The Quiet Volume Created by Ant Hampton and Tim Etchells at Performance Space 122 and PEN World Voices Festival) (British, b.1975 Fribourg, Switzerland)
Hampton made his first show as Rotozaza in 1998, a project which ended up spanning performance, theatre, installation, intervention and writing-based works, and often focussing on the use of instructions given to unrehearsed 'guest' performers, both on stage and in public settings, as detailed here. Rotozaza became a partnership with Silvia Mercuriali, and ended in 2009 after their last production Etiquette (http://www.rotozaza.co.uk/etiquette.html), which was also the first Autoteatro 'show'. Since then Ant has worked with Glen Neath, Joji Koyama, Isambard Khroustaliov, Tim Etchells, Gert-Jan Stam and Britt Hatzius to create the work detailed here - over 48 different language versions exist of the various productions created so far.
Prior to their recent collaborations (The Quiet Volume and Lest We See Where We Are) Ant worked with Tim Etchells for the 2009 'fantasy-protest' programme of live-art for the ICA, "True Riches".
---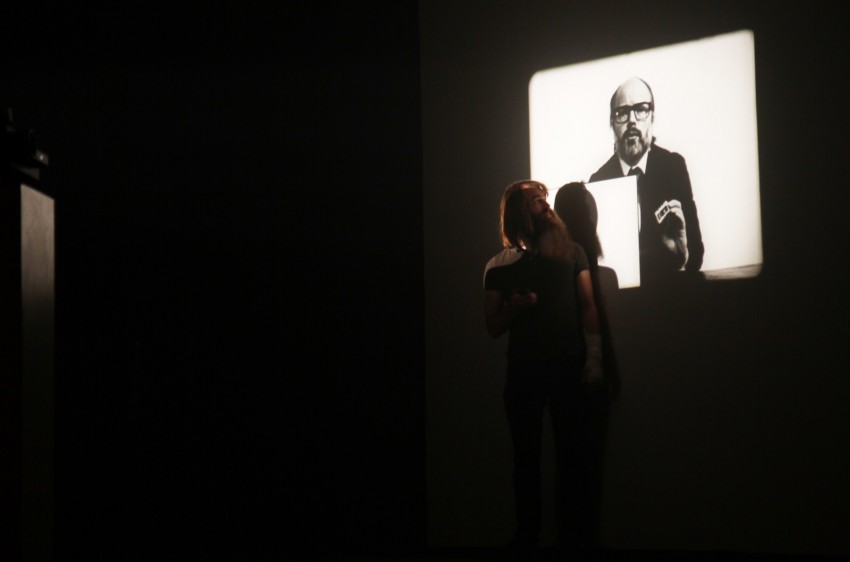 "OK OK". Photo by Richard Lahuis.
A. Nia Austin-Edwards for The Dance Enthusiast: When did you begin composing? Have you always known you would be working with music?
Tim Etchells: I've only sometimes, quite rarely worked with music. I guess the thing that I have always been interested in is how to make and shape experiences for people -- it doesn't matter to me about what form those are expressed in. Working in performance, in literature, or in art context...I'm always interested in the structure of the experience, the dramaturgy of it.
TDE: If you had to describe your creative process in only 5 words . . .
TE: Do something. Think. Change it.
TDE: How would you describe the relationship between movement and sound? Can one exist without the other? Does one inform the other? Are they simply lucky to exist in the same space and time?
TE: I think sound is already movement, at least in the sense that it is vibration in the air, vibration in the body.
TDE: What has been your biggest challenge in your artistic journey?
TE: I really don't think about it in terms of challenges -- at least not as things in the world you have to combat somehow. I think, maybe the real and constant challenge is oneself -- to really see what you are doing, to really see it and attend to it and understand it and work on it; rather than just thinking that that's what you are doing. It often feels to me as though what I'm trying to do is put aside preconceptions, put aside habits of looking and listening in order to really see or listen somehow.
TDE: How did you and Ant Hampton come to work together?
TE: We've known each other some years. I can't remember where from. But Ant came to see some Forced Entertainment rehearsals at some point, and we talked about different ideas. I asked him to read a text for me as part of a performance event. We were both interested in performances that arise from rules, and in which people are following instructions of one kind or another. So I guess when Ant started to think about The Quiet Volume he remembered a couple of texts of mine, specifically texts referring to the idea of the voice on the page -- the sound or voice we imagine when reading. I've worked a lot around this idea of the page that performs, or the text that performs. So in that sense it was a pretty direct fit to the ideas we were going to explore in The Quiet Volume.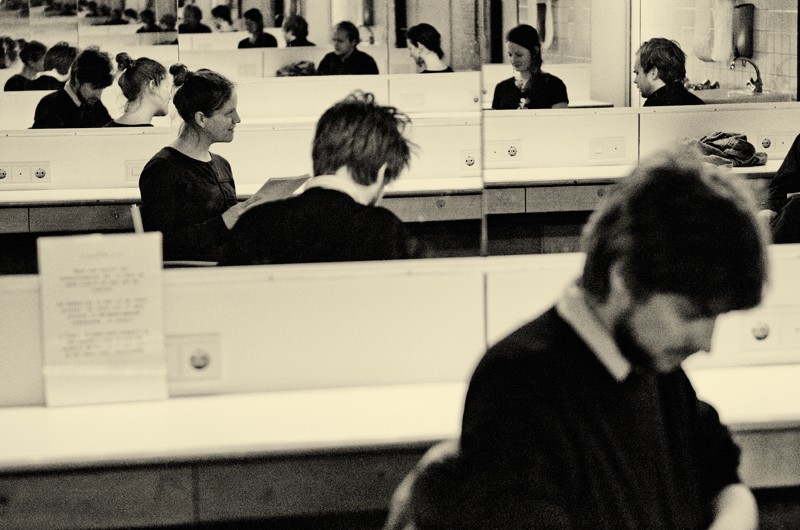 "This is Not My Voice Speaking". Photo by Richard Lahuis.
TDE: How would you describe your collaborative process for The Quiet Volume? 
TE: Ant already had the idea for a piece that would take place in a library and he knew that it would involve whispering and books! But beyond that everything was pretty open. We worked a lot in the British Library in London. Recording things in the coffee bar, and then going into the reading room itself together in order to test them. Or reading bits of text to each other, discussing possible interactions and structures.I think there's something about actually testing things, trying them out, that's really important. So we'd do loose and quick test versions ourselves and listen to them right away. It was only later that we did the proper recordings with the binaural sound and the actual performers for the piece.
TDE: What's next for you and for The Quiet Volume?
TE: A version of the piece in Japanese is almost completed and will be presented in Tokyo very soon. It's really a great thing with the form of this work that it's possible to make a new version specific for different languages. Meanwhile Ant and I worked on another piece - also involving audience-as-performers, and audio created for specific contexts. It's called Lest We See Where We Are.
Ant Hampton: Upcoming gigs for The Quiet Volume and Lest We See Where We Are are listed at http://www.anthampton.com/menu.html. Lest We See Where We Are will also be playing next year in Basle, Utrecht, Strasbourg and Lisbon.
TDE: What do you do when you're not making music?
TE: Neither one of us makes music! Ant is making a lot of work in this area of interactive audio and video, whilst I'm working between many different areas -- theatre/performance, visual art and writing for example. I've done a few projects that are very centered on sound, including a piece last year which used the sequence and appearance of specific words in the text of Heart of Darkness to generate a musical score for violin and trumpet.
TDE: Do you have a favorite song and/or composer at the moment?
TE: I've just completed a collaboration with the Lebanese sound artist Tarek Atoui. He made live and pre-recorded sound for a performance I directed. We worked with 16 performers on improvised movement and images in a closed-down industrial space in the Ruhr, in Germany. That was pretty amazing. I really loved working in the landscape of very fragmented sounds that he created for the piece -- very dense, very chaotic. Aside from that, I'm playing The Savages, an all female punk band who just recently released their first album.
Learn more about Tim and his work at www.timetchells.com and www.forcedentertainment.com. Learn more about Ant and his work at www.anthampton.com/about.html.