Related Features
Contribute
Your support helps us cover dance in New York City and beyond! Donate now.
Brenda Way, Founder and Co-Artistic Director of ODC/Dance about the New York Premiere of "boulders and bones" at BAM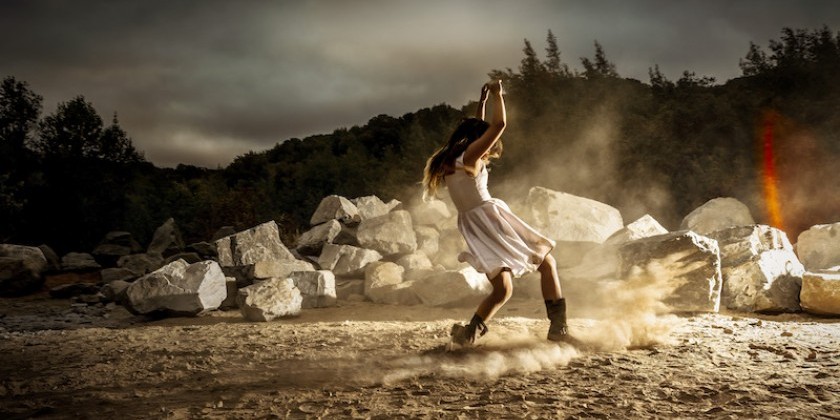 boulders and bones
October 25-28, 2017
Choreographers: Brenda Way and KT Nelson
Composer and musician: Zoë Keating
Video: RJ Muna
Lighting and scenic designer: Alexander V. Nichols
Venue: BAM Harvey Theater (651 Fulton Street)
Photo above: ODC/Dance on site of Andy Goldsworthy's Culvert Cairn
---
In their BAM debut and first evening-length choreographic collaboration, ODC/Dance founder Brenda Way and co-artistic director KT Nelson use British land artist Andy Goldsworthy's work as a foundation for a meditation on the destructive and generative process of creation. Bouders and bones is set to a commissioned score composed and performed live by cellist Zoë Keating, with RJ Muna's towering time-lapse video of Goldsworthy's hillside sculpture Culvert Cairn. The Dance Enthusiast had the opportunity to talk Way about the company's upcoming premiere. These are excerpts from the conversation.
Trina Mannino for The Dance Enthusiast: As a child, you studied ballet with George Balanchine. And later you went to Oberlin College during the height of the post-modernist dance movement. How have those two educational experiences informed your work as a choreographer?
Brenda Way: We [ODC/Dance] reside in a fusion for a great appreciation for high-level technique, and the quotidian, pedestrian sensibility that was informed by the post-modernist era. Walking is beautiful and standing still has power. But we also enjoy and appreciate the capacity of highly trained dancers. Marcia Siegel once wrote, something along the lines of, that we went from sitting to walking to dancing in the course of moments. . .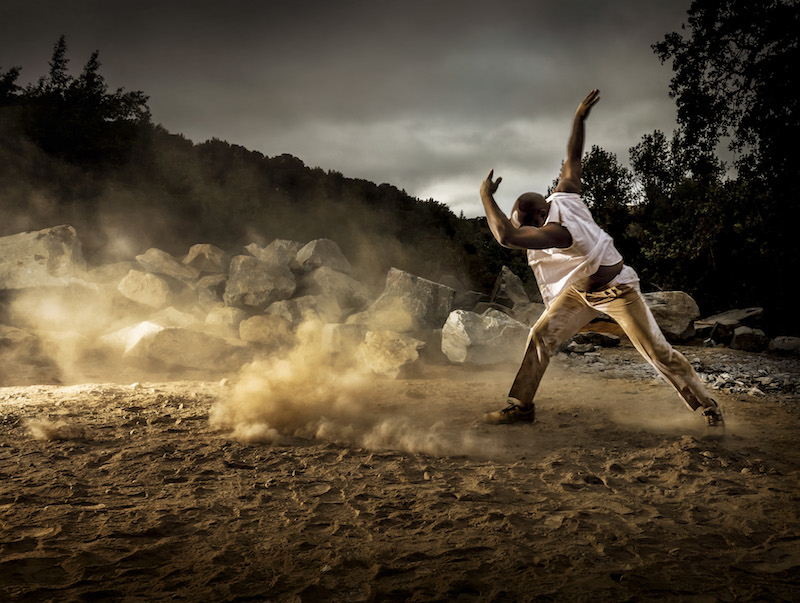 ODC/Dance on site of Andy Goldsworthy's Culvert Cairn; Image: RJ Muna
TDE: This is one of your first choreographic collaborations with ODC/Dance co-artistic director KT Nelson. What is it like to collaborate after working together in other capacities for many years?
BW: This is our first evening-length collaboration . . . We both are moved by questions about nature and what is happening to the planet. Working with Andy Goldsworthy was attractive to us both, because he too deals with nature.
When we started, we cut the company in half, and each worked with a group. I created material springing from images that interested to me related to Goldsworthy's work, and KT did the same. We eventually got in the studio all together to show one another our findings. We each took a crack at disrupting or altering ideas. We operated much like nature itself, like how it impacts a stone or tree over time.
TDE: How did you decide to integrate land artist Andy Goldsworthy's Culvert Cairn into boulders and bones?
BW: Much of his work disappears over time. For example, he'll arrange yellow leaves around a tree so that from above it looks like a halo. Eventually those leaves blow away. It's ephemeral as is dance. We were intrigued by this parallel.
He was commissioned to make a work in [nearby] Marin County, CA, and we were surprised that he chose to create a stone tower sculpture in a dry creek bed — not at all ephemeral. Instead of using his sculpture itself as the point of departure, we used his creative process, which included [the concepts of] inspiration,excavation, construction, finishing touches and the final piece. When we employed them ourselves, we soon realized that it is essentially the creative process in any art form.
Our visual artist, RJ Muna, took photographs of his work and the nature around it. The mise-en-scène that RJ created reflects the environment that Andy was working in in Marin County.
TDE: Did the company connect with Andy about his work while he was in California?
BW: He was here for three months. The company had the opportunity to be on site. . . Before we began our process, Andy sent me this quote that essentially inspired the structure for the piece, "There will be an intense amount of activity in a confined space, stone, noise, dust, machines hammers, and hands followed by stillness. Then comes the creek flood – high drama…"
ODC/Dance's boulders and bones; Image: Marie-Pier Frigon 
TDE: How did the opportunity to observe the construction of Culvert Cairn inform the creative choices in the studio?
BW: After the dancers were on site, the piece became more unruly, wild and unkempt.
TDE: There are many components to this work: the projections, live music, multiple costumes and even dust is used on stage. How did you and KT consider all parts to make a balanced, cohesive work?
BW: When collaborating with other art forms, you have to be ready to simplify your own and be comfortable with letting other components come forward as yours recedes to the back. . .
TDE: I read that during the boulders and bones performance at UCLA, the battery to the speaker that was amplifying Zoë Keating's cello blew. But the performers danced in silence without skipping a beat. What was going on in your head at that moment?
BW: It happened at the most raucous part of the piece. Bodies fly through the air. The moment showcased the magnificent capacity of human beings to transcend obstacles. There was something heroic about it. Especially in this tumultuous time, it's wonderful to see people navigate a challenge that stood in their way. It was inspiring.
---
The Dance Enthusiast Asks Questions and Creates Conversation.
For more of The Dance Enthusiast Asks, click here.
Share your #AudienceReview of this performance or others for a chance to win a prize.