Related Features
Contribute
Your support helps us cover dance in New York City and beyond! Donate now.
CHICAGO: The Dance Enthusiast Asks Butoh Master Tadashi Endo
About Upcoming Chicago Performance dedicated to Pina Bausch
About the Artist:
Tadashi Endo is a 68-year old Butoh master based in Göttingen, Germany. While Tadashi has performed in New York, Seattle and Houston in the US, this will be his first time in Chicago.
Performance Details:
What: IKIRU-Réquiem para Pina Bausch
When: June 24th 2015 @ 8PM
Where: Old Town School of Folk Music, 4544 N Lincoln Ave, Chicago, IL
Tickets: $18 General Public
More information: https://www.oldtownschool.org/concerts/2015/06-24-2015-tadashi-endo-ikiru-8pm/
Workshop Details:
When: June 25-26 from 6-9 pm; June 27-28 from 12-6pm : Outerspace Studios, 1474 N. Milwaukee Avenue, Chicago.
Register by emailing Sara Zalek at saratonin01@gmail.com
---
Sammi Lim for The Dance Enthusiast: For the sake of Butoh beginners, could you briefly differentiate your different styles of expression? Namely NOH theatre, Kabuki, Occidental theatre and Butoh.  I realize it's not easy to diminish a whole art form to a mere sentence, but in a nutshell…
Butoh Master Tadashi Endo: This is definitely a difficult question. In NOH and Kabuki, there are very traditional styles and movements and rules with very specific costumes, make up and stage arrangements. In Butoh dance, the expression comes out of the dancer's mind or feeling or fantasy. There is no fixed technique. All the movements and light design and stage arrangements are "free," which means they depend on the atmosphere and idea and life experience of the dancer.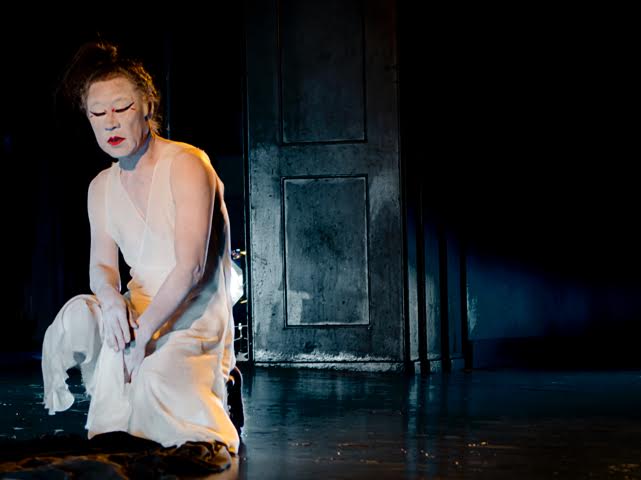 Photo © Rony Girgulsky
"The dancer shall not dance - but should be danced." Tadashi Endo, Butoh Master.
TDE: What is a frequently misunderstood facet of Butoh?
TE: Most of the people think that if they are painted white and move in grotesque ways, that is Butoh dance. But Butoh is much deeper. Tatsumi Hijikata and Kazuo Ohno, the founders of Butoh, tried to find special movements for the Japanese body and also because they wanted to find a new movement art against traditional Japanese art and against American influence.
TDE: IKIRU-Réquiem para Pina Bausch is an ode to your friend: the one and only Pina Bausch. I've seen clips of the performance and was struck by its sombre and illusionary qualities. I also happen to know that "ikiru" means "to live." Is the dance about life's fleeting nature? A means of mourning for your friend?
TE: Yes "ikiru" means "live," and I called this piece IKIRU because all those dancers or artists I met or knew - like Pina Bausch or Merce Cunningham or Michael Jackson -  are gone, but I am still alive and I can still dance. They give me the power to dance. Onstage, when I am dancing alone, all these artists are with me - still alive but not alive. I cannot touch them, can't talk to them, but they are there.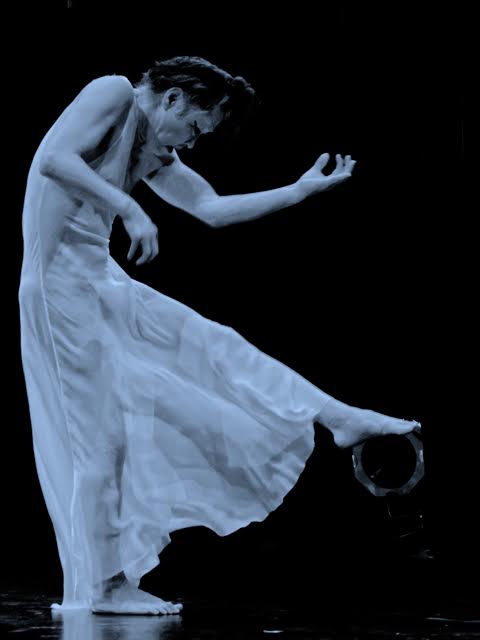 Photo © Rony Girgulsky
TDE: Besides staging IKIRU, you'll be teaching Butoh workshops at Outerspace Studios. What can students expect from the syllabus?
TE: The participants have a chance to learn something about Butoh philosophy and also try to find their own movements.
As an elève of the great butoh dancer Kazuo Ohno, I found my own way of dance, which I call Butoh – MA. MA is a very important word in Zen Buddhism, which carries two meanings: "emptiness" and "the space between the things."
 
When I am teaching, it is not only warming up, improvisations and chorographical work; I try to give a deep view into the Butoh philosophy, which tells a lot about what Kazuo Ohno and Tatsumi Hijikata were thinking  and about their "butoh-ist" lives. But above all, I always let the students search for their own Butoh. Like Kazuo Ohno once said:  "Everybody can dance Butoh, but maybe not the Japanese Butoh. Everybody can find his or her own movements once you have a sense of Butoh. To succeed in this research, you need emptiness so that new ideas and imaginations with new patterns of movements  can grow in your mind and in your body.
Butoh-MA is the way to make the invisible visible. The minimum movements allow one's expression of feelings and situations to grow to the highest intensity. It is more important to keep the balance between energy, tension and control than to care for the esthetics of the movements.
The dancer shall not dance - but should be danced.