Related Features
Contribute
Your support helps us cover dance in New York City and beyond! Donate now.
Oscar Winner George Chakiris and Dance Critic Debra Levine Come to NYC to Talk Dance and Film
A Not-To-Be-Missed Experience
Among the luminaries introducing newly preserved films as part of To Save and Project: The 12th MoMA International Festival of Film Preservation, will be two incredibly knowledgeable, fascinating people with life long careers dedicated to the dance and film industry: Academy Award winner, dancer, actor, singer, and cultural icon for his work as "Bernardo" in the film West Side Story, George Chakiris, and dance critic, blogger for her own site, artsmeme , and Turner Classic Movie dance in film commentator, Debra Levine.  Don't miss the opportunity to learn about Chakiris' life in film  or to witness Levine's dedication to sharing the untold stories of dance film history.
I had the good fortune to speak with both Chakiris and Levine at the beginning of the week for The Dance Enthusiast and am thrilled about attending their events at MoMA.  As we say here in web land, " #getenthused and #go!"
Info about MoMA's 12th Annual Save and Project Festival and Dates for George Chakiris and Debra Levine's Conversations/Presentations:
For Save and Project  MoMA Festival Info:
Click Here for MoMA Info
Click Dates and Times  Below for Link to Purchase MoMA Tickets for Chakiris/Levine Events
The Dance Enthusiast Asks: George Chakiris and Debra Levine
George Chakiris and Debra Levine
Christine Jowers for TDE: How did your passion for what you do begin, Debra? What came first dance, writing, movies?
After working as  professional modern dancer in New York from 1976-1983, Debra Levine decided to leave the country to try a new career in corporate banking  in Hong Kong.
Debra Levine: It wasn't two months that I was living in Hong Kong, when I approached the South China Morning Post. That is where I began my long tenure as a dance critic. (She has been writing for 30 years.) I worked there for six years and came back to the U.S. with my portfolio of clippings. In 1989, I started covering the scene in LA, most lately for the LA Times, also for the Long Beach Post Telegram, La Opinión, and Los Angeles Downtown News. So first, a dance critic looking at concert dance in LA, and in a separate stream, a film aficionado. I've always been interested in classic film but weirdly, I had this existence as a clone of a New York dance writer, but living in LA, just covering high dance arts: ABT, New York City ballet -- all the big companies as they would tour the nation and inevitably come to LA.
Only when I came across (the choreographer) Jack Cole, did I start to cross my dance critics eye with my love of film... I found in Cole an artist...who met the high standards of my concert dance (experience), an artist of extreme caliber, for me, at the level of Balanchine, of Robbins, you name it... This lightbulb went off in my head of all the amazing dance art that has transpired in Los Angeles, in the commercial, not the "high art realm." It was a game changer for me to start looking at the dance component of film history -- not Astaire, not Kelly -- those figures have been well covered. There is an entire tier of artists who lived and worked in LA that have gone horribly unappreciated, horribly underwritten...for decades.
TDE: How did you meet and start interviewing George Chakiris?
Debra: I interviewed George for the LA Times in the context of the TCM ( Turner Classic Movies) Film Festival, and we bonded primarily talking about Jack Cole, who George worked for in Gentlemen Prefer Blondes in 1953. We became fast friends. George is encyclopedic in dance history.
---
George Chakiris:
George Chakiris became a permanent part of the iconography of New York City for his role as Bernardo, the leader of the Sharks gang in the 1961 film
West Side Story
. But there is much more to the life and career of this versatile performer, who was born to Greek immigrant parents in Norwood, Ohio. Trained at the American School of Dance, Mr. Chakiris turned professional at the age of 13, when he was cast in the chorus of the MGM musical
Song of Love
(1947). A decade of Hollywood dance followed, including appearances in
Gentlemen Prefer Blondes
(1953, screening on October 27),
There's No Business Like Show Business
(1954), and
White Christmas
(1954). After his breakthrough in
West Side Story
, Chakiris performed as a singer and dancer on many television specials of the 1960s and recorded several albums. In 1962 he left Hollywood in search of more demanding dramatic roles, making films in England (633 Squadron), France (Jacques Demy's classic Les Demoiselles de Rochefort) and Italy (Luigi Comencini's La Ragazza di Bube/Bebo's Girl, screening at MoMA on the  evening of October 26th ).
Chatting with George Chakiris
George Chakiris describes a dry time in Hollywood around 1958, when musical films had ceased to be made. Dancers and actors took flight to do work in night clubs and television, traveling to Las Vegas or New York, and he was one of them. Ending up sleeping in the living room of two friends who "knew everything that was going on" in the city, he soon heard about auditions at the Winter Garden Theatre for West Side Story's London cast. After meeting with stage manager, Ruth Mitchell, Chakiris auditioned for Jerome Robbins (during a lunch break while Robbins was rehearsing Ballets USA) reading the parts of Bernardo, the leader of the Sharks,The Puerto Rican gang, and Riff, the leader of the New York gang, in the musical. He got the job as Riff in the West End Production, working there for one-and-a-half years.
West Side Story, 1961: The Prologue- Choreography Jerome Robbins
TDE: How did you move from the play, West Side Story, to the movie?
George Chakiris: All of us in the (London) cast would hear bits and pieces of news from LA. Someone would hear something and we'd post it on the bulletin board. We heard that there was going to be a movie. We heard names like Elizabeth Taylor and Elvis Presley. Five of us in the the London Company got letters from United Artists asking us to pick a scene as our characters for a film test, and I thought, my god, wow. My letter asked me to pick a scene as Riff, who I was playing, and another scene as Bernardo. We were driven to Ellstree Studios outside of London and it was a fantastic, heady kind of day... We did our respective tests in black and white then went back to the theater for the play. Weeks went by and nobody heard anything so we figured, that was that. Then about six weeks later, I got a call from Jerry saying he liked my test, but would like to test me further, and they gave me a leave of absence from the play to fly for LA and meet Bob Wise (Robert Wise, director with Jerry Robbins for the film) for the first time and do a test in color as Bernardo... Bob was lovely. Jerry directed the test, and when that was over I flew back to London to do the show... didn't hear anything. Finally, one day I got a telegram saying I had the role as Bernardo. It was a wonderful very lucky time.
TDE: Was the transition from playing Riff, the leader of the Jets, to Bernardo, the leader of the Sharks, in the movie difficult?
Chakiris: Going from one to another, I didn't feel a transition of any kind really, and my explanation for that is doing the show for a year and a half in London, being in the theater with everybody else and hearing everybody over the loudspeaker if you weren't on stage. You became, kind of by osmosis, so familiar with every part in the piece. You were with it every night.  Ken LeRoy, was the original Bernardo and fantastic. I played opposite him every night, and without realizing it, I was learning something. I had an interesting and very nice transition, I didn't have to stretch too much to be able to accomplish that. It was already part of me in a way. I have said to a couple of people, 'I could've played Anita,' because we all knew the roles inside out.
TDE: One hears rumors that Jerome Robbins was a grueling taskmaster. Did you experience that?
Chakiris: Personally, I never experienced Jerry as a taskmaster. I heard those stories too. When I first started rehearsing in New York, I had never heard any of that. Jerry was such an extraordinary perfectionist, first with himself, then I think by extension to everybody else. It's not something that was said, you just felt it, you felt that you had to try. It was a kind of pressure, if you like, but it wasn't something he was doing. The one other person that says, "I never felt that with Jerry," is Chita. Chita Rivera, says the same thing. Not a bad word about Jerry.
I remember, for example, when they were making "Cool" (a dance sequence for the Jets) which I was not involved in, of course. There was a lot of knee work, and that low ceiling, and that hot set. I think this is a very funny kind of little story, but the guys, in the "Cool"  number, when they finished, and got their last take "in the can," as they say, they all took their knee pads, put them in front of Jerry's dressing room/office and burnt them... (laughs) You did feel this need to keep concentrated and to bring as much as you could …to be part of the process... I so loved working for him, and I found out, not too long ago, that it was Jerry who cast me as Riff, and Jerry who cast me as Bernardo. So I owe him my life.
West Side Story 1961 Jerome Robbins Choreography "America"
TDE: What was your favorite part of the movie, West Side Story?
Chakiris: We all loved the "America" number... In the theater, the "America" number is done by the girls only, but in the film version, the guys are included. And that made it so much better for us. It also made the number beautifully playful with the right balance of being pro and con Puerto Rico... For us, for the Sharks, that was one of our favorite times. We worked hard, but we loved to play and have fun between takes.
TDE: What was it like to win an Academy Award at the age of 27?
Chakiris: I was so naive at the time... I knew something wonderful was happening, but I wasn't business savvy enough to understand... I mean, hey, I knew what an Academy Award was, but I guess it took time for me to realize...I mean (among the other nominees for Best Supporting Actor were) George C. Scott, Montgomery Clift. Montgomery Clift one of my favorite actors of all time. It seemed sort of off-balance to me, but I was grateful. The thing that made sense was that West Side Story had such a huge impact that all of us in it: the producers, Bob Wise, everybody had an incredible benefit from the amazing reception the movie had worldwide. The Mirisch Company had done wonderful films, but this the film it is known for, and Rita (Rita Moreno) is so wonderful, my god... Well, that night I was awed. The way I try to explain it, I use the analogy of a lottery ticket, if you buy a lottery ticket, you don't expect to win. Somewhere in there you think, wouldn't it be nice if my number was called...You've just walked on a cloud of some kind, and I guess you are not thinking of anything in particular since you are walking up to a cloud. You are in another kind of place.  A wonderful time.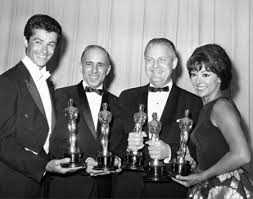 George Chakiris, Jerome Robbins, Robert Wise, and Rita Moreno with their Academy Awards. 1961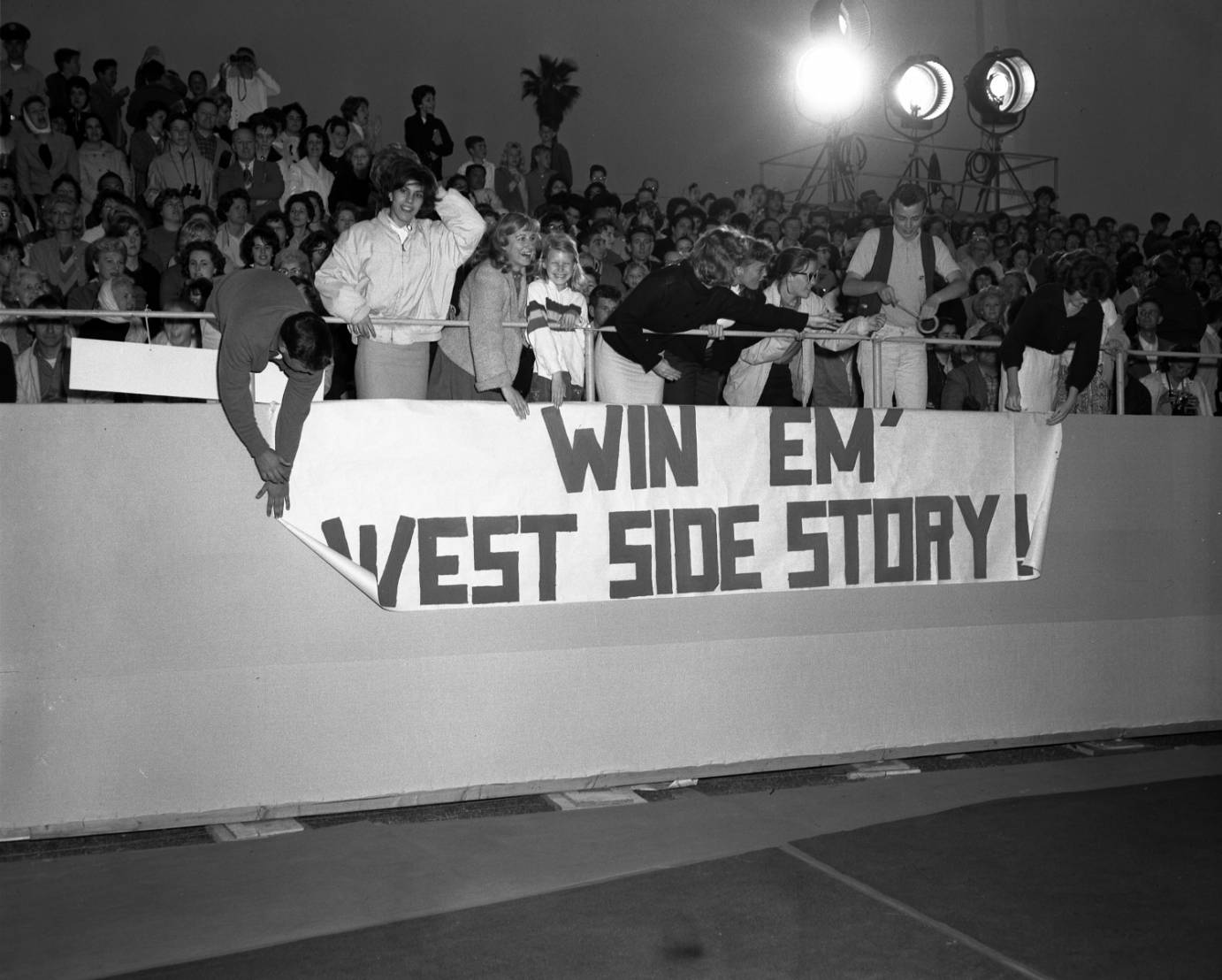 Photo of Fans Outside of the 1961 Academy Awards
TDE: So many people continue to enjoy West Side Story, either by seeing the film, or participating in the play. Groups as varied as Yeshiva schools and prisons put it on. I was reading about prisoners who were so affected by taking part because they said that, that by the end of the play, it made them feel not as separate gangs but part of  "one world."  What are your impressions?
Chakiris: I love the idea of one world. Whenever I see a production of West Side Story no matter where I see it... We (the players in the work) all have this link... We've all gotten to do this piece somewhere and we recognize each other, even though we don't know each other.. West Side Story is a beautiful piece. No one can ruin it actually doing it in the theater...There is a West Side Story family.. all of us in the film, we all know each other these many years later. Bob Wise said it was the only film that he ever made where he remains in contact with the cast members. There's something special about that aspect of West Side Story, that we are all in this together... It's the beauty of the piece.
---
TDE: Tell me about your interest in Jack Cole?  Wasn't he a Denishawn dancer?
Levine urges anyone interested in dance to attend the Monday October 27th showing of Gentlemen Prefer Blondes for the rare opportunity to see a new "sparkling" print of the movie on MoMA's large screen. She points out that there are four spectacular dance sequences choreographed, and as Chakiris points out later in our interview, directed by Jack Cole. "Jack was on the camera boom calling the shots," recalls Chakiris. Howard Hawks, the director of Gentlemen Prefer Blondes, did not touch any of the dance sequences.
Debra Levine: Cole was a crossover figure. He started as a barefoot dancer in the very last gasp of the Denishawn experiment (swinging through the group approximately in the early 1930s). He was close to both Ted Shawn and Ruth St. Denis...but throughout his life St. Denis mentored him. He was part of Shawn's Men Dancers, one of the guys who built Jacob's Pillow. He has a huge pedigree in the concert dance world, but just as quickly, morphed into a commercial creature...Of all the Denishawn descendants, Cole was the only one who went deeper into Denishawn's ethnic experimentation. Humphrey and Graham, of course eschewed the faux orieantalisms of Ruth St. Denis, but Cole became an Indian dance master. He studied with La Meri and Uday Shankar  and was deeply devoted to Indian dance, coaching his dancers in classical Indian forms. Cole was the maestro of the original dance mash-up... He brought Indian dance vernacular and mashed it with jazz vernacular, which he was a pioneer in launching... His (choreographed) sequences, (such as) Diamonds Are A Girls Best Friend with Marilyn Monroe (and also George Chakiris as a young chorus boy, along with Matt Mattox and Mark Wilder) are just incredible...iconic...For a guy to have gone from Denishawn to work with Marilyn Monroe, that's a career that captures my imagination.
A Clip of "Diamonds Are A Girl's Best Friend" Choreographed by Jack Cole for Gentlemen Prefer Blondes 1953 Director: Howard Hawks
TDE: Did Marilyn Monroe and Jane Russell, the female leads in Gentlemen Prefer Blondes have any dance training?
Levine: They had nil to zero experience in dance, but Cole excelled in making non-dancers look good and (he had) Gwen Verdon at his side.  Gwen actually worked late into the night with Marilyn Monroe and Jane, giving them these movements.
TDE: What was like to work with Jack Cole?
George Chakiris: Jack Cole, only worked with him once, (in "Diamonds Are A Girl's Best Friend") but what an amazing number that has turned out to be. I loved the work. I loved what he did for his female stars. He created beautiful stuff for them, double entendre, funny …fantastic... There were quite a few guys behind Marilyn in that number and Jack was sitting in a chair in front of the mirrors as we were all doing whatever the step was, and I guess he thought nobody was doing it right. He quickly got out of his chair and bam, bam, bam, just did the steps... and it was like watching a streak of lightning (click here to see a clip of Jack Cole dance in Designing Women - article by Debra Levine)... You look at these numbers and there is a beautiful, colorful cyc (pronouced sike short for cyclorama) in the background. The background is not cluttered with any kind of detail so the movement is clean and you can see it.
---
---
Levine describes Chakiris as a triple threat talent: a great American dancer with a clean and easy ballet technique and a dark sexy quality; a Capitol Records recording artist; and, an effecting dramatic actor. She wants people to share in her appreciation of Chakiris' contributions to film and is looking forward to her ticketed conversation with him on October 26th, which will be presented with a multitude of rarely seen clips.
The conversation of a Chakiris' life in film will be followed by a beautiful new release of the black and white, almost 50-year-old movie, Bebo's Girl (Ragazza di Bube) starring Chakiris opposite the sensual Italian actress, Claudia Cardinale. It is "to die for," claims Levine. Funnily enough, Chakiris informs me that, "in all of this time, I'd never seen Bebo's Girl," --until just recently. First, the star of the movie purchased a copy on Amazon, but found that the Italian language movie had Korean subtitles which, of course, he couldn't understand. Finally, MoMA gave him his own copy with English subtitles. The October 26th MoMA showing, will be Chakiris' first time ever to see his 1964 movie on the big screen.

George Chakiris and Claudia Cardinale  in Bebo's Girl (Ragazza di Bubi):Directed by Luigi Comencini 1964.
On October 27th, after the screening of Gentlemen Prefer Blondes, Levine will discuss an unsung Los Angeles dance artist, Theodore Kosloff, through the lens of the Cecile B. DeMille film, Madam Satan, "DeMille's first, last, and only musical," remarks Levine. Kosloff, a family friend of DeMille, and a character actor in the silent movies, convinced the director to include in his movie a wild and wooly "ballet mecanique" aboard a zeppelin floating above Central Park.
TDE: What interested you in Theodore Kosloff and Madam Satan?
Debra Levine:  I learned of the presence in Los Angeles of a Ballet Russe, veteran Theodore Kosloff.  It would be enough if he (simply) put his toe on Diaghilev's stage, but he was in the opening ballet season of the Ballet Russes in 1909 and that is a massive, ballet world pedigree! Kosloff  was second string to Niijinsky. You would think that his name would be better known. So why is it not? Well, because he ended up in Los Angeles, and frankly, the locus of dance scholarship is not in California, so his name fell through the cracks... I wrote a long piece on Theodore Kosloff's enduring professional and personal relationship with Cecil B. DeMille in the LA Times in 2009. It was followed by a grant from the Cecil B. DeMille Foundation. I have done deep research on Kosloff's career, but one day I woke up to the realization that I could best talk about his career through this one film, Madam Satan.

Photo: Theodore Kosloff in Madam Satan 1930: Directed by Cecil B. DeMille
---
As our time drews to a close, I asked both Chakiris and Levine, what keeps them going or excites them about their work.
TDE: You have worked in so many venues: TV, the movies, theater, and now you are designing silver jewelry. What venues do you prefer and what keeps you in creative work?
Chakiris: ( Of the venues)They're all great. Everyone depends first on the material...I have had wonderful times in theater and film... The three films I enjoyed the most were Bebo's Girl, of course, West Side Story, and The Young Girls of Rochefort (Les demoiselles de Rochefort a french musical also starring Catherine Deneuve and Gene Kelly, written and directed by Jacques Demy, with a score by Michel Legrand). Every actor in the world then, since, and now, everybody has to have good material to do well. (As for what keeps him working) The need to keep doing something, to keep using yourself. You don't think to yourself, "I must be creative." It's a feeling. It's an impulse to always do something that feels good.
TDE: What keeps you researching and writing on dance in film, Debra?
Levine: This work has given me new life, and this is deep for me because it all happened in my city... I am kicking myself really. Because of certain perceived snobberies against commercial dance, (against) people who found a way to make a buck in my art form, god bless them...It is because of the snobbery, as if they were doing something second best… that I didn't devote myself to my own cultural history in Los Angeles for so many years. (But now,) I am thrilled, it's a great area for me and everything is locked in perpetuity through movie magic.
TDE: We can study film.
Levine: We can study!  And, dance on film persists, it will always persist. There is something absolutely unique about watching dancing bodies on screen.