Related Features
Contribute
Your support helps us cover dance in New York City and beyond! Donate now.
The Dance Enthusiast Asks Chef Bobo, Our Special Guest at the Dance As Empowerment- Enthusiastic Event!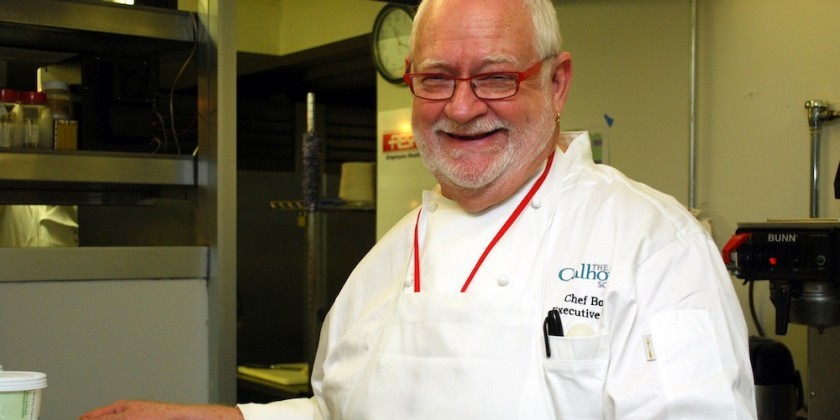 Empowering Healthy Eating Habits
Chef Bobo has a passion for sustainable, locally sourced, wholesome food. He draws no distinction between healthy and delicious: food that is good for you and food that is good to eat are one and the same. Chef Bobo will be providing his delectable cuisine for The Dance Enthusiast's upcoming Enthusiastic Event! celebrating Dance and Empowerment.
Please join us on Tuesday, April 7 from 6:15-8:30 p.m. for our second Dance Enthusiast Event at Gibney Dance Center - Agnes Varis Performing Arts Center 280 Broadway for food, drink, fun, conversation, and empowerment. For more information and to purchase tickets, please visit our Enthusiastic Event page.
---
Erin Bomboy for The Dance Enthusiast: What spurred your interest in the culinary arts?
Chef Bobo: My grandmother! She raised my two sisters and me. Even though she worked full time, she would come home and cook dinner for us before going to bed. I figured if I took over the cooking, I could spend more time with her. Later, after 30 years in human resources, I was forced into early retirement. One day, I saw an ad for the French Culinary Institute, which is now known as International Culinary Center, and decided to learn how to organize a professional kitchen. I've been making a living cooking ever since.
TDE: How has people's relationship to food changed during your time as a chef?
Chef Bobo: America has been addicted to processed food because it's cheap and tastes good, but it's filled with chemicals and bad for our health. People are starting to embrace the slow food movement. They want their food to come from small, local farmers because it's delicious, healthy, and economical.
TDE: Your main gig is chef at The Calhoun School. How do you persuade kids to eat healthy?
Chef Bobo: At Calhoun, we have a reputation for great food that is also healthy. We don't try to convince kids to eat anything they don't want to eat. We offer 3.5-ounce cups to let them have a taste and then allow them to make the decision themselves. Usually, they come back for seconds.
TDE: What food trend have you embraced? Which one have you rejected?
Chef Bobo: I like to say everyone is copying what we started at The Calhoun School. I started serving quinoa 13 years ago. Same with farro. I started cooking kale 12 years ago. I hate the gluten-free trend. Unless you are a celiac, there isn't a good reason to avoid delicious, healthy whole-wheat pastas and breads. The health issue is the chemicals in processed foods that happen to also contain wheat.
TDE: Is cooking for dance folk different than cooking for non-dancers?
Chef Bobo: I just hope I have enough food for the upcoming Enthusiastic Event!
TDE: What's one tip that someone could easily apply to his or her diet to empower healthy eating choices?
Chef Bobo: Add more fiber to your diet, particularly fresh fruits and fresh vegetables.